Trump's Political Fate May Hang on Virus Bet
U.S. President Donald Trump's re-election bid is at a crossroads and may be about to turn on events that are now largely out of his control.
Trump is betting that a handful of southern and midwestern states can reopen their economies without triggering an even deeper public health crisis in the coronavirus pandemic.
As Jordan Fabian and Mario Parker explain, the gamble could allow Trump to claim he was right all along about quickly lifting stay-at-home restrictions that are damaging the economy. Or it could backfire, with the president taking the blame for a fresh spike in infections.
Texas, Georgia, Florida, Ohio and Missouri — all with Republican governors — are preparing to ease restrictions in the coming weeks.
The imperative that Trump share in any credit gained fresh urgency yesterday after the government reported the U.S. has entered a recession that analysts say is likely to be the deepest in at least eight decades. The president had made the strong, pre-virus economy the central theme of his campaign for a second term.
Trump, who has repeatedly downplayed the impact of a virus that has killed 61,000 in the U.S. so far, promises a turnaround in the second half of the year. His political fate may hinge on being right this time.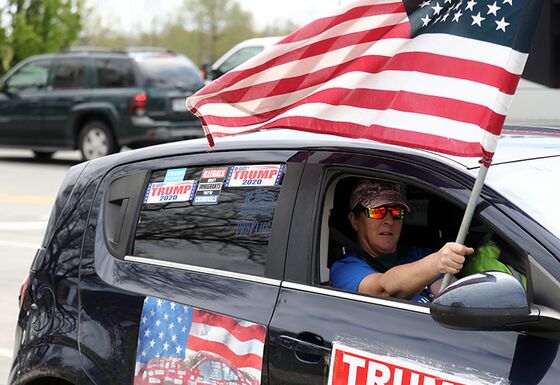 Economic pummeling | Key European economies are being battered by the pandemic, with France and Spain plunging into record contractions and jobless claims in Germany exceeding all estimates. The figures highlight the dramatic impact of government-ordered shutdowns as just two weeks of closures and restrictions have snuffed out growth for the entire first quarter.
On defense | A former aide's allegation that Joe Biden sexually assaulted her nearly 30 years ago has put Democrats into a quandary, as they try to square their support for the MeToo movement with their backing of a nominee who now stands accused himself. Biden has said the incident never happened, while Trump's camp has seized on the matter.
Biden has tapped four allies to lead an advisory committee on his vice-presidential selection, a process that will be especially closely watched given his age, 77, and speculation he might not seek a second term if elected.
Succession race | Bavarian Premier Markus Soeder has emerged as the uncrowned king of Germany's pandemic crisis and the new front-runner in the race to succeed Chancellor Angela Merkel. His hard line to clamp down on the spread of the disease in the wealthy southern state has put his main rival, Armin Laschet, who's called for a faster easing of lockdown restrictions, on the defensive.
Steepening curve | After flouting World Health Organization guidelines for combating the coronavirus, President Jair Bolsonaro has seen Brazil's infection rate skyrocket. He's criticized governors who called for quarantines, fired his health minister for advocating restrictions and taken to the streets without a protective face mask. State governors are resorting to importing ventilators from China through unusual routes to ensure they aren't held up by European or U.S. authorities — or even by Brazil's federal government.
Treatment scams | As hospitals and governments around the world search for ventilators to help treat Covid-19 patients, some have been drawn to merchants in China. One account on Weibo, China's version of Twitter and the country's most popular microblogging site, is offering 1,000 ventilators for sale. But buyers should beware. Scam artists are posing as company officials and using forged documents and fake contracts.
New satellite imagery shows a train resembling the one used by Kim Jong Un near a coastal leadership compound, as the North Korean leader's unusual absence from public continues.
Germany has banned the Lebanese Shiite militant group Hezbollah from operating in the country, raiding several properties of four outlawed associations linked to the organization.
Prime Minister Boris Johnson today returns to lead the U.K.'s daily televised coronavirus briefing, with his government weighing options for easing a nationwide lockdown that's due to be reviewed May 7.
Tell us how we're doing or what we're missing at balancepower@bloomberg.net.

And finally ... A Saudi television series that broaches the taboo topic of ties with Israel has spurred speculation it's a prelude to a real-life push for a rethink. In an episode of "Exit 7," a father discovers his son has befriended an Israeli through an online game, dividing the family. Across the Gulf, the idea of treating Israel as just another country is deeply contentious, but the series could be a sign of a generational shift in the region.