Trump's 'Point Man for Europe' Is Poised for Bipartisan Beating
(Bloomberg) -- Gordon Sondland, the U.S. diplomat at the center of the impeachment inquiry against Donald Trump, once described himself as the "point man for Europe" who was also assigned by the president to oversee relations with Ukraine.
Witnesses have given House panels less flattering descriptions of the wealthy developer-turned-envoy: "Comical," "clueless" and a "free radical" who exaggerated his ties to Trump and posed a "counterintelligence risk" by ignoring pleas that he stop handing out the personal phone numbers of top security aides.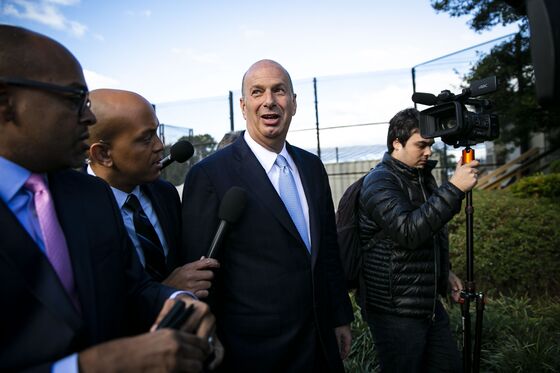 Sondland, the ambassador to the European Union, is likely to take fire from all sides when he testifies publicly for the first time on Wednesday. A crucial question will be whether he had the Oval Office access he claimed or exaggerated his influence over decisions on Ukraine.
Republicans may seek to portray him as an unreliable witness who steered U.S. policy without the president's permission. Democrats will argue that he was deep in the president's inner circle after contributing about $1 million to Trump's inauguration and that he was fulfilling the president's demands for a quid pro quo.
"The Republicans are going to try to say he was freelancing and the president was unwitting of what was going on," said Derek Chollet, a former assistant secretary of defense under President Barack Obama. "Democrats will try to say this was at the direction of the president. That to me is one of the core issues."
Sondland is under attack for inconsistencies in statements he's offered under oath about the alleged scheme to condition aid to Ukraine on promises to investigate former Vice President Joe Biden, a Trump rival, and his son. At the worst for Sondland, it could raise questions of perjury only days after veteran Republican operative Roger Stone was convicted of lying to Congress about his contacts with WikiLeaks during Trump's 2016 campaign.
Following testimony in the Democratic-led impeachment hearings that Republicans have criticized as secondhand at best, Sondland can provide a crucial first-hand account as someone who had direct access to the president.
Wednesday's testimony will be an unfamiliar ordeal for Sondland, a hotel developer from Portland, Oregon, who lacked any diplomatic experience before his post-election contribution to Trump's inauguration was rewarded with a plum ambassadorship in June 2018.
After Sondland arrived on the job in Brussels, the U.S. mission to the European Union released a gauzy video describing his background as the Seattle-born son of immigrants from Europe who had assembled an art collection that included pieces on loan to the White House and who pilots jet aircraft as a hobby.
"President Trump has asked us to accomplish a great deal in the coming years," he said in the video.
During his time as ambassador, Sondland quickly gained a reputation as a boisterous networker who relished his newfound status and the access it gave him. He frequently used the nebulous nature of his role to work his way into meetings in the U.S. and across Europe, often to the chagrin of ambassadors whose toes he was stepping on.
Testimony paints a portrait of Sondland as a loose cannon working outside the bounds of American foreign policy, playing up his access to Trump but raising suspicions about how much he could actually deliver.
He infuriated senior staff at the National Security Council and the State Department, who repeatedly complained that he wasn't telling them what he was doing. But he appeared to have a good relationship with Trump's Acting Chief of Staff Mick Mulvaney, who overruled the National Security Council and got him on the invite list for Ukrainian President Volodymyr Zelenskiy's inauguration in Kyiv.
"Some of it was comical, but it was also, for me and for others, deeply concerning," Fiona Hill, the former senior director for Europe at the National Security Council, testified last month. "As far as I could understand," she said, "he was often meeting with people he had no information about. It's like basically driving along with no guardrails and no GPS on an unfamiliar territory."
Sondland's rise to prominence and his role at the heart of impeachment story is emblematic of Trump's unorthodox -- critics say chaotic -- foreign policy.
It's nothing new for political donors with no diplomatic experience to be made ambassadors. What shocked even top State Department and White House aides was the way Sondland came to have an influential role over one of the most delicate national security issues: The U.S. stance toward Ukraine and its conflict with Russia.
Already, he has had to backtrack on his initial denial that Ukraine was pressured to investigate Trump's political rivals in return for obtaining arms to resist Russian aggression.
After testifying behind closed doors that he had no knowledge that such strings were attached, Sondland submitted a four-page statement last month contending that other witnesses' testimony had jarred loose a key recollection: He told an adviser to Ukraine's president in September that the U.S. aid probably wouldn't flow "until Ukraine provided the public anti-corruption statement that we had been discussing for many weeks."
Possible evidence that Sondland didn't tell the truth under oath has mounted since then, especially with the dramatic closed-door testimony last week by David Holmes, a career foreign service officer. Holmes, who will testify publicly on Thursday, said that Sondland told Trump in a phone call from Kyiv in July that Zelenskiy would agree to an investigation.
Holmes said Sondland told him that Trump only cared about "big stuff" that benefits him, "like the Biden investigation."
That would appear to contradict testimony last month in which Sondland said he "never heard the word 'Biden' mentioned with aid."
Whatever the specifics of Sondland's relations with Trump, he clearly had an easy familiarity with the president. According to Holmes, the career diplomat, Sondland called Trump from a Kyiv restaurant and told him Zelenskiy would do "anything you ask him to."
Zelenskiy "'loves your ass," Sondland told Trump, according to Holmes.