The Long, Winding Road to Trump's 'Phenomenal' U.K. Trade Deal
(Bloomberg) -- U.S. President Donald Trump is in London this week partly to advance a potential future trade agreement with the U.K. that he promised will be concluded quickly after the country leaves the European Union.
But analysts agree that's a long time away and even if the countries sit down to negotiate a deal, they're likely going to run into similar roadblocks that led to a stalling of talks between the U.S. and EU in the Obama administration.
Trump, who has mentioned the possibility for a quick and substantive pact several times since arriving in London this week, kicked it off Monday on Twitter saying that a "big Trade Deal is possible once U.K. gets rid of the shackles. Already starting to talk!"
During a press conference with Prime Minister Theresa May Tuesday, Trump said there was "tremendous potential" for a "phenomenal" deal that could see bilateral trade double to triple.
There are a couple reasons why that may be hard to do quickly:
Apart from the Brexit issues the U.K. has to resolve, the Trump administration's trade agenda is already packed. It's been fighting with tit-for-tat measures in an escalating trade dispute with China and last week announced plans for sweeping new tariffs against all imports from Mexico if the southern neighbor doesn't rein in migration.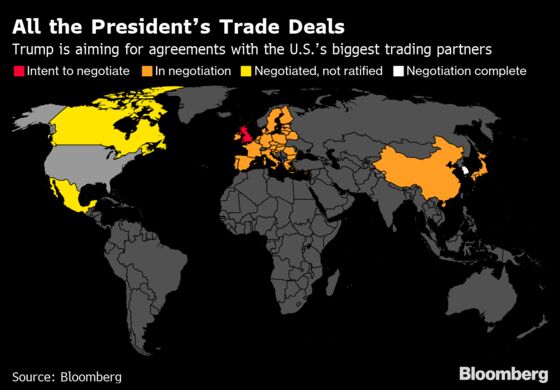 While the White House notified Congress in October that it wants to negotiate a deal with the U.K., U.S. Trade Representative Robert Lighthizer is busy with preliminary talks with Japan and the EU.
The U.K. also first has to leave the EU, and that might happen in October at the earliest. Even once it's left, if it does so in an orderly manner, the next step would almost certainly be to sort out a trade deal with a 27-nation EU. How tightly the U.K. agrees to bind itself to EU rules will determine how much freedom it has to trade with other countries -- and that will influence what concessions it can make to the Trump administration.
It's not clear what the official White House stance is on Brexit. Over the past two days, the messaging has been inconsistent. Trump and his allies like former strategist Steve Bannon are advocating for a hard exit, while a White House statement Monday said the U.S. supports a Brexit "being accomplished in a way that will not affect global economic and financial stability while also securing independence to the United Kingdom."
Analysts are skeptical anything could come together quickly.
"We are still a long way away from seeing this scenario playing out," said Jeremy Stretch, a currency strategist at Canadian Imperial Bank of Commerce. "Making these sort of glib statements doesn't necessarily reflect the time horizon."
It's also likely that Trump's team could see a repeat of the problems that the U.S. encountered in negotiations with the EU on the Transatlantic Trade and Investment Partnership, including on food standards and other regulations. Recent polls show the U.K. public is uneasy with some of the conditions that would probably be attached to a U.S. trade deal.
"All of the issues that previously emerged during the TTIP negotiations will reappear," said Sam Lowe, senior research fellow at the Center for European Reform, a think tank in London. "Talk of chlorine chicken and takeovers of the NHS, however accurate or not, already have public salience," he said, referring to the U.K.'s National Health Service.
The U.S. is pushing for Britain's publicly funded national health service to be up for grabs in trade talks -- a stance that May in the past week had to push back against firmly. She did so again during the leaders' joint press conference, where early signs of disagreement over the scope of a potential deal became apparent.
"When you're dealing on trade everything is on the table. So NHS or anything else, or a lot more than that, but everything will be on the table, absolutely," Trump said.
May, in response, argued that "the point about making trade deals is of course that both sides negotiate and come to an agreement about what should or should not be in that trade deal for the future."