Trump's New Nafta May Leave His Job and Deficit Pledges Unfulfilled
(Bloomberg) -- President Donald Trump's big Nafta promise all along has been for a trade revolution that would bring manufacturing jobs back to the U.S. and slash the trade deficit with Mexico.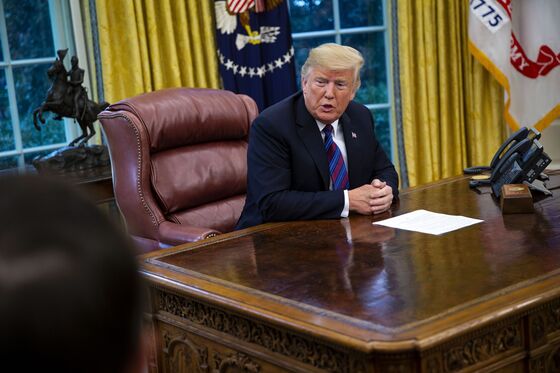 The contours of a "very special" and "incredible" deal with Mexico that Trump announced on Monday remain preliminary and need to be approved by Congress. However, it may meet neither of Trump's main goals, industry experts and analysts say. If anything the deal, which now needs Canada to sign on, could do the opposite. And that may come back to bite the president politically.
"It will cost us jobs," was the blunt assessment offered by Mickey Kantor, who shepherded Nafta into being as President Bill Clinton's trade representative. "Why we're doing this is mainly to fulfill a political philosophy rather than create jobs."
The evaluation from Goldman Sachs economists was more polite: "We do not expect the revised terms to have substantial macroeconomic effects in the U.S. if they do take effect."
Trump and his advisers insist they are rewriting the quarter-century-old North American Free Trade Agreement to live up to his campaign promises to repair the economic carnage in Rust Belt states such as Michigan and Ohio that led many voters to back him.
Kevin Hassett, the head of Trump's Council of Economic Advisers, says that the White House's own modeling shows that when the new Nafta goes into effect it will create "many, many thousands of manufacturing jobs" and reduce a trade deficit with Mexico that in goods was worth about $70 billion last year.
"Any way an economist would model this you end up with a big positive shock to manufacturing jobs in the U.S.," he said in an interview, predicting a flood of capital spending on new plants.
What Our Economists Say
New rules of origin and labor content for autos partially undermine the competitiveness of Mexico relative to conditions in Nafta. But the impact on production, employment and investment should be limited, as most production already complies with the new rules and firms will have time to adjust before changes are implemented.

-- Felipe Hernandez, Bloomberg Economics 
The main reason to believe that, administration officials say, is the new package of auto content rules that are designed to encourage companies to locate more plants in the U.S. and source more parts from within North America rather than places like China and Thailand.
The new rules will within three years raise the percentage of a car that has to be produced in North America to enjoy its duty-free benefits to 75 percent from the existing 62.5 percent.
The key innovation included is a requirement that 40 percent to 45 percent of that content be made by workers earning at least $16 per hour.
Those headline numbers, however, skirt over some business realities that mean the new rules will do little to change North America's automotive supply chains. And if they do, it will take years.
While the headline 75 percent number is notionally an increase, it will apply to the entire car rather than a specific list of parts as it does now, potentially giving companies more wiggle room to adjust.
Auto companies will also be allowed for the first time to include research-and-development as well as headquarter costs to meet the new content rules.
Kristin Dziczek of the Center for Automotive Research points out that many cars made in North America already exceed the new Nafta content requirements and even the new high wage thresholds. Those include many popular foreign models such as the Honda Civic, with 70 percent of its content originating in the U.S. or Canada let alone Mexico.
According to Mexican Economy Minister Ildefonso Guajardo, 70 percent of Mexican auto exports to the U.S. already meet the new Nafta rules and the remaining 30 percent will be subject only to the existing 2.5 percent U.S. tariff.
The North American auto industry also still has plenty of spare capacity, Dziczek points out, with sales down from a 2016 peak. That means no one is hurrying to build new factories.
The bottom line: "I don't think it shifts things a whole lot right now," she said.
Critics such as Kantor, the former Clinton trade czar, argue the new content rules will actually act as a disincentive to use Nafta and build cars in North America. They also will raise the cost of cars for consumers and hurt the international competitiveness of the North American auto industry and the continent's place as a potential export hub for growing markets overseas.
The complex economics of the new agreement are likely to trigger a very real political debate. For one, the politics of Nafta have long been toxic, something Trump pointed to on Monday, saying he was eager to find a new name because Nafta "has a bad connotation."
Many business leaders offered a tepid welcome to the Mexico deal and stressed Canada needed to be part of any final agreement. But one way administration officials have been working to preempt the politics is by trying to secure the backing of labor unions, something they believe will help draw Democratic support in Congress.
The endorsement of a labor movement that has long been skeptical of grand promises on trade is not a sure thing. In a statement Monday labor leaders declared there is "more work that needs to be done" on Nafta and people close to the unions are still wary.
"There are a lot of people who have been working very hard on the renegotiation of Nafta," said Robert Scott of the Economic Policy Institute, a Washington think-tank that draws some of its funding from labor unions. "But I don't think that's going to bring jobs home in vast numbers. I just don't see it."
People on Capitol Hill also warn that the congressional politics remain difficult, as they have for any trade agreement since Nafta first was ratified in 1993. If Democrats secure control of the House of Representatives in November's mid-term elections would the party's leaders really be ready to bring the new deal to a floor vote and give Trump a win?
Still, Robert Lighthizer, who as Trump's U.S. trade representative has been leading the negotiations, has pitched the Nafta efforts as a way to rebalance the politics of trade and build a grand coalition to back not just Nafta but other future trade pacts as well.
For now, that effort is on track as far as Lighthizer is concerned. "I'm not going to worry about the votes at this point," he told reporters on Monday. But "my expectation is that it will pass overwhelmingly."