Trump's Lawyers Say Impeachment 'Constitutionally Flawed'
(Bloomberg) -- Former President Donald Trump's lawyers laid out their case against his impeachment on Monday, arguing that his second trial is unconstitutional, that he didn't incite an insurrection and that Democrats have made equally incendiary remarks.
The impeachment charge against Trump should be dismissed because it violates the former president's free speech and due process rights as well as being "constitutionally flawed," Trump impeachment attorneys Bruce L. Castor Jr. and David Schoen said in a 75-page trial brief filed Monday.
"Indulging House Democrats' hunger for this political theater is a danger to our Republic, democracy and the rights that we hold dear," the lawyers said in the brief.
Trump's impeachment trial is set to begin at 1 p.m. Tuesday in the Senate on a single charge of inciting an insurrection. The House approved the charge after a mob of Trump supporters stormed the U.S. Capitol, delaying the counting of Electoral College votes for President Joe Biden in a violent assault that resulted in five deaths.
Trump's attorneys argued in their trial brief that Trump used the word "fight" only a handful of times "in the figurative sense," and that he also told his supporters at the rally that preceded the Capitol riot to "peacefully and patriotically make your voices heard."
The nine House managers serving as prosecutors said in a response filed Monday to an initial answer that Trump's lawyers submitted last week that all of the former president's defenses are without merit and that every allegation in the impeachment charge is true.
"The House did not impeach President Trump because he expressed an unpopular political opinion," they said. "It impeached him because he willfully incited violent insurrection against the government."
Trump's lawyers echoed the former president's combative style in their filing Monday. Adopting one of his favorite phrases, they wrote that Democrats still held to their "fevered hatred for Citizen Trump and their 'Trump Derangement Syndrome."'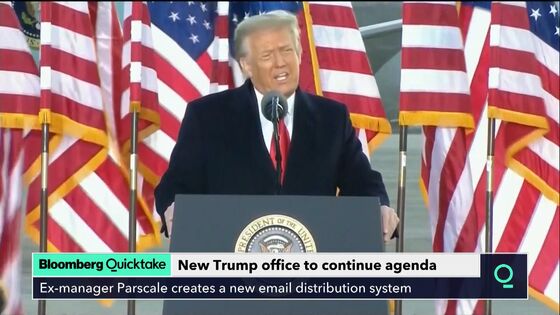 The former president's lawyers said that prominent Democrats including Representative Maxine Waters had urged people to confront Trump administration officials in public, yet they aren't being punished.
They also cited Democratic Representative Ilhan Omar, "herself no stranger to extremist rhetoric," and her urging of House colleagues to impeach Trump. Omar has tweeted remarks that some saw as anti-Semitic.
"The truth is that both Mr. Trump's speech and these comments are acceptable political free speech," the lawyers said. "It is the double standard at play here that is entirely unacceptable" and Trump asks "that the Senate reject it in no uncertain terms."
But a Democratic aide said Trump's team can't pretend his words were "figurative" and similar to comments by Democrats because the former president spent weeks organizing the rally that led to the violence and then delayed any attempt to stop the attack.
In addition, 144 prominent constitutional lawyers from across the political spectrum argued in a letter on Friday that Trump's speech and conduct on Jan. 6 weren't protected by the First Amendment, terming that suggestion "legally frivolous."
Trump's attorneys also argued that the riot was pre-planned by criminals who are now being prosecuted, and that the "rushed" impeachment by the House violates the former president's due process rights and is an illegal bill of attainder -- a law passed by the legislature that punishes someone without a trial.
The lawyers spend a lengthy part of their brief arguing why the trial of a former president is unconstitutional. But many legal scholars reject that argument, and the House managers have said the framers of the Constitution didn't intend presidents to escape judgment for high crimes and misdemeanors late in their terms by simply leaving office.
Although Trump is maintaining that his claims he won the election by a landslide if not for fraud are true, his attorneys aren't using election fraud as a defense.
The unprecedented second impeachment trial of Trump will begin with a debate on whether the proceeding is constitutional, under rules negotiated among Senate Majority Leader Chuck Schumer, GOP leader Mitch McConnell, House impeachment managers and Trump's lawyers.
The constitutional question will be settled by a simple majority vote in the Senate after four hours of debate, Schumer said in announcing the agreement. At noon on Wednesday the House impeachment managers and Trump's defense team each will begin up to 16 hours of presentations spread over two days.
If House impeachment managers request witnesses, that will be voted on by the Senate, Schumer said. House managers haven't said whether they will call witnesses, but if they do, Trump's attorneys have said they will want time to question them and call their own witnesses -- potentially prolonging the trial.
There also will be four hours for questions from senators and four hours for both sides to make closing arguments.
Schumer said the Senate would break at sundown on Friday and resume Sunday afternoon to accommodate the Jewish Sabbath at the request of Trump's legal team.
Many Senate Republicans have already been arguing that trying the former president after he's left office is unconstitutional, a sign that Trump is all but assured of escaping conviction, as he did in first impeachment trial a year ago.
With two-thirds of the Senate required to convict, at least 17 Republicans would have to vote with all 50 Democrats to find Trump guilty. In what amounted to a test vote, only five Republican senators voted with Democrats on Jan. 26 to block an effort to declare Trump's impeachment trial unconstitutional.
Senator Rand Paul of Kentucky, who led the effort to have the article of impeachment dismissed on constitutional grounds, said Sunday there is "zero chance of conviction" in the Senate trial.
"It is unconstitutional, but more than anything it's unwise and going to divide the country," Paul said on "Fox News Sunday."
The House managers said in their 80-page brief last week that it's "unmistakable" Trump is responsible for the insurrection, and that he must be convicted and barred from holding federal office again. They will emphasize his words at the rally held before a mob descended on the Capitol such as "fight like hell," as well as his actions leading up to the attack, including his months-long attempt to overturn the election results.
House managers wanted Trump to testify under oath because he has disputed "factual allegations" and put "critical facts at issue," according to a letter lead manager Representative Jamie Raskin sent on Thursday. But Trump's attorneys immediately rejected the request, calling it a "public relations stunt."