Trump Defense to Wrap Up in Under Four Hours: Impeachment Update
(Bloomberg) -- Donald Trump's second impeachment trial continued on Thursday in the Senate, with members of the House's prosecution team completing their case. Trump's defense team will follow starting on Friday.
The nine impeachment managers presenting the charge against the former president argue that he betrayed his oath of office by inciting his followers to storm the Capitol. Trump's lawyers counter that he didn't prod his supporters to violence and simply exercised his First Amendment rights.
Trump Defense to Wrap Up in Under Four Hours (6:46 p.m.)
David Schoen, one of Trump's defense attorneys, said his team will wrap up its case in under four hours Friday -- far less time than the 16 hours allowed by the impeachment trial rules.
Schoen said he met with several Republican senators Thursday night. He defended meeting with the trial's jurors because, "That's the practice here. There's nothing about this thing that has any semblance to due process whatsoever."
"It's a politically partisan process," Schoen said, accusing the prosecution of using edited video of Jan. 6 for "entertainment value."
The defense decided to slim down its argument after the House managers finished their presentation Thursday, according to an aide familiar with the strategy, which would put the trial on track to conclude with a final vote on Saturday.
"I think now it's moving much more quickly," Schoen said. "I think this can be over Saturday."
The trial could last longer, however, if either the prosecution or defense decides to ask the Senate to call witnesses or present additional evidence. Schoen said if the impeachment managers decide to call witnesses, "you can be assured we'll call witnesses." --Billy House
House Democrats Finish Their Case (4:23 p.m.)
Lead impeachment manager Jamie Raskin closed by urging Trump's defense team to focus on the facts of the case and not dwell on the constitutionality of the process, which he said was settled by Tuesday's Senate vote on the issue.
Raskin also urged senators, as jurors, to use common sense in deciding whether Trump is guilty as charged, because "that's all you need to arrive at the right answer here."
"Why did President Trump not tell his supporters to stop the attack on the Capitol as soon as he learned of it?" the Maryland Democrat asked. "Why did President Trump do nothing to stop the attack for at least two hours after the attack began? As our constitutional commander-in-chief, why did he do nothing to send help to our overwhelmed and besieged law enforcement officers for at least two hours on January 6th after the attack began? On January 6th, why did President Trump not at any point that day condemn the violent insurrection and the insurrectionists?"
Trump's defense team will present its case on Friday, and the trial is likely to end on Saturday with questions from senators and final arguments leading to a vote.
The Senate could request to hear from witnesses before the trial concludes, extending the proceedings, but lawyers on both sides have suggested they won't be seeking that. -- Laura Litvan and Anna Edgerton
Democrats Say Trump Wasn't Just 'Some Guy' (3:15 p.m.)
Representative Joe Neguse, one of the House impeachment managers, said the central claim by Trump's defense team that he was exercising his First Amendment rights in addressing a crowd of supporters on Jan. 6 is simply a way to sidestep what the president did.
"To hear his lawyers tell it, he was just some guy at a rally expressing unpopular opinions," the Colorado Democrat said. In fact, he said, Trump spent months using "the unique powers" of the presidency to gather supporters and direct them to attack the Capitol.
"They're wrong on the facts, wrong on the law but would flip the Constitution upside down," he said.
Unless senators are ready to convict and punish Trump for his actions, he said, future presidents could do what Trump did in refusing to accept an election's outcome "and get away with it."
"You are here to adjudicate real evidence, real facts. Not hypothetical ones," Neguse said.
Representative Jamie Raskin, the lead impeachment manager, said that Trump had an obligation to side with the Constitution, not with insurrectionists. Nothing in the Constitution can excuse his "betrayal" of his oath of office, he said.-- Laura Litvan
Durbin Says Convicting Trump Still Unlikely (2:40 P.M.)
Senator Dick Durbin said that he saw little evidence that more Republicans would join with Democrats to convict Trump of inciting an insurrection.
"I really don't see that kind of commitment on the other side," Durbin of Illinois, the Senate majority whip, said in an interview with Bloomberg Television.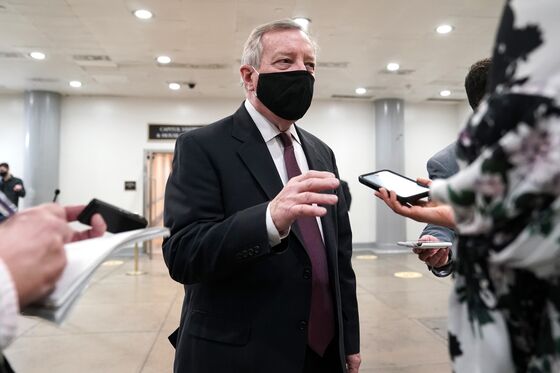 "Many of them are loyal to Donald Trump even to this day, despite what he may have said about them or their families in the past," Durbin said. "And more of them are afraid of Donald Trump's political power."
"Many of them fear that if they vote for impeachment, they can't go home to a town meeting, and they don't have much of a chance in a future Republican primary," he said.
Durbin said he would consider a censure resolution against Trump but not until after the impeachment trial concludes.
"Censure is a possibility," he said. "I would certainly, if we fall short of impeachment, rather would do censure than nothing." -- Daniel Flatley and David Westin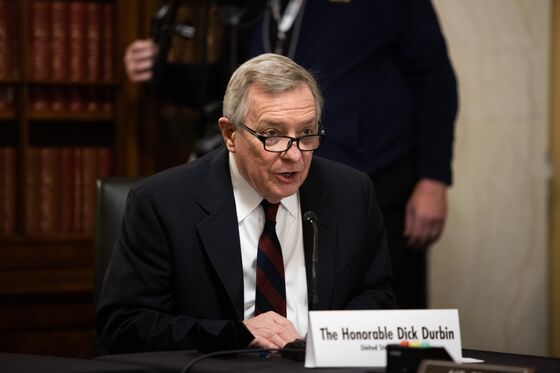 Trump Is Upbeat as He Watches, Lawyer Says (2 p.m.)
Trump is "very upbeat" as his defense team prepares to present its case on Friday, one of his lawyers said.
"He has condemned the violence. And he doesn't in any way want to be associated with what happened in this violent incident," David Schoen said in an interview with Fox News. "But he is very upbeat, when we get to put our case forward and frankly stand up for the attacks made on him and on the Republicans."
Schoen wouldn't confirm that the defense expects to take only Friday to present its case, saying, "We'll see how that goes. But there's no reason for us to be out there a long time."
Asked about comments from some Republican senators that the often graphic video montage presented by the House Democratic managers on Wednesday was impressive, Schoen shot back, "This is what you get when you bring in a movie company and hire a large law firm to make a professional product that takes things out of context and presents it as an entertainment package."
"It's not a blood sport. It's not about entertainment," he said. "It's about reporting the facts to the American people," adding that "the House will look bad, our politicians will look bad, if this thing goes forward." -- Billy House
Democrats Cite Trump Incitement 'Pattern' (12:50 p.m.)
Representative Jamie Raskin, the lead impeachment manager, argued the attack on the Capitol was part of a long-standing "pattern and practice of inciting violence" by Trump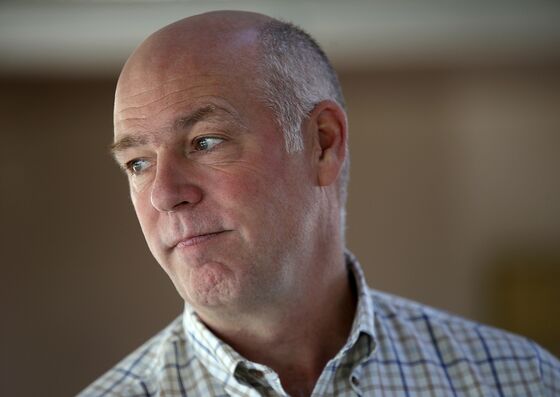 Raskin ticked off examples of Trump encouraging or voicing approval of assaults going back to his 2016 presidential campaign, when he several times encouraged crowds to attack protesters disrupting the events.
He also cited Trump's public applause for Greg Gianforte, who's now Montana's governor, body-slamming a reporter during his congressional campaign; the president's description of a crowd of white supremacists in Charlottesville as including some "very fine people'" and his encouragement for armed militia that pushed their way into the Michigan statehouse.
"These tactics were road-tested" Raskin said. The assault on the Capitol was "a culmination, not an aberration."
Trump had seen extremists plot to kidnap Michigan Governor Gretchen Whitmer following his fiery attacks on her, Raskin said.
"Is there any chance Donald Trump was surprised by the results of his own incitement?" Raskin asked. "This was his essential M.O." -- Mike Dorning
Rioters Said That They Did It for Trump (12:20 p.m.)
Representative Diana DeGette of Colorado opened the second day of prosecution arguments by focusing on the words of those who participated in the insurrection.
In videos and other social media posts, the insurrectionists "make clear the attack was done for Donald Trump, at his instructions and to fulfill his wishes," she said.
"They tagged Mr. Trump in tweets," she said. "Folks, this was not a hidden crime."
She then showed videos of the mob responding to Trump's call to fight and show "strength" with chants to "fight for Trump" and to invade the Capitol. -- Steven Dennis
Trial May End as Soon as Saturday (12:08 p.m.)
Prospects grew that the impeachment trial may end as soon as Saturday.
"Saturday is looking better all the time, I would think, for a final vote," Senator Roy Blunt told reporters.
The House managers plan to finish presenting their case on Thursday. Trump senior adviser Jason Miller said that the defense expects to need only one day to present its case, starting on Friday.
Assuming neither side seeks to call witnesses, the trial would end with up to four hours of questions from senators, other possible motions and a vote on the outcome. -- Billy House, Mark Niquette and Laura Litvan
Biden Says Minds May Have Been Changed (10:40 a.m)
President Joe Biden said "some minds may have been changed" by the vivid case presented by House impeachment managers.
The president has avoided comment on the impeachment proceedings, and he said in brief remarks to reporters Thursday during an Oval Office meeting with several senators that he is focused on issues like his infrastructure plan. "My job is to deal with promises I made, and we all know we have to move on," he said.
"I, like other Americans, watched the news. I didn't watch any of the hearing live," he said, adding, "The Senate has a very important job to complete and I think -- my guess is -- some minds may have been changed but I don't know," he said. -- Jordan Fabian
Trump's Lack of Remorse a Focus (10 a.m.)
Trump's lack of remorse over the storming of the Capitol and his lack of concern for those who were at risk -- including his vice president, Mike Pence -- will be a focus Thursday of House impeachment managers, according to aides.
The managers intend to follow Wednesday's stunning video footage of the Capitol's ransacking by applying that and other evidence to the legal issues that apply in a constitutional impeachment, said the aides who briefed reporters. They said Trump's role in provoking violence was compounded by his lack of remorse as the attack played out and afterward.
In remarks to Politico on Wednesday night, Alabama Senator Tommy Tuberville recounted that a previously reported call he received that day from Trump occurred as rioters were moving toward the Senate, and that he told Trump that Pence had just been evacuated.
Yet around that time, Trump sent a tweet attacking Pence for not having "the courage" to stop the certification by Congress of Joe Biden's presidential election victory. -- Billy House
You can catch the proceedings live on the Bloomberg Terminal or streaming on the web at bloomberg.com. Cable news networks CNN, Fox News and MSNBC are likely to show significant portions of the trial. C-SPAN 2, which covers Senate floor proceedings, will broadcast it on cable and online.