Trump's Global Disruption Pushes Merkel Toward Putin's Orbit
(Bloomberg) -- As Donald Trump shakes up the global order, German Chancellor Angela Merkel is being pushed closer toward a more predictable partner in Moscow.
When President Vladimir Putin hosted Merkel in the Black Sea resort of Sochi on Friday, both leaders did their best to keep tensions in the background compared with a year ago, when they clashed over Ukraine and Russian election meddling. Now, they're aligned in trying to shield businesses from U.S. sanctions, defend the Iran nuclear accord ditched by Trump and rebuffing American objections to a Russian gas pipeline to Germany.
Even so, neither leader unveiled any immediate policy breakthrough.
"If you want to solve problems, you have to talk to each other," Merkel said alongside Putin at a news conference midway through the talks. "There also are points where we agree, which is good, considering all the issues on which we don't agree."
"Even in the most difficult times, we never lost contact with each other," Putin said. "Life goes on, develops, new opportunities arise."
Rapprochement with Russia is now a core policy objective in Berlin, according to a senior German official with knowledge of the chancellery's strategy. The shift in sentiment, underscoring why Russia would have meddled in the 2016 election campaign to favor the Republican wild card, is a consequence of the actions of a U.S. president who has strained the long-standing alliance with Europe.
While Merkel and Putin aren't about to become best of friends, they're seasoned survivors of geopolitical turmoil who share a contentious but well-honed relationship. Germany, for example, doesn't intend to ease European Union sanctions on Russia over its incursions into Ukraine. The Kremlin is still relishing the entente, regarding it as an opening to strengthen its influence with Germany and Europe more broadly.
"Putin likes the irritation that Trump has created with Europe," said Josef Janning, head of the Berlin office of the European Council on Foreign Relations. "In his eyes, I think, the development is quite positive." The Russian leader tried to intimidate Merkel in the past, said Janning, "but she's still around -- like he is."
For Putin, it's an opportunity to chip away at his diplomatic isolation from Europe since Russia was dropped from the Group of Eight in 2014. For Merkel, the stakes are as much about projecting European values in a globalized age as about protecting German economic interests in Iran and Russia.
That includes Nord Stream 2, which Putin and Merkel have a joint interest in completing over U.S. objections. The Trump administration has threatened sanctions on companies working on the pipeline because more Russian gas would bypass Ukraine on its way to Germany.
Putin rebuffed the threat of U.S. sanctions over Nord Stream 2, saying Trump is "promoting the interests of his business' to sell American liquefied natural gas to Europe. Merkel said that while she wants to shield the pipeline project from politics, Ukraine needs Russian "guarantees" that it'll remain a gas transit country.
On the global stage, Trump's exit from the Iran deal is an opportunity for Russia to show it's an indispensable partner, according to a government official familiar with Putin's thinking. Iran will be on the agenda for both Merkel and French President Emmanuel Macron, who's appearing with Putin at the St. Petersburg Economic Forum next week.
"When opinions coincide, it already means that countries become a little bit closer at least," Yuri Ushakov, a Kremlin foreign policy aide, told reporters in Moscow before the meeting. The Sochi meeting between Putin and Merkel will be a "very important contact," he said.
Polls suggest Germans trust Russia more than the U.S. under Trump. While 14 percent of respondents view the U.S. as a reliable partner, 36 percent said the same of Russia, according to a poll for ZDF television published Friday.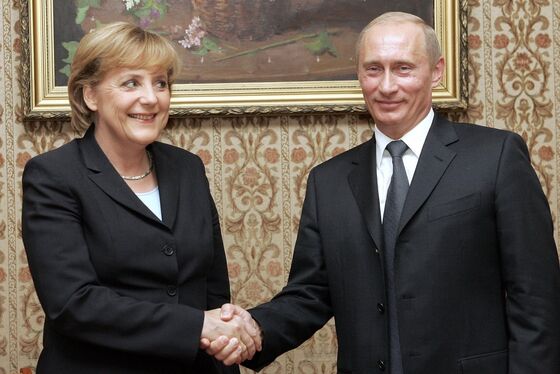 It's the latest turn in a long-running relationship between the two leaders marked by Putin's taunts and Merkel's cold shoulder for his seizure of Crimea and backing of a pro-Russian separatist rebellion in eastern Ukraine. Most recently, Germany joined in the mass expulsions of Russian diplomats in response to the nerve-agent poisoning of a former double agent in England.
Yet for all the tension, they're known quantities to each other and share a historic bond. Merkel, a Russophile and Russian speaker who grew up in communist East Germany, and Putin, a former KGB agent who served in the eastern German city of Dresden, are familiar with each other's background like perhaps no other major world leaders. And throughout the turmoil, they have kept lines of communication open. They spoke by phone as recently as Friday.