Trump's G-20 Scorecard: Victories on Trade, No Viral Moments
(Bloomberg) -- President Donald Trump's overseas trips are often remembered most for what went wrong: the viral clip of him shoving a fellow leader out of the way, the angry tweets, the broken-down negotiations.
Yet as Trump returned to Washington from the Group of 20 summit in Argentina on Sunday, the mood was one of satisfaction for all that went right. He stuck to the script with fellow leaders, avoided major gaffes and got some qualified successes -- including an admission that the World Trade Organization needs reform and a commitment from China to buy more U.S. goods.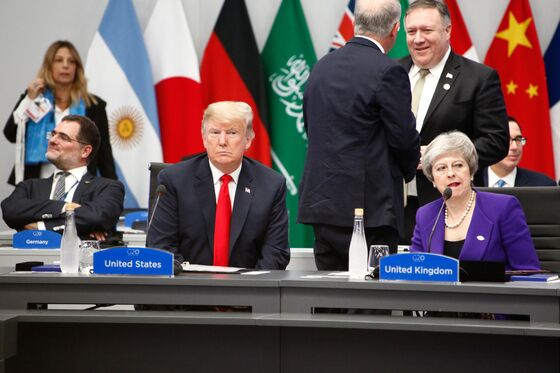 Indeed, Trump's two-day visit was surprising for its normalcy. After nearly two years in office and more than a half-dozen trips abroad, his administration showed signs it has finally learned how to navigate such events, getting what it wants without unduly provoking or alienating other leaders in attendance.
"This may have been the most typical G-20 in a really long time," said James Carafano, the director of foreign policy studies at the Washington-based Heritage Foundation who was involved in the Trump transition. "The success of the G-20 is measured by the ability of leaders to dialogue and message. In that respect it was perfect."
It was less than six months ago, at the Group of Seven meeting in Canada, that critics heaped scorn on Trump after he refused to sign onto a communique to wrap up the summit. As he flew out, he launched broadsides at Canadian Prime Minister Justin Trudeau -- calling him "very dishonest & weak."
This summit in Buenos Aires started with that familiar feeling of trepidation about the potential chaos to come. As Trump was preparing to depart for the Argentine capital, news broke that his former lawyer Michael Cohen had pleaded guilty to lying to Congress about Trump's plans for a Moscow real estate project. That provoked a pair of Twitter posts in which the president denied any wrongdoing -- he said his business was "very legal & very cool."
Then Trump did what he rarely does -- he eased off the tweets. He scrapped a meeting with Russian President Vladimir Putin, ostensibly to show disapproval after Russia opened fire on Ukrainian ships in the Sea of Azov near Crimea and captured several sailors. Speculation ensued that Cohen's plea was the underlying reason for the cancellation but that didn't take hold because Trump had been facing bipartisan pressure to call off the meeting anyway.
The cancellation is "an interesting and unexpected move that certainly puts pressure on the Kremlin to release the held Ukrainian sailors," said Alina Polyakova, a Russia expert at the Brookings Institution.
The rest of the summit fell into a similar pattern. Whether because he's now done several such events, or due to an abundance of caution or out of respect for former President George H. W. Bush, who died at age 94 while Trump was in Buenos Aires, the president and his staff showed uncharacteristic restraint.
Trump, as it turned out, did exactly what's typically expected of a world leader. He met with close allies -- such as Germany's Angela Merkel and Japanese Prime Minister Shinzo Abe -- and shunned counterparts such as Putin and Saudi Crown Prince Mohammed bin Salman, both of whom actively lobbied the U.S. side for formal meetings with him.
Tensions with his familiar jousting partners was still there, most obviously at the signing for an updated North American Free Trade Agreement. Trudeau, standing alongside Trump, pointedly refused to use Trump's new nomenclature -- the "U.S.-Mexico-Canada Agreement" -- and reiterated Canada's demand that the two sides resolve a dispute over steel and aluminum tariffs.
But this time, those moments of tension or awkwardness were the exception, not the rule.
"It was an incredible relief that President Trump finally managed to get through an international meeting without willful destruction of America's standing in the world or alienation of our allies," said Kori Schake, who served at the Pentagon and State Department in the George W. Bush and Obama administrations.
Trump's staff also showed a growing familiarity with multilateral summit milieu, exploiting the gathering to achieve the administration's ends rather than blowing everything up. That was evident in the leaders agreement on the joint communique, a normally stultifying statement that comes out at the end of major summits to signal unity and shared commitments.
Rather than ripping up the communique over U.S. disagreements with the language and Trump's own "America First" approach, American negotiators scored what they viewed as a crucial victory on one of Trump's biggest issues -- an acknowledgment that the WTO needs to be changed.
In the dispute over climate change, rather than allowing it to scuttle the communique, the signatories to the Paris climate accord reaffirmed their support for the deal while letting the U.S. reiterate its decision to quit the agreement, essentially agreeing to disagree.
Part of the reason for Trump's restraint at the summit was respect for Bush, who died late Friday and will be honored with a national day of mourning on Dec. 5.
Trump had planned to hold a post-summit press conference, an event that always risks devolving into insults, falsehoods and, in the case of the North Korea summit in Singapore in June, a weird propaganda-style video. But Trump canceled the media briefing hours beforehand, saying it would be inappropriate to take the podium so soon after Bush's death.
Still, Schake, the former State Department and Pentagon official, cautioned against giving Trump too much credit given the questions surrounding the Putin meeting and U.S. decisions to downgrade meetings with allies such as South Korean President Moon Jae-in.
"I don't think this is the White House getting into the groove," Schake said.
The meeting ended on a high note: a dinner with Chinese President Xi Jinping lasted far longer than expected, with Trump emerging to announce the U.S. and China had agreed to put their trade war on hold for at least 90 days.
For a president accustomed to leaving chaos in his wake at multilateral settings, the steak dinner with Xi was a modicum of success.
"This was an amazing and productive meeting with unlimited possibilities for both the United States and China," Trump said. "It is my great honor to be working with President Xi."
It was an upbeat tone Trump maintained in a series of tweets once he was back in Washington on Monday morning that emphasized one thing that hasn't changed: his belief in what he can achieve through one-on-one diplomacy.
"President Xi and I have a very strong and person relationship," Trump said. "He and I are the only two people that can bring about massive and very positive change, on trade and far beyond, between our two great Nations."