Trump's Former Acting Attorney General Lands Political Consulting Job
(Bloomberg) -- Former acting Attorney General and Donald Trump loyalist Matt Whitaker will join a political consulting firm organized by allies of Texas Senator Ted Cruz.
Whitaker, 49, will be managing director of Clout Public Affairs, a division of Axiom Strategies, the company said. He will assist with public affairs, business development and strategic vision, according to its president, David Polyansky. Whitaker won't be a registered lobbyist.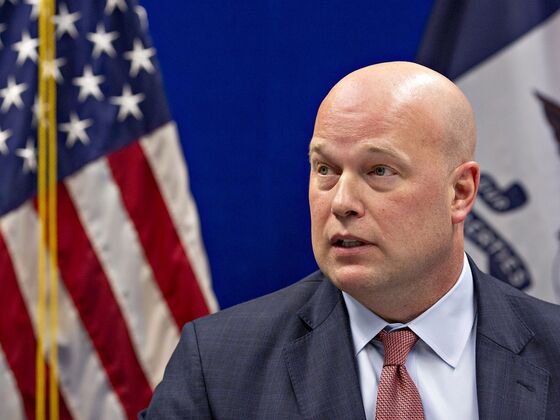 Axiom was founded by Cruz's 2016 presidential campaign manager Jeff Roe, and is looking to expand beyond the Republican senator's circle. Whitaker stepped out of the public eye when he left the Justice Department on March 2, where Democrats had raised concern he would interfere in Special Counsel Robert Mueller's probe of Russian interference in the election.
Democrats had also called his appointment as acting attorney general illegal because he wasn't in a Senate-confirmed position. He had been chief of staff to former Attorney General Jeff Sessions; Trump elevated him over Deputy Attorney General Rod Rosenstein after Sessions resigned.
There had been speculation Trump would appoint Whitaker to another administration job but the president so far hasn't made any moves to do so, according to two people familiar with the matter.
Whitaker is also working with Graves Garrett, a law firm he previously worked with after his time as U.S. Attorney for the Southern District of Iowa.