Trump's Foreign Policy Discord Drives Wedge Between Vital Allies
(Bloomberg) -- For a sense of Donald Trump's upending of the global order, look to Europe this week.
In Warsaw on Thursday, a U.S. delegation led by Vice President Mike Pence is heading an international meeting focused on the threat posed by Iran. Meanwhile in the Black Sea resort of Sochi a thousand miles away, Russian President Vladimir Putin hosts Iran's President Hassan Rouhani along with his Turkish counterpart, Recep Tayyip Erdogan, for talks on Syria.
The parallel meetings underline the changing balance of power in the Middle East, where Russia has asserted itself as the U.S. seeks to disengage, most notably in Trump's desire to withdraw troops from Syria. They also serve as a reminder of the Trump administration's leverage to divide Europe.
Back in 2003, during the build-up to the war in Iraq, then-U.S. Defense Secretary Donald Rumsfeld famously dismissed France and Germany as "old Europe" for opposing moves toward military action, saying the "center of gravity is shifting to the east" to what were then new, mor
e amenable NATO members like Poland.
Today's differences with the Trump administration are of another magnitude, said Constanze Stelzenmueller, Robert Bosch senior fellow at the Brookings Institute in Washington.
"We have never seen anything like this," she said. "The problem with this administration is that they seem to have this genuine antagonism towards the European Union in ways that are frankly scary."
Trump's trade tariffs, swipes at the transatlantic alliance and public disparaging of the EU have rattled Brussels, Berlin and Paris. The president's decision last year to ignore European warnings and abandon the 2015 nuclear deal with Iran prompted the EU to defy Washington and attempt to circumvent U.S. sanctions.
As a result, the optics of the U.S. leading a meeting on Iran in an EU member state is galling for some European governments. Secretary of State Michael Pompeo and senior White House aide and Trump's son-in-law, Jared Kushner, are among the U.S delegation, but neither Germany nor France is reciprocating by sending a senior representative; the EU's foreign policy chief, Federica Mogherini, is pointedly staying away.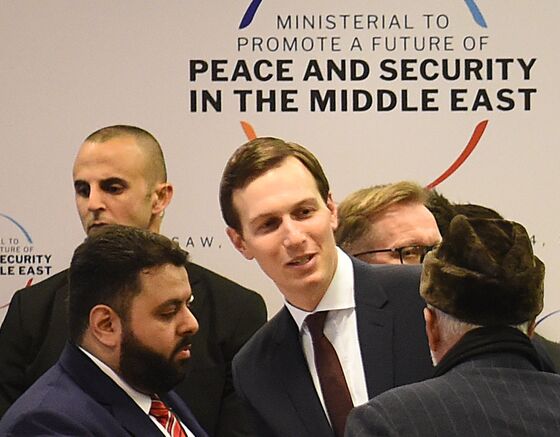 The conflict in Syria and the refugee crisis of 2015-2016 exposed Europe's weakness and divisions, as both Putin and Trump have pointed out. Iran risks opening up European splits on another front.
In Warsaw on Wednesday, Trump lawyer Rudy Giuliani was a cheerleader for the anti-Iranian government cause, addressing several hundred protesters who showed up at the National Stadium.
Regime change "is the only way to see a free, democratic and peaceful Iran," Giuliani said in an interview with Polish broadcaster TVN24BiS the previous evening, stressing that he was giving his personal opinion and not conveying U.S. government policy. "We can't tolerate a large country with nuclear ambitions that has murdered hundreds of thousands of people, doesn't respect rights of women and is a religious maniacal regime."
Poland, whose nationalist government has repeatedly clashed with Brussels over rule-of-law issues, has an affinity with Trump. The U.S. president stopped off in Warsaw in July 2017 before attending the Group of 20 summit in Hamburg, while Polish President Andrzej Duda offered to host, and pay for, a U.S military base in Poland, and to call it Fort Trump.
That familiarity with Trump is something that has eluded French President Emmanuel Macron and German Chancellor Angela Merkel, who have come to realize they can no longer rely on the U.S. as their countries have done throughout the post-World War II era. Both lobbied Trump in person at the White House to hold to the Iran deal, without success.
The French and German stance on Iran -- that the nuclear deal may be flawed but it's better than no deal -- arguably has been weakened by recent statements from Tehran. Iran's Supreme Leader Ayatollah Ali Khamenei rewarded EU efforts to salvage the nuclear accord by issuing a warning on Friday that European nations shouldn't be trusted.
But in a statement on Wednesday, he also said that negotiating with the U.S. "won't lead anywhere apart from financial and moral damage." And in a slap at the Warsaw summit, he added that in order to confront Iran, the U.S. needs "a coalition of tens of governments -- and even then it will fail."
Arguments over Iran will extend into the weekend, when Pompeo and Pence attend the annual Munich Security Conference, whose theme is "Who will pick up the pieces?" That could be read as an allusion to European-U.S. tensions after Pompeo used a speech in Brussels in December to hammer the EU and NATO, the very bedrock of the transatlantic alliance.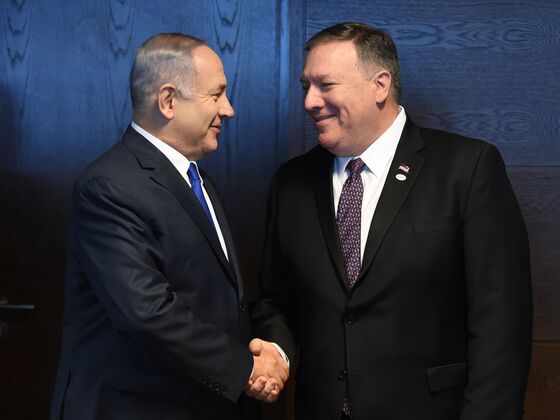 In Warsaw, Israeli Prime Minister Benjamin Netanyahu and senior Gulf Arab officials, including Saudi Arabia's foreign minister, stood near one another during a group photo shoot -- an indication that Trump is perhaps succeeding in bringing together nations that were once unwilling to cooperate and which share concerns about Tehran's influence.
While a key aim of the conference is for Iran to understand that it can't count on driving a wedge between the Europeans and the U.S., according to a senior Arab official from a participating delegation, surveys suggest that divide exists.
Half of Germans and 44 percent of French see the U.S. as a threat to security in Europe, a poll by German foundation the Friedrich-Ebert-Stiftung found. That paints the U.S. under Trump as a higher threat than Putin's Russia, according to the report published Wednesday, titled "Wake-up call for Europe."
In the 30th anniversary year of the fall of the Berlin Wall, "instead of a truly united Europe, we see deep divisions emerging that were unimaginable a quarter of a century ago," Kurt Beck, the foundation's chairman, wrote in the report's introduction.