Trump's Ex-Lawyer Cohen to Testify Before Congress Next Week
(Bloomberg) -- Michael Cohen, President Donald Trump's former lawyer and fixer, is set to testify before three congressional committees next week on topics from hush money paid to women who alleged that they had affairs with Trump to what he knows about Russian interference in the 2016 presidential campaign.
Cohen, who has pleaded guilty to nine felonies, will appear in public next Wednesday before the House Committee on Oversight and Reform -- a re-scheduling of an appearance that had been delayed. In addition, he's expected to testify in closed-door hearings before the Senate Intelligence Committee on Tuesday and before the House Intelligence Committee on Thursday.
"I am pleased to announce that Michael Cohen's public testimony before the Oversight Committee is back on, despite efforts by some to intimidate his family members and prevent him from appearing," the Oversight panel's chairman, Democrat Elijah Cummings of Maryland, said in a statement on Wednesday night.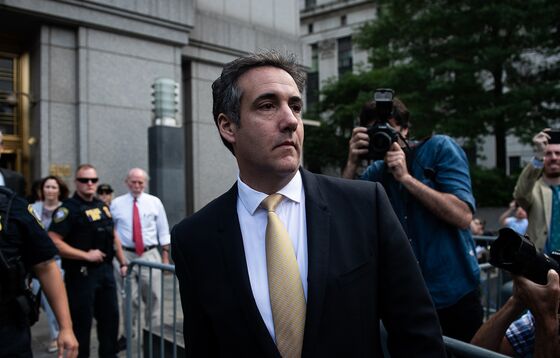 Cummings was referring to claims late last month from Cohen's lawyer, Lanny Davis, that his client wanted to delay public testimony because he feared for his family's safety after what he called threats from Trump.
"The president has terrorized someone who wanted to tell the truth before Congress," Davis said at the time, citing comments from Trump, including a tweet that Cohen was "lying to reduce his jail time! Watch father-in-law!"
In announcing that Cohen's public testimony was back on, Cummings released a "scope" of issues that the public hearing would address, including the president's compliance with tax laws, practices of the Trump Foundation and the hush payments to two women.
Last Friday, Cummings gave lawyers for Trump and the White House until this Friday to provide more information "regarding the failure of President Donald Trump to report hundreds of thousands of dollars in payments and liabilities to his former attorney, Michael Cohen, to silence women alleging extramarital affairs during the 2016 presidential campaign."
Representative Jim Jordan of Ohio, the ranking Republican on the committee, said in a statement Thursday that the Democratic-controlled panel will be giving a convicted liar a platform. Jordan said he'd press Cohen about "criminal activities" that he hasn't disclosed. He called the hearing "Phase One of the Democrats' coordinated campaign to remove the president from office."
Cummings said the public hearing wouldn't trespass on the investigative areas that the House Intelligence panel is pursuing. He described those as touching on "efforts by Russia and other foreign entities to influence the U.S. political process during and since the 2016 U.S. election," and the counterintelligence threat arising from any links or coordination between Americans and the Russian government.
The Senate Intelligence Committee hearing hasn't been formally announced, but Cohen's intention to appear there on Tuesday was confirmed by a person familiar with his plans.
On Wednesday, a federal judge agreed to a two-month delay to the date by which Cohen must report to prison. Cohen had been seeking more time to cope with both recovery from recent surgery and to prepare for expected testimony before the congressional committees.
Cohen is now scheduled to turn himself in on May 6 to begin serving a three-year prison sentence.