Trump's EPA Shakes Up Science Panel That Guides Pollution Rules
(Bloomberg) -- The Environmental Protection Agency has installed new members on a scientific advisory panel that guides the agency on air pollution -- and only one of them is an independent, academic scientist.
The seven-member Clean Air Scientific Advisory Committee plays a critical role in guiding the EPA's decisions on national standards for ozone, particulate matter and other pollutants. Its responsible for reviewing studies governing air pollution and recommending whether existing national standards need to be rewritten.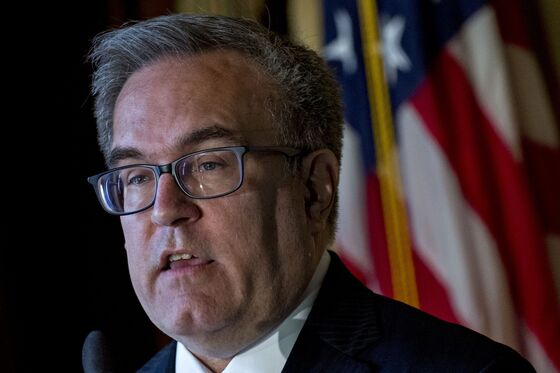 EPA Acting Administrator Andrew Wheeler announced five new members on Wednesday, calling them "highly qualified." In a statement, he cited their diverse "backgrounds in fields like toxicology, engineering, medicine, ecology and atmospheric science."
But environmentalists raised concerns with the makeup of the panel. Most of the members now hail from state agencies that have been critical of stringent national ambient air quality standards for ozone and other material.
"These are folks who are not active researchers and scientists in the field; these are people who work in state agencies," said Andrew Rosenberg, director of the Union of Concerned Scientists' Center for Science and Democracy. With the appointments, President Donald Trump's EPA is "stacking the boards" and "fixing the science advisory boards so you really only get one point of view," Rosenberg said.
The shift comes as the Trump administration remakes other expert advisory panels. Last year, EPA Administrator Scott Pruitt, Wheeler's predecessor, imposed a policy barring committee members from also receiving agency grants -- a change that could limit conflicts of interest but also makes it harder for some academic scientists to participate.
The lone academic scientist in the group is pulmonologist Mark Frampton, a professor emeritus of medicine at the University of Rochester Medical Center, who has published research on ozone air pollution limits.
Other new members include Corey Masuca, with the Jefferson County (Alabama) Department of Health and Steven Packham with Utah's Department of Environmental Quality, and Timothy Lewis, an aquatic ecology expert with the U.S. Army Corps of Engineers, a federal agency involved in dams, canals and other public works projects.
Another new appointee, toxicologist Sabine Lange with the Texas Council on Environmental Quality, has drawn scrutiny for a workshop on ozone three years ago that critics said downplayed the public health risks. The Environmental Defense Fund said the event undermined the public health benefits of ozone limits and Lange left out key factors in an analysis of ozone exposure.
In May, the EPA imposed new procedures for evaluating national ambient air quality standards, saying the agency should factor in economic concerns.