Trump's Elusive Terms on Border Deal Cloud Path to End Shutdown
(Bloomberg) -- Donald Trump's closest advisers have competing senses of what the president would be willing to accept as part of a deal with Democrats to reopen government, underscoring the difficulty negotiators face in bridging the impasse over border security funding.
On Tuesday, people close to the president offered two different views of what he might concede in a possible negotiation. One said Trump wouldn't accept any deal that didn't deliver the full $5.7 billion in funding for a border wall that he seeks. Another said he'd be willing to reduce that amount if Democrats come up with concessions of their own.
The diverging views echo complaints from Democrats, who have said it's impossible to negotiate with Trump because he and his representatives are at odds and make shifting offers that are subject to change at any time. And they're not alone in that frustration. Senate Majority Leader Mitch McConnell stayed silent for the first weeks of the shutdown after Trump suddenly reversed course in December and rejected a spending bill the Republican-led Senate had passed.
The first signs of movement from the Senate to reopen the government came Tuesday, when McConnell, a Kentucky Republican, and Minority Leader Chuck Schumer, a New York Democrat, agreed to vote on rival proposals to end the standoff for the first time since the funding lapse began last month.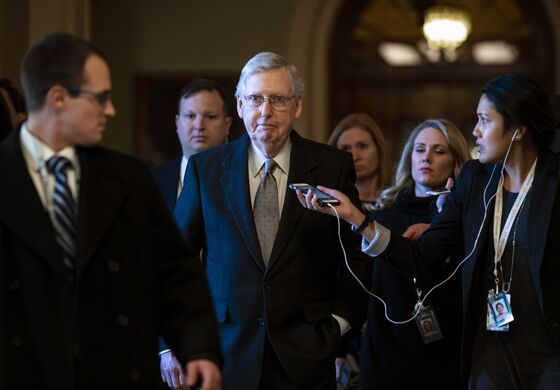 Lawmakers will hold the two separate votes on Thursday: one on Trump's plan that includes $5.7 billion for border wall funding; the other on a Democratic proposal that would reopen shuttered agencies through Feb. 8 while both sides seek consensus on how to better secure the border.
Yet Trump has threatened to veto any measure that doesn't fully fund his wall. Democrats likely have the votes to block his bill, and the Democratic proposal would need to win support of 13 Republicans along with every Democrat just to take up that measure.
On Wednesday, Trump appeared to focus on the marketing of his wall for the GOP. "BUILD A WALL & CRIME WILL FALL! This is the new theme, for two years until the Wall is finished (under construction now), of the Republican Party. Use it and pray!" he wrote on Twitter.
Even as he digs in on his pro-wall rhetoric, Trump isn't ruling out concessions on significant issues. Those potentially include permanent status for young undocumented immigrants who were brought to the U.S. as children, one of the people said, though that would likely carry a high price, according to a third person familiar with the president's thinking. They requested anonymity to discuss White House internal deliberations on the shutdown strategy.
Trump has so far been unwavering in his demand for the $5.7 billion and has given no public indication that he's willing to settle for a smaller amount. And he won't offer additional concessions until House Democrats put forward a proposal he considers a serious effort to break the impasse that has now stretched into a second month, one of the people said.
Trump would only agree to lower his demand if Homeland Security officials who've been advising him on border security signed off on it, according to the person.
The president views the proposal he made over the weekend as an opening offer and is ready to work out a compromise if Democrats give ground, aides say. Congressional Democrats rebuffed the plan, which would have provided three years of protections for the young immigrants, known as Dreamers.
House Speaker Nancy Pelosi and Schumer have argued the president's plan, unveiled in a weekend address, doesn't go far enough to justify what they argue is wasteful and immoral spending on a border wall.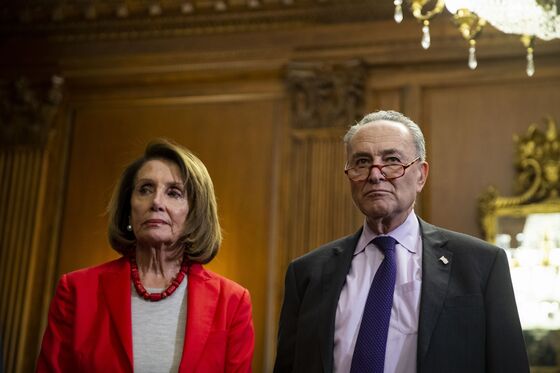 Trump doesn't feel the Democrats' current proposal to provide additional funding for border security serious enough to counter, one of the people said.
That's led to frustration within the West Wing, where aides believe that Pelosi and Schumer are instructing moderate members of their party not to negotiate with the White House on a possible compromise. White House senior adviser Jared Kushner and Vice President Mike Pence have sought to court Democrats in recent days in a series of phone calls and meetings, hoping to encourage them to break from their leadership.
Within the White House, aides understand that the president's proposal will struggle to get to 60 votes. But even if his legislation fails, he may not necessarily move forward with an emergency declaration that would attempt to circumvent Congress by tapping unspent appropriations for border wall funding.
That's partly because some in the administration believe doing so would let Democrats off the hook in a fight over immigration that some in the White House believe helps Trump politically. As Democratic leaders encourage their members not to engage with the administration, the president has warned that the shutdown could continue to extend for a significant period of time
Schumer said the Democratic plan to fund agencies through Feb. 8 has the benefit of ensuring federal workers get paid and that agencies restore services, even if just a few weeks of operations would be guaranteed as negotiations continue.
"It will allow us to then debate -- without hostage-taking, without temper tantrums, without anything -- how we can best do border security, get that done hopefully by Feb. 8th, and keep the government open," Schumer said on the Senate floor.
McConnell called the White House plan a "bold, comprehensive" offer and the only one Trump is likely to sign. Schumer's proposal passed the House this month, but with a veto threat from the White House.
There is some prospect of Senate Republican defections in favor of the Democratic plan when the votes occur later this week. Some Republicans in the chamber -- including Cory Gardner of Colorado, Susan Collins of Maine and Lamar Alexander of Tennessee -- have been pressing for action that would end the shutdown, now in its 33rd day, at least temporarily.
Yet unless Trump changes his opposition it could be hard to get the votes to override his veto. It would take 20 Republicans in the Senate to vote with all 47 Democrats and Independents to reach a two-thirds vote for an override. In the House, 237 lawmakers voted in favor of the legislation, well short of the 290 needed to override a veto in that chamber.
Trump's proposal faces strong objections from Democrats who oppose the wall and some immigration law changes that include new asylum limits for Central American minors.
The Trump bill includes a provision to ban nationals of El Salvador, Guatemala or Honduras who are under 18 years old from eligibility for asylum unless they submit applications at a processing center in Central America. That means they cannot apply in the U.S. if they flee their home countries because of gang violence, as many have done.
As an olive branch to Democrats, the Trump proposal includes the provisional three-year work permits for Dreamers and those who have Temporary Protected Status. Trump has sought to end both programs.
The new legislation, however, would only apply the DACA extension to those young immigrants currently receiving protections, and not those who might be eligible to qualify, as would be allowed under a previous bipartisan proposal called the Bridge Act. The new legislation would leave out hundreds of thousands of undocumented immigrants brought to the U.S. as children.