Trump's Dinner Date With Xi May Give Soybean Market Bullish Jolt
(Bloomberg) -- Soybeans weren't on the menu, but President Donald Trump's dinner date in Buenos Aires with his Chinese counterpart Xi Jinping gave the market the jolt it's been desperately looking for.
The oilseed jumped to the highest since June in Chicago, leading gains in crops from wheat to cotton, while agribusiness shares rallied, after the White House said China agreed to restart U.S. purchases as part of a trade truce. On Twitter, Trump said farmers would be "very BIG and FAST" beneficiaries.
China is expected to be back in the U.S. purchasing soy market in the New Year, Agriculture Secretary Sonny Perdue said at an event in Chicago Monday.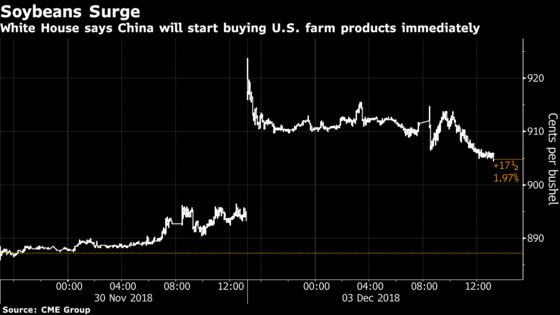 While the announcement lacked details and is far from a definitive arrangement, it's a significant development in the trade war that has beleaguered U.S. farmers.
"This definitely changes some of the bearish psychology in this market," and traders and analysts will be keeping watch on whether it's followed by some actual purchases in the next few weeks, Rich Nelson, chief strategist for Allendale Inc. in McHenry, Illinois, said by phone. "We have to wait for a lot of details but we will have a higher push in prices."
As tit-for-tat tariffs ratcheted up between the countries, soybeans became the poster child of the trade dispute. China, the world's dominant importer, started shunning U.S. supplies and Chicago futures tumbled as a result. Across the Midwest, the 2018 harvest had been piling up, unsold, in silos, bins and bags.
Soybeans for January delivery rose as much as 3.2 percent to $9.23 3/4 a bushel in Chicago, the highest price for the most-active contract since June 19. The price pared gains later in the session and closed at $9.05 3/4 a bushel. Most-active futures are still down about 5 percent this year.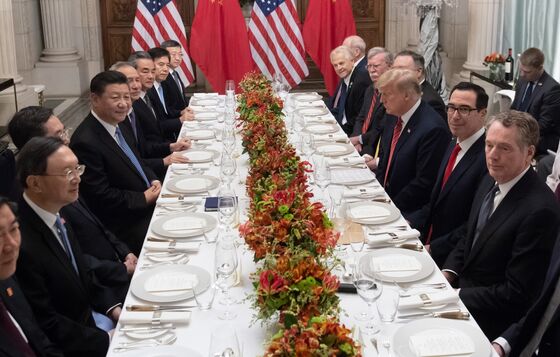 It's hard to overstate how important China is for the soybean world. It's the biggest consumer by far, using the oilseed as a protein in livestock feed. Chinese tariffs on U.S. shipments have turned usual trade flows on their head. Major exporters like Argentina are now buying dirt-cheap U.S. supplies, while domestic premiums in soy king Brazil surged earlier this year.
Many traders and farmers are hoping an eventual China-U.S. pact can help bring trade back to normal, or at least make it more predictable.
"Hopefully, in the next 90 days, negotiations will move forward and we can move to resolve this whole thing," Lindsay Greiner, president of the Iowa Soybean Association, said by phone Sunday. "There is a long way to go."
The weekend's developments are good "from a psychological standpoint" for soybeans and other markets that were also hurt by tariffs, such as pork, said Greiner, who is also a contract grower for hogs.
Truce Fails to Bolster Hogs Amid Ample Supply: U.S.-China Update
While the developments are welcome news in Illinois, the top U.S. soybean producer, farmers are curious when China's retaliatory tariffs will be rescinded given the large harvest and inventories in the state and around the country, said Mark Albertson, director of strategic market development for the Illinois Soybean Association. This is the time of year when China usually buys soybeans from the U.S.
"We have a lot at stake," he said. "We need to have actual sales."
U.S. meat exports also have been "entangled" in the various trade negotiations and disputes over the last year, according to Dan Halstrom, chief executive officer of the U.S. Meat Export Federation.
"It is encouraging to see the U.S. and China return to the negotiating table," Halstrom said in a statement Monday. "Global demand for U.S. red meat is very strong, but exports cannot reach their full potential until the retaliatory duties imposed by Mexico, China and Canada are removed.""
Market talk
"The market continues to digest the news from President Trump and China's president meeting this weekend," according to a report Monday by MaxYield Cooperative in West Bend, Iowa

"Although the news was optimistic, the market is still waiting for follow through on agreements discussed during the meeting"

Prices for several commodities pared gains given "we just don't know how much has changed," Ben McKenna, director of institutional sales for INTL FCStone Inc. in Chicago, says in a telephone interview

Details need to be spelled out, he says
"We don't know how we are going to get beans to China" and the competing South American harvest is approaching, he says
Other agricultural markets

Soybean meal futures climbed 1.3% in Chicago to $314.40, after reaching $319.10, the highest since October
March wheat rose 1.1 percent to $5.21 1/4 a bushel while corn futures jumped 1.1% to $3.82 a bushel
In soft commodities, sugar gained amid oil's rally, with higher fuel prices encouraging Brazilian millers to direct more cane to making ethanol instead of the sweetener. Raw sugar climbed 0.6%

Cotton for March delivery jumped 1.3% as the trade truce indicated a recovery in Chinese demand for U.S.-grown fiber
Agricultural equities
Deere & Co., the world's largest farm-equipment maker, rose as much as 6.1% to $164.37 in New York
Bunge Ltd., the world's largest oilseed processor, jumped 4.4% to $59.60
Archer-Daniels Midland Co., the world's largest corn processor, rose as much as 2.5%