Trump's Border Threats May Mean More Headaches for U.S. Farmers
(Bloomberg) -- Donald Trump's confrontation at the southern U.S. border means millions of dollars worth of American farm trade could be back under threat.
While most U.S. agriculture that's exported to Mexico gets sent through Texas, the California crossings near the latest border chaos see millions worth of trade daily, said Dan Kowalski, head of knowledge exchange for agriculture lender CoBank ACB. Mexico is a major buyer of American meat, livestock, grains and dairy.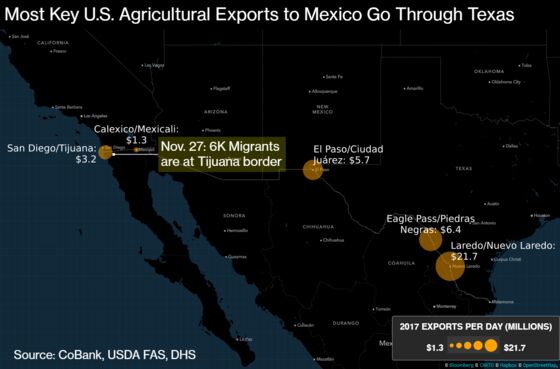 U.S. border officials temporarily shuttered and reopened the San Ysidro port of entry between Tijuana and San Diego on Sunday. As Trump ramps up his rhetoric against migrants, he's also threatened to permanently close the southern border if needed. That comes at a time when American agriculture is already suffering from retaliatory tariffs by major trading partners.
Trump hasn't offered any details on his threats. While there's some skepticism about whether a closure would occur or how long it would be, even the threats have raised some concerns in the farm industry, according to Arlan Suderman, chief commodities economist for INTL FCStone Inc. in Kansas City, Missouri.
The California ports of San Ysidro and Calexico last year had about $1.16 billion and $475 million, respectively, of meat, livestock, grains, dairy and other agricultural goods move from the U.S. to Mexico, according to data compiled by CoBank.
The latest woes come just weeks after farmers breathed a sigh of relief as the U.S. and Mexico, along with Canada, secured a trade deal. Before reaching the pact, Mexico had levied duties on American goods such as pork, and the U.S. hog industry has been vocally calling for an end to trade disputes.
Even though the current border problem doesn't appear to have impacted U.S. agricultural yet, this industry is watching because "if this becomes a more significant problem or a protracted problem, this could sideline a lot of agricultural exports," Kowalski of CoBank said. More than 80 percent of U.S. agriculture exports to Mexico go across land by truck and rail.
The tumult at the border also stirs up anxiety over potential labor shortages, as farm owners already have a hard time finding workers to pick everything from strawberries to lettuce, said David Swenson, an agricultural economist at Iowa State University in Ames.
The agricultural industry has become increasingly reliant on immigrants to perform those jobs, Swenson said. Workers often flow back and forth across the border to take the money that they've earned in the U.S. back home, he said.
As of 2016, about 58 percent of U.S. farm laborers came from Mexico, according to the U.S. Department of Agriculture. The number of temporary visas to work in agriculture has skyrocketed 316 percent to 200,000 in 2017 from 48,000 in 2005.
"The anxiety would be initially for those workers that go back and forth," between the U.S. and their home countries, Swenson said.