Trump Altered Dorian Map to Show Storm Threatened Alabama
(Bloomberg) -- After facing ridicule for suggesting over the weekend that Hurricane Dorian might strike Alabama, Donald Trump showed reporters a map on Wednesday that he personally altered to help prove his point.
During a briefing on the storm's threat to the U.S. East Coast, the president held up an Aug. 29 map from the National Weather Service showing initial projections of Dorian's track into Florida. But the map had been changed -- by the president -- with a black line that extended the storm's path beyond Florida and into southern Alabama, according to people familiar with the matter.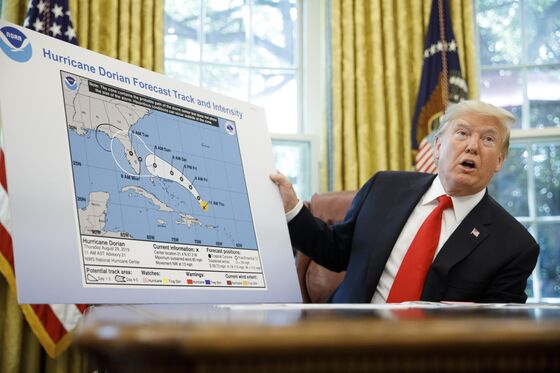 "We got lucky in Florida -- very, very lucky indeed," Trump said in the Oval Office, before holding up what he called an "original chart," from six days earlier, forecasting a direct hit on Florida. "It was going toward the Gulf. That was what was originally projected, and it took a right turn and ultimately -- hopefully, we're going to be lucky."
Trump repeatedly claimed on Sunday that Alabama was in Dorian's path -- he tweeted it, repeated it at the White House, and said it again during a visit to the Federal Emergency Management Agency. But by then, the storm's track had turned decidedly north and east.
The National Weather Service's Birmingham office said in a tweet on Sunday that "no impacts from Hurricane Dorian will be felt across Alabama." Trump nonetheless said his warning had been accurate.
"It was in fact correct that Alabama could have received some 'hurt,'" he wrote. "Always good to be prepared!"
None of the U.S. National Hurricane Center Advisories from Thursday -- the date of the map Trump displayed on Wednesday in the Oval Office -- included Alabama in the projected path of the hurricane. Forecasts from Friday night and early Saturday morning showed a sliver of southeast Alabama within Dorian's possible paths, but by midday Saturday, the storm wasn't forecast to approach the state.
Trump said later on Wednesday that he didn't know the six-day-old map he showed reporters in the Oval Office had been altered. He said Alabama was going to be hit by the storm in the "original forecast."
"Georgia, Alabama was a different route. They actually have that a 95% chance probability. But Alabama was hit very hard -- was going to be hit very hard, along with Georgia," Trump said. "The original path was through Florida. I think that's probably three, four days old. On the right would have been Georgia, Alabama, et cetera."
Later Wednesday, Trump again defended his claim that projections had Alabama in the hurricane's path. In a tweet, he posted a map with what appeared to be many possible tracks for the storm. Some of them stretched into Alabama, Mississippi and Louisiana, and one even was headed for Mexico.
The White House said in a statement on Wednesday evening that Trump had spoken by telephone to Prime Minister Hubert Minnis of the Bahamas, parts of which were pounded by the hurricane. At least seven people died in the storm.
Trump, according to White House, expressed his condolences and offered U.S. assistance.