Trump Rejects California Governor's Request for More Homeless Aid
(Bloomberg) -- Housing and Urban Development Secretary Ben Carson rebuffed California Governor Gavin Newsom's request for more federal money to combat a homelessness crisis, instead demanding the state revise its housing regulations and crack down on undocumented immigration.
Carson's letter, which he said he'd written at the request of the president, escalated a feud between the Trump administration and California over the state's ballooning population of homeless people.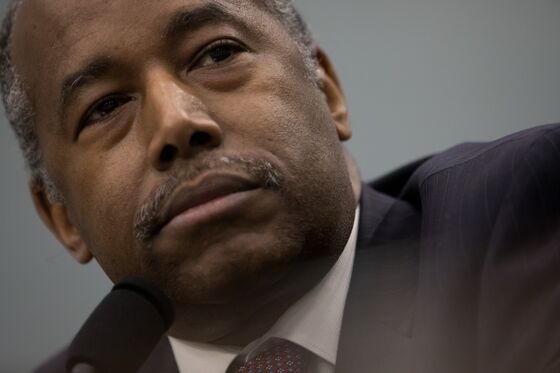 Newsom and mayors of the state's largest cities, including Los Angeles's Eric Garcetti, wrote President Donald Trump on Monday as he prepared to visit the state to request more federal rent vouchers and other aid. Trump has directed his government to explore ways to combat the homelessness crisis, particularly in Los Angeles; one possibility Carson's agency has considered is relocating people from the streets to vacant federal properties, according to administration officials.
Nearly 500,000 California households already receive some kind of federal housing assistance, Carson said in his letter, dated Wednesday, and subsidies per tenant are 38% higher than the national average. He said that Los Angeles alone -- where many freeway overpasses and public parks have become encampments -- is home to 19% of the nation's entire homeless population.
"Federal taxpayers are clearly doing their part to help solve the crisis," Carson wrote. "California cannot spend its way out of this problem using federal funds."
Instead, Carson said the state must allow police officers to refer homeless people to social services workers. It must increase its psychiatric hospital services, possibly through additional federal funding. And it must end so-called "sanctuary city" policies that he said encourage undocumented immigrants to travel to the state and seek government services.
California's Democratic leaders have been at the forefront of opposition to Trump's immigration policies.