Trump Can't Rely On Cable News Running His Rallies In Full Anymore
(Bloomberg) -- Donald Trump's rallies were once a surefire magnet for live TV, with cable news networks drawn to the chanting crowds, the unscripted candidate and even occasional fisticuffs in packed arenas.
Three years later, the novelty is waning and the events are drawing less airtime. Networks criticized for handing free airtime to Trump are cutting back, worrying some of the president's backers.
"People have learned a lot from '16 to '19," said Frank Sesno, a former Washington bureau chief for CNN and now the director of the School of Media and Public Affairs at George Washington University. "I think every news organization will be applying a tighter standard this time."
That was evident Thursday night when AT&T Inc.'s CNN and Comcast Corp.'s MSNBC stuck to scheduled news programming as Trump's rally began in Minneapolis. Fox Corp.'s Fox News, known for its closeness to the Trump administration, carried the event live from its start to its finish more than 90 minutes later.
But even Fox's ardor has waxed and waned. When the president's viewership drops, the network may prefer to stick with its evening ratings powerhouse Sean Hannity, said Tom Bettag, former executive producer for ABC's "Nightline with Ted Koppel."
"The first time around, there was a case to be made to cover the rallies," Bettag said. Reporters in the field knew something extraordinary was occurring, and made the case for air time to show the intense atmosphere in the arena.
Now, he said, Trump rallies aren't as hot as they used to be.
Last year, CNN and MSNBC each showed less than 22 minutes of live coverage of 42 Trump rallies from April until the midterm elections in November, according to data compiled by Media Matters for America, a self-described progressive policy group that says it works to correct conservative "misinformation."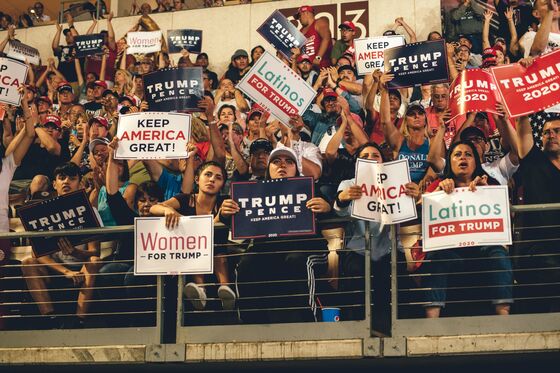 Fox devoted roughly 60 times as much airtime -- 21 hours -- to the performances. That's about half the run time for the events or less, given that the rallies can last an hour or more.
Representatives of Fox News, CNN and MSNBC declined to comment about their coverage of the rallies.
This year, going into Thursday's rally, Fox had displayed more than 13 hours of live coverage of the 12 Trump live events tracked by Media Matters. CNN and MSNBC each has offered scant live coverage of the events with CNN showing 51 minutes and MSNBC showing none, according to Media Matters data.
Even with that discrepancy, some Trump advisers have detected what they think is a drop off in coverage on Fox that extends to the president's White House appearances and non-rally speeches. They've nicknamed it the "Paul Ryan effect" for the former Republican House leader who clashed at times with Trump, and joined the Fox Corp. board this year. Ryan spokesman Brendan Buck said, "Paul does not get involved in editorial or coverage decisions at the network."
Trump is scheduled for rallies in Louisiana Friday and Dallas on Oct. 17.
Erin Perrine, a Trump campaign spokeswoman, said the president had "changed the political landscape in America with raucous rallies. That mentality has not changed."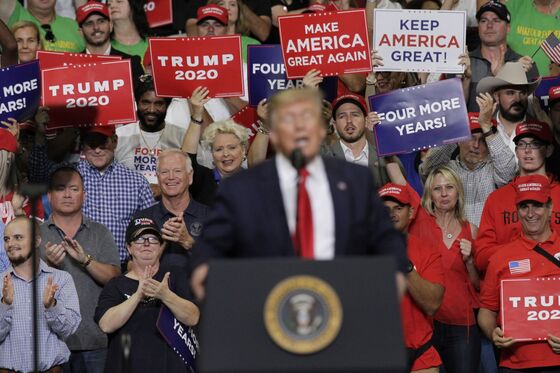 "Whether or not networks carry rallies is up to them but rallies always make news, drive headlines, and get millions of views on our social media pages," Perrine said in an email. "Our campaign data shows there is massive movement in support locally when the president comes to town. Most people get their news from local outlets, not the national news."
Media Matters President Angelo Carusone said CNN and MSNBC may be chastened by criticism their extensive coverage benefited Trump in 2016.
"The networks and cable news have definitely shifted, and recalibrated," he said.
The debate about broadcasting the rallies live has even spilled out on the air on Fox. As Hannity's show ended Sept. 17, he introduced the next host, Laura Ingraham, with what he called "a complaint."
"So I'm watching the rest of the president's speech in New Mexico last night. I wanted to see the ending. You cut to your debate early," Hannity said.
Ingraham replied, "Is that the White House speaking or is that you?"
"We love the president's speeches. But he had hit all the points, the new points that we wanted to get across, and we had a fantastic panel" waiting to discuss issues, she told viewers.
Trump is, of course, now the president and makes news during rallies, announcing policy shifts or personnel changes. So news organizations send crews to each and cut into broadcasts as necessary.
That's different from merely relaying the entire production live.
"Gavel to gavel -- no," Lucy Dalglish, dean of the University of Maryland's journalism school, said in an interview. "If it's the same old same old, I don't see the point. Should somebody be there and be ready to break in? Absolutely."
Kathleen Hall Jamieson, director of the Annenberg Public Policy Center at the University of Pennsylvania, called open-mic rally coverage "the equivalent of paid advertising."
Networks should ask, "Is this newsworthy? Are we being hijacked?" Jamieson said in an interview.