Trump-Putin Talks Shortened Amid French Concerns, Kremlin Says
(Bloomberg) -- U.S. President Donald Trump and Russian leader Vladimir Putin cut short plans for talks in Paris on Sunday because the French government worried the meeting would overshadow commemorations of the end of World War I, according to the Kremlin.
The proposed talks provoked "huge interest" and French officials "began to express fears that the meeting itself and even the process of preparing for it may divert attention from the main theme of the Paris events," Kremlin foreign policy aide Yuri Ushakov told reporters in Moscow on Wednesday. "The French partners actively brought their concerns to the Russian and U.S. sides and, with these considerations in mind, Washington and Moscow decided against holding a full-scale meeting of the presidents," he said.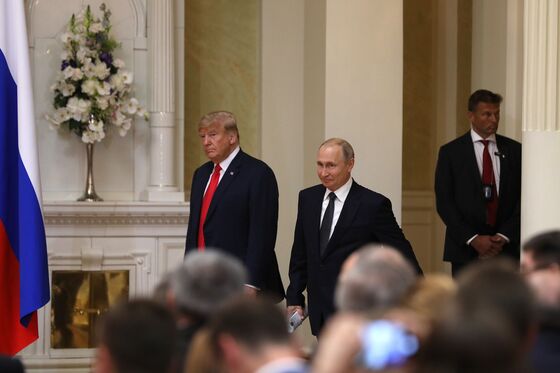 The two leaders will instead have "very brief contact" in Paris, including meeting at lunch during the commemorations, and hold "a more detailed conversation" at the Group of 20 summit in Buenos Aires at the end of this month, Ushakov said. Trump has also invited Putin to visit Washington early next year, he said. U.S. National Security Adviser John Bolton discussed reciprocal visits of the two presidents when he was in Moscow for talks last month, Ushakov said.
Trump said Monday that a meeting in Paris will "probably not" take place. He didn't give an explanation for the change of plans other than to say he's "going to be in Paris for other reasons." Putin's spokesman, Dmitry Peskov, said the next day that the meeting was off because the "schedule of the multilateral event doesn't allow it."
Russian officials have pinned their hopes on personal contacts between the two leaders to help achieve a long-sought warming in relations with the U.S. after they plunged to their worst since the Cold War under Trump's predecessor, Barack Obama. Instead, ties have deteriorated further as the Kremlin has faced repeated rounds of new sanctions amid U.S. allegations of Russian election meddling.
The U.S. midterm election results, which delivered control of the House of Representatives to Trump's Democratic opponents, were "more or less as expected" and "we should wait and see" whether they have an impact on relations between Washington and Moscow, Ushakov said.
While the elections don't offer "bright prospects" for improving ties, "it doesn't mean that we aren't seeking dialogue," Peskov told reporters on a conference call Wednesday.