Graham Pushes Trump to Add Debt Limit Increase to Border Security Talks
(Bloomberg) -- A top Senate ally is urging President Donald Trump to seek a U.S. debt limit increase as part of border security talks aimed at preventing another government shutdown, even as other lawmakers say the negotiations can't succeed if they get too complicated.
GOP Senator Lindsey Graham said he pitched the idea of including a debt limit increase -- and also multi-year federal spending caps -- when the two dined Monday night at Trump's hotel in downtown Washington. Graham said that while those matters don't face any immediate deadlines, resolving them now would prevent more partisan brinkmanship following the five-week partial shutdown.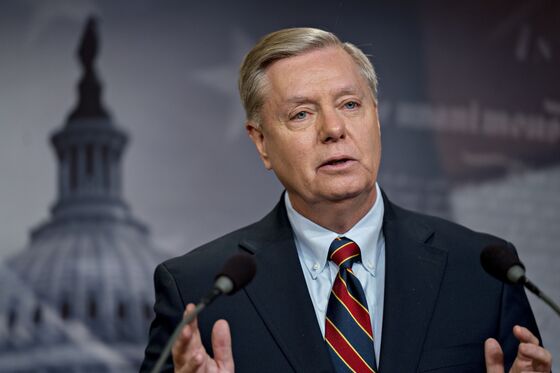 "We've had enough cliffhangers and that's the point I'm trying to make," Graham of South Carolina told reporters Tuesday. He said Trump responded that he's open to a deal addressing other matters, which might include work permits for young undocumented immigrants and an extension of temporary protected status for 400,000 people.
Senate Majority Leader Mitch McConnell told reporters, "I'm for whatever works that prevents a level of dysfunction we've seen on full display here the last month ,and also doesn't bring about a view on the president's part that he needs to declare a national emergency. To predict going in exactly what that is is impossible."
A House-Senate conference committee holds its first meeting Wednesday in an effort to work out a border security plan before the next shutdown deadline on Feb. 15. Trump is demanding $5.7 billion for a border wall, while Democrats support other security measures. Many members of both parties say the best path to agreement is to focus the talks on border security spending.
"Let's not make this harder than it needs to be," said House Appropriations Chairwoman Nita Lowey of New York, dismissing the idea of a debt limit increase as part of a spending deal. "I'm focused on border security," she said, adding that broader spending caps are "probably not" on the table now.
The federal debt limit is currently suspended and comes back into effect March 1. The Treasury can use what it calls extraordinary measures to prevent a default on U.S. obligations into the summer, according to an estimate by the Bipartisan Policy Center.
GOP Senator Roy Blunt of Missouri, a member of the conference committee, has also urged including the debt ceiling in the discussions. A Democratic committee member, Senator Patrick Leahy of Vermont, said he's willing to discuss the debt limit or any other topic behind closed doors with the conferees.
A form of early consensus is emerging among lawmakers in both parties before the formal talks begin.
Republicans have begun emphasizing elements of a border plan besides a wall, such as enhancing technology, increasing personnel and adding drug-detection resources at ports of entry. Democrats have been backing those ideas thus far.
Democrats say they could support some kind of physical barrier proposed by Republicans, as long as it's part of an evidence-based plan rather than an ideological campaign promise. The idea of the U.S. Border Patrol helping steer decisions about security approaches -- fencing or otherwise -- is also taking hold.
"We should listen to the experts," House Minority Leader Kevin McCarthy told reporters. "If the Democrats are beginning to discuss barriers, then that's a positive."
Democratic negotiators, including Senator Dick Durbin of Illinois, are pressing to leave out changes in immigration law -- including deportation protections for undocumented "dreamer" immigrants -- to reserve controversial issues for later.
Two Senate leaders -- second-ranking Republican John Thune of South Dakota and Minority Leader Chuck Schumer of New York -- said they didn't back adding a debt limit increase to the talks.
"I hate to even go there right now," said Thune of South Dakota.
Schumer also urged Trump to stay on the sidelines, arguing that he could harm the chances of progress by getting involved.
There is "no consistency to what he says one day and what he says the next," said Schumer of New York. "Negotiating with President Trump is like negotiating with Jell-O."
There's no public word yet on whether the White House will appoint a person to reach out to leaders and appropriations negotiators. In earlier talks, Jared Kushner, the president's son-in-law and a senior White House aide, sought to negotiate a solution on Trump's demand to fund a wall on the border with Mexico.
"When you find out, let me know," Lowey said Tuesday. The New York Democrat is leading the House side of the team, but she said she hasn't been contacted by the White House.