New York's Next Attorney General Vows to Investigate Trump's Dealings
(Bloomberg) -- Letitia James, the newly elected Democratic attorney general of New York, promised during her acceptance speech Tuesday to investigate Donald Trump's real estate dealings.
"New Yorkers, we can spot a con man," James, the first African-American and the first woman elected to the office, said to a cheering crowd in Brooklyn. "We can spot a carnival barker. I will shine a light into every dark corner of his real estate dealings, and every dealing."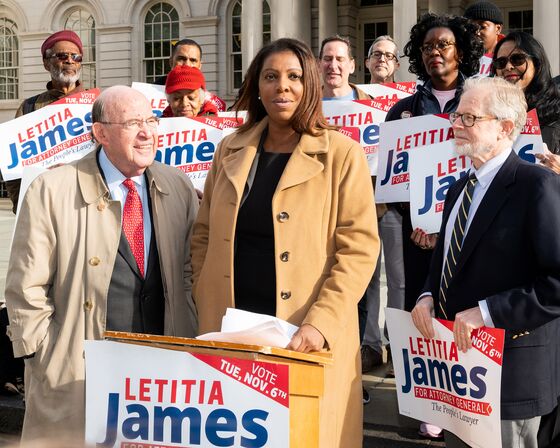 James, the New York City Public Advocate, also promised to protect minorities and immigrants who she said are under attack by the Trump administration. Her predecessor, Barbara Underwood, is involved in numerous lawsuits challenging Trump policies in court and sued Trump's personal charitable foundation alleging rampant violations of state law.
"At a time when we're seeing such vitriol, and such hate on a national level, led by someone who is supposed to be a voice for all Americans, I am proud to stand here as a New Yorker who knows that it's our diversity, our strength, our courage and our determination that makes us great," James said.
Underwood wasn't elected but filled in for Eric Schneiderman after the longtime state attorney general was brought down by allegations of abuse against multiple woman.