Trump Preparing to Oust Homeland Security Secretary, Post Says
(Bloomberg) -- U.S. Homeland Security Secretary Kirstjen Nielsen may be removed by President Donald Trump in the near future, the Washington Post reported Monday night.
The Post, citing five unnamed sources, said that Trump has been unhappy with Nielsen's performance and canceled a planned visit to U.S. armed forces at the border with Mexico. Homeland Security is responsible for protecting the country's borders and enforcing immigration laws.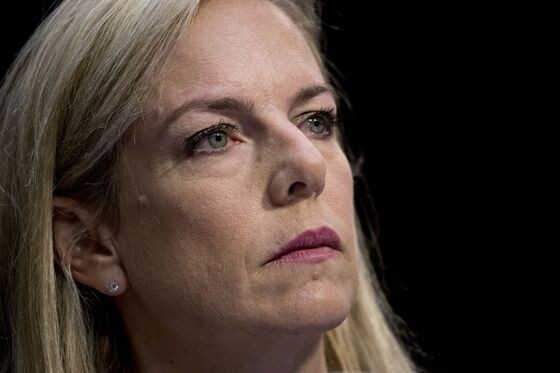 Trump has told advisers that he wants to replace Nielsen, according to the Post, and that she may leave office in the coming weeks, or perhaps much sooner.
Trump brought the immigration issue into sharp focus in the weeks before the midterm elections, warning about a large group of migrants from Central America who are making their way through Mexico to the southern border of the U.S.
The report comes less than a week after Trump ousted Attorney General Jeff Sessions.
Asked for comment on the report, Tyler Houlton, a DHS spokesman, released this statement: "The secretary is honored to lead the men and women of DHS and is committed to implementing the president's security-focused agenda to protect Americans from all threats and will continue to do so."