Trump Pledges to Stop 'Endless Wars' in Syria and Afghanistan
(Bloomberg) -- President Donald Trump pledged to bring home U.S. troops from Syria with Islamic State nearly defeated and to negotiate an exit from Afghanistan after almost two decades of war, saying in his State of the Union address that "great nations do not fight endless wars."
"Today, we have liberated virtually all of that territory from the grip of these bloodthirsty monsters," Trump said in his speech on Tuesday. "Now, as we work with our allies to destroy the remnants of ISIS, it is time to give our brave warriors in Syria a warm welcome home."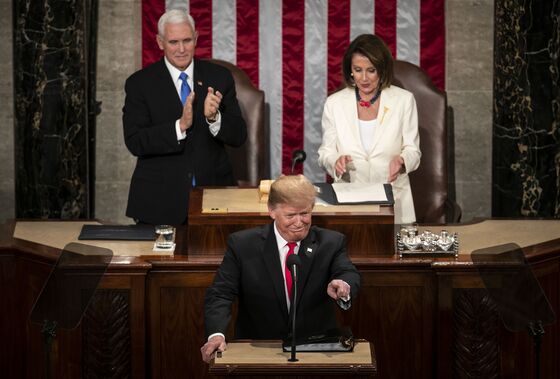 Trump and his aides have scaled back the president's vow in late December to withdraw forces "now," saying the move would be more measured and that the U.S. will continue to strike at Islamic State.
But the president spoke only hours after the Republican-controlled Senate passed legislation with a provision sponsored by Majority Leader Mitch McConnell calling for the U.S. to avoid any "precipitous withdrawal" from Syria and Afghanistan.
At its peak, Islamic State ruled territory the size of Britain, with a population of more than 10 million people, according to the Brookings Institution. Last week, Acting Defense Secretary Patrick Shanahan said "99.5 percent-plus of ISIS-controlled territory" has been recaptured. But General Joseph L. Votel, the head of U.S. Central Command, told lawmakers on Tuesday that there's a risk ISIS may try to reassert influence in the war-ravaged country.
"If the major actors and their proxies become embroiled in a competition for influence in Syria, this may create space for ISIS remnants or other terrorist groups to reform or reconstitute," Votel said in a report to the Senate Armed Services Committee. Russia, Iran, Turkey and Israel all have a stake in Syria's future.
In his speech, Trump conflated war and domestic investigations of his administration as twin threats to the U.S. economy.
"An economic miracle is taking place in the United States -- and the only thing that can stop it are foolish wars, politics or ridiculous partisan investigations," he said, without mentioning the continuing probes into Russian interference in the 2016 presidential election and into his business affairs. "If there is going to be peace and legislation, there cannot be war and investigation. It just doesn't work that way!"
Defense Secretary Jim Mattis resigned in December over Trump's vow to take troops out of Syria, and other officials have pushed back, creating confusion over the timetable for withdrawal.
U.S. intelligence officials also undercut Trump's initial boast that Islamic State has been defeated. The "Worldwide Threat Assessment of the U.S. Intelligence Community" said thousands of Islamic State fighters and supporters remain in Syria and Iraq, and that they will continue to conduct attacks and "exploit Sunni grievances."
Trump also pledged in his speech to Congress that he'll reduce the 14,000 American troops in Afghanistan. After losing more than 2,300 U.S. soldiers and spending more than $900 billion in Afghanistan since 2001, critics say the U.S. risks losing hard-won gains in what has become America's longest war.
"I have also accelerated our negotiations to reach, if possible, a political settlement in Afghanistan," Trump said Tuesday. "In Afghanistan, my administration is holding constructive talks with a number of Afghan groups, including the Taliban. As we make progress in these negotiations, we will be able to reduce our troop presence and focus on counter-terrorism."
The Trump administration is seeking an agreement with the Taliban that would let American troops come home. That will require a breakthrough brokered by his special envoy on Afghan reconciliation, Zalmay Khalilzad, who has been meeting separately with Taliban and Afghani officials in search of a solution.
But the Taliban so far have refused to talk directly with Afghan government officials, who openly worry that the U.S. will leave them at the mercy of the Taliban. "Peace talks with the Taliban behind locked doors won't succeed," President Ashraf Ghani said last week.
Among U.S. demands is a commitment by the Taliban to prevent terrorist groups such as al-Qaeda and Islamic State from continuing to use Afghanistan as a base of operations. CIA Director Gina Haspel said last week that "a very robust monitoring regime" would be necessary under a potential U.S. peace accord with the Taliban to "maintain pressure on the terrorist groups."
Trump did express caution about the peace process in Afghanistan.
"We do not know whether we will achieve an agreement -- but we do know that after two decades of war, the hour has come to at least try for peace," he said.