Trump Plans to Pull Out of Nuclear Weapons Pact With Russia
(Bloomberg) -- President Donald Trump said he plans to pull out of a major arms control treaty with Russia, claiming the Kremlin breached the accord on intermediate-range nuclear weapons.
"We're not going to let them violate a nuclear agreement," Trump said Saturday after a campaign rally in Elko, Nevada. "We're going to terminate the agreement."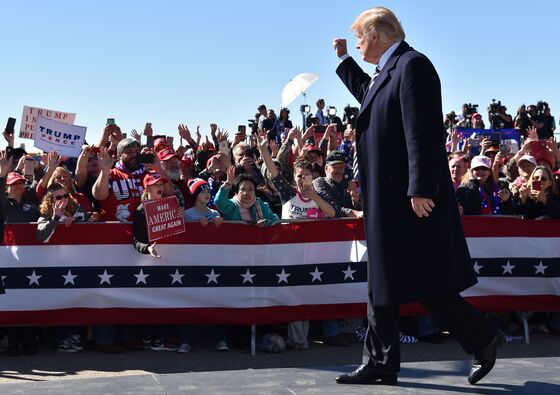 Trump's threat prompted a Russian demand for explanations, concern in Germany and a warning by former Soviet leader Mikhail Gorbachev, who signed the Intermediate-Range Nuclear Forces Treaty with then President Ronald Reagan in 1987. U.K. Defense Secretary Gavin Williamson was quoted as blaming Russia for the standoff.
The U.S. has been warning Russia it could resort to strong countermeasures unless Moscow complies with international commitments to arms reduction under the INF treaty, which is considered a landmark of Cold War detente.
North Atlantic Treaty Organization defense ministers this month discussed concerns that Russia was developing a medium-range ballistic missile. The U.S. ambassador to NATO, Kay Bailey Hutchison, has said Russia's non-compliance would compel the U.S. to match its capabilities to protect the interests of the U.S. and European allies.
NATO has credited the INF treaty with playing a crucial role in ensuring security for 30 years by ending the proliferation of ground-launched intermediate-range nuclear missiles.
Trump commented as National Security Adviser John Bolton headed to Russia, Azerbaijan, Armenia and Georgia. In Moscow, he's expected to meet the Russian defense and foreign ministers as a follow-up to Trump's meeting with President Vladimir Putin in Helsinki in July.
Russia, which has repeatedly rejected accusations of breaching the Soviet-era treaty, expects "substantive explanations" from Bolton while he's in Moscow, Deputy Foreign Minister Sergei Ryabkov told Interfax news agency early Sunday. For now, Russia views the U.S. position as an "ultimatum," he was quoted as saying.
Gorbachev told Interfax that Trump's plan is a "very weird" mistake. The treaty helped end the nuclear arms race, introducing control "that could not be found in other documents," Gorbachev was cited as saying. "This must be cherished."
The Washington-based Arms Control Association called Trump's decision a "self-defeating wrong turn that could lead to an unconstrained and dangerous nuclear arms competition with Russia." The action will probably produce Cold War-style tensions over deployments of missiles, the group said in a statement.
Republican Senator Bob Corker of Tennessee, chairman of the Foreign Relations Committee, said "there's no question" Russia is violating the treaty. He suggested the Trump administration could be pursuing the same strategy it used to renegotiate the North American Free Trade Agreement.
"This could be something that is just a precursor to try to get Russia to come into compliance," Corker said on CNN's "State of the Union" Sunday.
Trump's plan also is causing jitters in Germany, site of peace protests in the early 1980s against the stationing of U.S. intermediate-range nuclear missiles to counter the threat of Soviet SS-20s.
The announcement "raises difficult questions for Europe," German Foreign Minister Heiko Maas said in a statement. While Russia has failed to resolve allegations of treaty breaches, the U.S. should "reflect on the possible consequences" of a pullout, he said.
"The treaty must be upheld to prevent a nuclear arms race in Europe," Roderich Kiesewetter, a member of the German parliament's foreign affairs committee from Chancellor Angela Merkel's CDU party, told the Frankfurter Allgemeine Sonntagszeitung newspaper.
The U.K. stands with the U.S. in "hammering home a clear message that Russia needs to respect the treaty obligation that it signed," the Financial Times quoted defense secretary Williamson as saying during a visit to the U.S. While the U.K. wants to see the treaty continue, "it is Russia that needs to get its house in order."
Trump and Putin may meet next month in Paris during commemorations marking 100 years since the end of World War I, or at the Group of 20 summit in Buenos Aires that begins Nov. 30, according to a U.S. official.