Trump Picks Pence Economist to Lead Fannie-Freddie Regulator
(Bloomberg) -- The Trump administration said it plans to nominate conservative economist Mark Calabria to lead Fannie Mae and Freddie Mac's regulator, a potentially controversial choice because he has previously called for dramatically reducing the government's role in the housing market.
Calabria is currently chief economist to Vice President Mike Pence. If confirmed by the Senate, he would replace Federal Housing Finance Agency Director Mel Watt, a Barack Obama-appointee who has led the watchdog since President Donald Trump took office. In a Tuesday statement, the White House said it intends to nominate Calabria for a five-year term.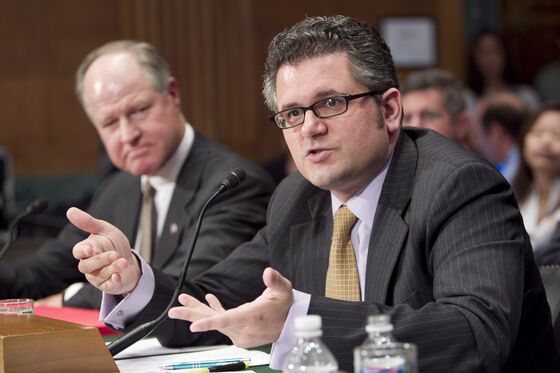 Calabria would have significant influence over the $10 trillion mortgage market at the FHFA, with the power to influence everything from borrowers' interest rates to the size of loans that Fannie and Freddie can buy from lenders.
The mortgage-finance companies have been under government control since the 2008 financial crisis. They underpin the housing market by purchasing mortgages from banks, packaging them into securities and offering bond investors guarantees in case borrowers default.
Among the controversial ideas Calabria has previously pushed for are putting Fannie and Freddie into receivership, a process similar to bankruptcy. Calabria, a former scholar at the libertarian Cato Institute, has also called for abolishing the mortgage-interest deduction, something millions of homeowners benefit from. In addition, he has supported getting rid of government subsidizes for the 30-year fixed rate mortgage.
A group with particular interest in what Calabria might do at FHFA are hedge funds that own Fannie and Freddie stock. Such investors have been fighting the government for years over the Obama administration's 2012 decision to sweep nearly all of the companies' earnings into the Treasury, arguing that private shareholders should be compensated.
Calabria co-authored a paper in 2015 criticizing the net-worth sweep. Investors Unite, a group and Fannie and Freddie shareholders, sponsored a press conference to unveil Calabria's paper.