Trump Picks His Challenger to Liz Cheney on Revenge Tour
(Bloomberg) -- Former President Donald Trump picked Harriet Hageman as his preferred challenger to Wyoming Representative Liz Cheney, with hopes his endorsement will clear the field against one of his most vocal Republican critics.
"Unlike RINO Liz Cheney, Harriet is all in for 'America First,'" Trump said in a statement, referring to the term "Republicans in Name Only" and his agenda. Hageman, a Wyoming attorney who ran unsuccessfully in the GOP primary for Wyoming governor in 2018, had been a supporter of Cheney's.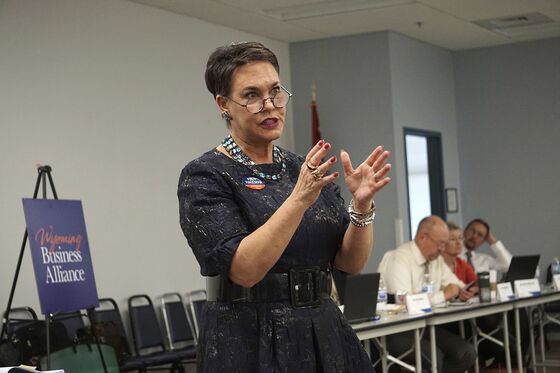 Cheney responded to the endorsement with a tweet highlighting Trump's comment that she is "the Democrats' number one provider of sound bites" and saying, "Here's a sound bite for you: Bring it."
Multiple candidates have filed to run in the 2022 GOP primary against Cheney, one of 10 House Republicans who voted to impeach Trump for his role in the Jan. 6 assault at the U.S. Capitol, when Congress was counting the Electoral College votes for President Joe Biden. Cheney is now serving as vice chairwoman on the committee investigating the deadly riot. 
Hageman said in a statement she's formally announcing her candidacy on Thursday and that "the people of Wyoming deserve leaders who reflect their views and values, but Liz Cheney betrayed us because of her personal war with President Trump, who won Wyoming by massive majorities twice."
Trump said in his statement endorsing Hageman that she also has the support of Wyoming Senator Cynthia Lummis. But while the senator believes Trump made "an inspired choice," she is "not making an endorsement at this time," Lummis spokesman Darin Miller said. 
Trump has vowed to defeat all of the Republicans who opposed him and so far has endorsed challengers to three other House members and Alaska Senator Lisa Murkowski, who voted to convict the former president in his impeachment trial. But Trump has made it clear that Cheney is his top target.
The former president has complained about the prospect that Cheney could win re-election with a mere plurality of the vote in a crowded field and bemoaned the failure of a bill in Wyoming earlier this year that would have required a run-off election with the top two candidates if no candidate won a majority in a primary.
House Republicans ousted Cheney as their No. 3 leader in May because of her criticism of Trump, and the Wyoming Republican Party voted to censure her. Undaunted, Cheney has said "we must go forward based on truth" that Trump's claims that the 2020 election was stolen are false and "the nation needs a party based on fundamental principles of conservatism."