Trump Pays Tribute to George H.W. Bush at the U.S. Capitol
(Bloomberg) -- President Donald Trump made a brief visit to the U.S. Capitol on Monday night, where the body of former President George H.W. Bush was lying in state.
Trump, accompanied by First Lady Melania Trump, stood before the flag-draped casket beneath the Capitol's soaring Rotunda. He saluted the coffin.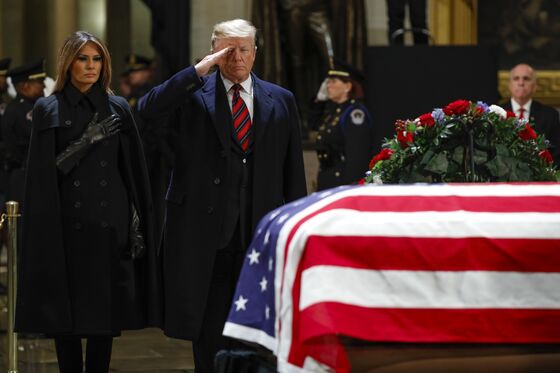 Earlier in the evening, the Bush family, congressional leaders and members of Trump's cabinet paid their respects to the 41st president, who died at his home in Houston last Friday. He was 94.
Democratic leaders joined Republicans from both chambers of Congress in presenting flowers from the different branches of government. When they greeted the Bush family, House Minority Leader Nancy Pelosi, who is poised to return to her previous job as speaker, hugged former President George W. Bush, eldest son of the late president.
The president and first lady are to attend Bush's funeral Wednesday at the Washington National Cathedral. The White House has designated that day as a national day of mourning, when federal government offices along with financial markets will be closed in Bush's honor.