Trump Pardons Former Campaign Aide, Two Former GOP Lawmakers
(Bloomberg) -- President Donald Trump issued a slew of pardons on Tuesday, including for two people convicted as part of former Special Counsel Robert Mueller's Russia probe and for two former Republican congressmen convicted of a range of financial crimes.
From the Mueller investigation, Trump pardoned former campaign aide George Papadopoulos, who was convicted of lying to the FBI, and Alex van der Zwaan, a lawyer who was also convicted of making false statements during the Russia probe. He also pardoned four men who worked as security guards for Blackwater and had been convicted in relation to the 2007 killing of Iraqi civilians.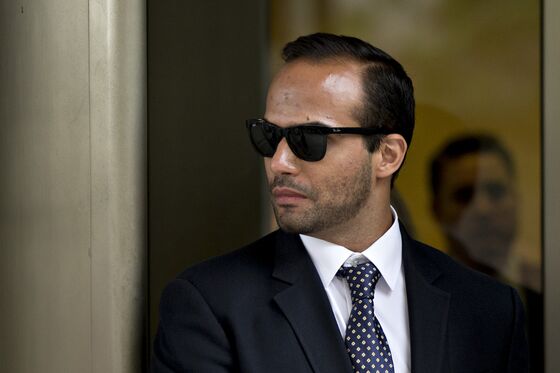 The actions prompted renewed criticism that Trump has used his pardon power to protect political allies, and could generate concern that the president is undermining efforts at the Justice Department and the Pentagon to ensure cooperation with criminal investigations.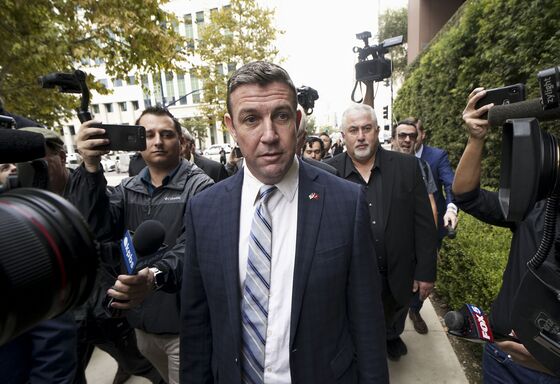 The former congressmen pardoned include Duncan Hunter, the California lawmaker who pleaded guilty to misusing campaign funds, and Chris Collins, a representative from New York who pleaded guilty to charges of conspiring to commit securities fraud. The president also commuted the remaining prison sentence of Steve Stockman, a former congressman from Texas who was convicted of misusing charitable funds.
Trump also pardoned two Border Patrol agents who were convicted of covering up the 2005 shooting of a drug dealer on the U.S.-Mexico border. The sentences of both men had already been commuted by President George W. Bush in 2009.
The pardons of prominent Republican figures were sprinkled through a list of more mundane pardons announced by the White House shortly before the Christmas holiday.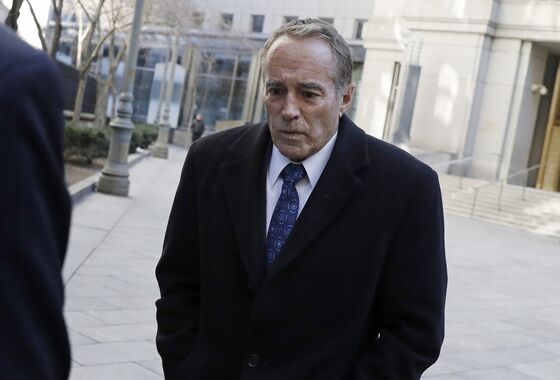 The president also offered full pardons to a Pittsburgh dentist convicted of false billing, an Oklahoma moonshiner, and a Florida marijuana smuggler. A number of the pardons were suggested by Alice Johnson, a criminal justice reform advocate who herself was freed by Trump in 2018 after serving 21 years in prison for a nonviolent drug offense.
White House press secretary Kayleigh McEnany defended the pardon of Papadopoulos, who made false statements about contacts he had with agents of the Russian government while working for Trump's 2016 campaign, in a statement broadly critical of the Mueller investigation that denounced what she called a "process-related crime."
"Today's pardon helps correct the wrong that Mueller's team inflicted on so many people," McEnany said.
The White House also defended the pardons of the four Blackwater employees -- Nicholas Slatten, Paul Slough, Evan Liberty, and Dustin Heard -- convicted of the killing of Iraqi civilians in a Baghdad traffic circle. The men, who had been hired to protect U.S. State Department personnel, were accused of firing wildly in the episode, which left 14 people dead and prompted mass protests.
Blackwater was founded in 1997 by Erik Prince, a Trump ally who's also the brother of Education Secretary Betsy DeVos.
McEnany said that the District of Columbia Court of Appeals ruled that additional evidence should have been presented at Slatten's trial, and said that an Iraqi investigator who collected evidence in the case "may have had ties to insurgent groups himself."
McEnany did not offer justification for the pardon of Collins, who received insider information about a drug trial while attending a picinic at the White House and immediately called his son to tell him to sell shares in the company running the trial.
Nor did she explain why Trump had pardoned Hunter, who -- along with his wife -- was accused of using a campaign credit card to pay for video games, groceries, and family travel. The White House spokeswoman said Trump's commutation for Stockman, who was convicted on 23 felony counts for conspiring to use contributions to a charity for the victims of traumatic events for personal use, was based in part on underlying health conditions that could place him at greater risk because of the coronavirus pandemic.
Stockman has already been diagnosed with coronavirus, which he contracted in prison. He will still be subject to supervised release and required to pay more than $1 million in restitution.
Trump also commuted the sentence of Philip Esformes, a Florida nursing home mogul who was charged in a decades-long scheme to defraud Medicare and Medicaid for medically unnecessary services. The government said Esformes personally received $37 million as part of the $1 billion fraud.
House Intelligence Committee Chairman Adam Schiff, a California Democrat responded swiftly to the announcement of the pardons.
"Lie to cover up for the president? You get a pardon. Corrupt politician who endorsed Trump? You get a pardon. Murder innocent civilians? You get a pardon," Schiff said on Twitter.
"Elect a corrupt man as president? You get a corrupt result," he added.
Another Democrat, Senator Richard Blumenthal of Connecticut, said in a statement, "I doubt government contractors who slaughtered civilians or corrupt Congressional cronies were what the Founders had in mind when they drafted the pardon clause."