Trump Opponent Cheney Named Vice Chair of Capitol Riot Panel
(Bloomberg) -- House Democrats have promoted Representative Liz Cheney to the No. 2 on the committee investigating the deadly riot at the U.S. Capitol on Jan. 6, elevating a Republican instead of one of their own members to the leadership role. 
In an announcement released early Thursday, the committee said Cheney, a vocal critic of President Donald Trump, would become the group's vice chairwoman as it ramps up work, including investigating the president's family and members of Congress.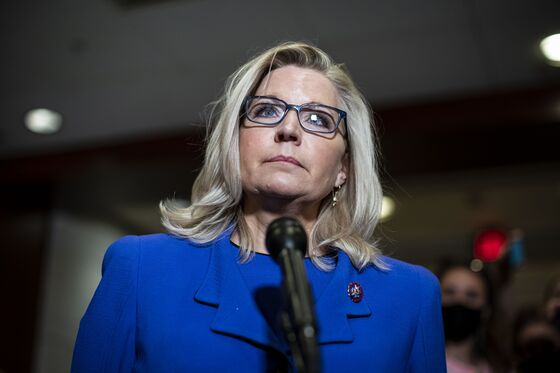 "Representative Cheney has demonstrated again and again her commitment to getting answers about Jan. 6, ensuring accountability, and doing whatever it takes to protect democracy for the American people," the panel's chairman, Representative Bennie Thompson, said in a statement announcing the move. 
Thompson said Cheney's appointment "underscores the bipartisan nature of this effort," although most Republicans have refused to participate.
Cheney's appointment to the committee was already unusual, even though she's somewhat of an outlier in her party, having been ousted from the third-ranking House Republican leadership post after her vote in favor of impeachment and other comments she made criticizing Trump. 
Republican leaders pulled their membership from the panel after Speaker Nancy Pelosi refused to seat two of their picks. But Democrats have named two Republican Trump critics to the panel, Cheney and Representative Adam Kinzinger of Illinois.
The second-ranking spot on the panel comes as Cheney's future in the Republican Party remains uncertain, despite her political lineage as the daughter of former vice president Dick Cheney. She already faces a number of potential primary opponents next November.
Some in the House GOP, including Freedom Caucus Andy Biggs of Arizona, have said they want Cheney and Kinzinger banned from Republican conference meetings because of their participation on the committee.  
Republicans, meanwhile, are furious with the committee's requests to AT&T Inc., Verizon Wireless and 33 other communications companies to preserve the records of individuals connected to the insurrection and Trump's efforts to overturn the 2020 election. Thompson has previously said that some members of Congress would be among the people whose phone, text and other communications records being sought.
"If these companies comply with the Democrat order to turn over private information, they are in violation of federal law and subject to losing their ability to operate in the United States," Minority Leader Kevin McCarthy said in a statement this week. "If companies still choose to violate federal law, a Republican majority will not forget and will stand with Americans to hold them fully accountable under the law."
One point that Democrats have said they want to explore is a telephone conversation McCarthy had with Trump amid the insurrection.