Trump Nemesis Schiff Draws Praise for Impeachment Performance
(Bloomberg) -- Donald Trump is on trial in the Senate, but the week was dominated by the dogged prosecutor-turned-lawmaker he routinely derides as "shifty Schiff."
Democratic Representative Adam Schiff laid out the House's impeachment case against the president in painstaking if repetitive detail, bolstered by a library of video clips and occasional flashes of passion.
The performance by the House's lead impeachment manager drew sometimes grudging admiration even from one of Trump's most fervent Republican defenders. "Good job. Very well-spoken," Senator Lindsey Graham said to Schiff.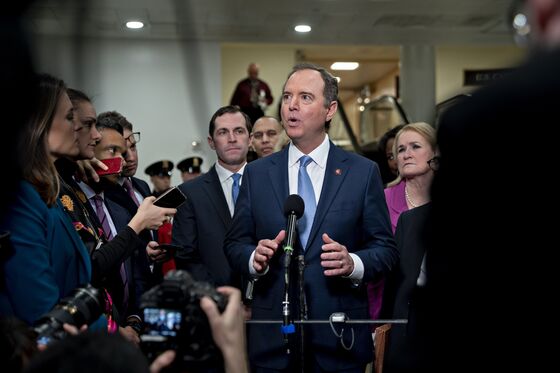 Others were less generous about Schiff, who had spent roughly 8 hours at the microphone during the first three days of the trial. "People can't stay focused that long," said Republican Senator Jim Risch of Idaho. "It's the same thing over and over again."
Schiff is in a tough spot because he's up against a hostile Senate, where he must make a case to the handful of Republicans who might vote to oust Trump and simultaneously address the public at large, said David Dorsen, a former prosecutor and assistant chief counsel to the Senate's Watergate Committee in 1973.
"It's just a very difficult situation," Dorsen said. "In one sense, it's a no-win situation given the Senate and Trump. I think he's been forceful, consistent and reasonably effective."
Schiff, 59, was a natural choice to lead the House presentation that's wrapping up on Friday. He's close to Speaker Nancy Pelosi, a fellow Californian, and is considered among her potential successors.
A graduate of Stanford University and Harvard Law School, Schiff went on to work as a federal prosecutor for six years. That culminated in the 1990 espionage trial of fired FBI agent Richard Miller.
As head of the Intelligence Committee, he pursued the central issue that led to Trump's impeachment: the whistle-blower's complaint that uncovered evidence the president withheld military aid and a White House meeting from Ukraine's new leader to press for an investigation of Joe Biden and the Democrats.
It's a role that brought Schiff constant ridicule by Trump, who often accuses him of fabricating the case against him because of one misstep early on: an over-the-top impression Schiff offered of Trump's demands on Ukraine. On Thursday, Trump tweeted that "The Democrats & Shifty Schiff" made a presentation to the Senate "loaded with lies and misrepresentation."
While Schiff retained his matter-of-fact demeanor for most of his account to the Senate, he showed moments of emotion.
He choked up on Thursday night when he pleaded to the senators serving as jurors to remove Trump from office because "right matters," and "you know you can't trust this president to do what's right for this country."
Schiff and the Democrats "have done well -- with a couple of missteps," said Jonathan Turley, a professor at George Washington University Law School. Turley was the lone constitutional scholar who urged against impeachment when the House Judiciary Committee held its hearings on the matter in December.
"The problem is that the House managers cannot overcome the historic blunder of rushing the vote and not trying to compel key witnesses," Turley said. "They eviscerated their case by blindly moving to fulfill a pledge to impeach by Christmas."
It's a central theme that Trump's lawyers are expected to emphasize when they begin their case on Saturday.
Schiff hasn't worked alone. Judiciary Chairman Jerrold Nadler and Representative Hakeem Jeffries of New York, who's also considered a potential successor to Pelosi, are among the seven impeachment managers who have taken turns presenting aspects of the case.
The House members also have had the help of three taxpayer-funded outside legal experts, along with staff aides who sit with them in the Senate chamber.
Despite Graham's compliment, other Republicans scoffed at the notion that Schiff and his colleagues laid out a well-constructed case.
"It's real easy to connect the dots when you only have half the dots to connect," said Representative Mark Meadows of North Carolina. When Trump's lawyers stand before the Senate, he said, "I think you'll see the rest of the story, and it paints a very different conclusion."