Trump Monitors Gulf Storm on FEMA Visit Ahead of GOP Speech
(Bloomberg) -- Donald Trump visited the Federal Emergency Management Agency to monitor Tropical Storm Laura's assault on the Gulf Coast -- hours before he's set to accept the GOP nomination for president.
Trump said he considered postponing his Thursday night speech due to the storm but since it has weakened, he now plans to go to Texas and Louisiana "very shortly," likely over the weekend.
"We got a little bit lucky," Trump said. "It was very big, it was very powerful. But it passed quickly and so everything's on schedule."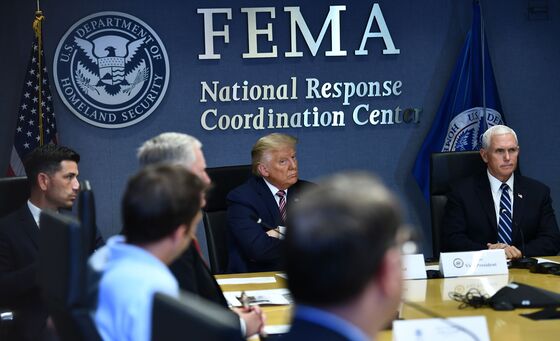 White House aides said the president tracked the storm as it made landfall early Thursday morning as a Category 4 hurricane. The National Hurricane Center, which later Thursday downgraded it to a tropical storm, had warned of an "unsurvivable" storm surge pressing in from the coast.
Hundreds of thousands of people in Texas and Louisiana were without power, and Louisiana Governor John Bel Edwards said a 14-year-old girl in his state died when a tree fell on her home. Trump said he spoke Thursday morning with Edwards and Texas Governor Greg Abbott.
The FEMA visit came just hours ahead of Trump's planned speech to the Republican National Convention from the South Lawn of the White House -- a pivotal moment for a president's struggling campaign amid the ongoing coronavirus pandemic.
While some White House officials suggested Trump might reconsider whether to deliver the convention speech due to the storm, his campaign quickly announced that he still planned to address the nation.
The pandemic has intensified concerns about the response and recovery efforts in the aftermath of the storm. First responders and shelters are juggling both their emergency efforts and safety protocols to prevent the spread of the deadly virus, which has already killed more than 179,000 Americans.
Before visiting FEMA, Trump stopped at his namesake hotel in Washington to participate in a roundtable with donors gathered for the convention.