Trump to Meet the Millennial Who Challenged Merkel on Refugees
(Bloomberg) -- Austrian Chancellor Sebastian Kurz, the millennial who became Europe's youngest head of government because he took on Angela Merkel over migration policy, is set to meet President Donald Trump on Wednesday.
The 32-year-old was flagged to Trump as a "rock star" of the European conservatives last year by the U.S. ambassador to Germany, Richard Grenell -- currently tipped as a candidate to be the American envoy to the United Nations.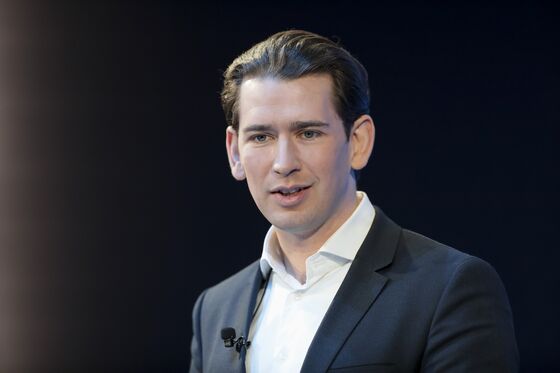 The two leaders have something in common: they owe their successful campaigns in part to their tough migration policies. This is the first visit by an Austrian chancellor to the White House since 2005.
Talks will span trade and security -- both sensitive issues that Kurz plans to bring up, delicately. Austria's OMV AG -- partly state-owned -- is a major backer of the Nord Stream 2 gas pipeline from Russia that the U.S. is threatening with sanctions. German carmakers targeted by U.S. tariffs are big buyers of Austrian industrial goods and car parts.
"My main mission will be on trade," Kurz said ahead of the meeting. "Everything that hampers free trade would endanger jobs in Europe and Austria. Nobody would gain anything."
Kurz, in power for just over a year, is trying to position himself and the neutral country he leads as a mediator in some of the world's biggest disputes as Trump's relations with the usual interlocutors like France and Germany are at a low point.
Asked about his meeting with Trump, he was cryptic: "I don't think you can really prepare for a meeting with Donald Trump," he told reporters in Vienna.
"Trump will be interested to hear from a conservative European leader whose views are sometimes very different from those of Angela Merkel or Emmanuel Macron," said Jan Techau, a foreign policy expert at the German Marshall Fund in Berlin. "Kurz is actually winning elections with a new form of conservative policies, and that's getting him attention in the U.S."
Kurz shot to prominence across Europe in 2016 as he publicly opposed Merkel's migration policy, making him a frequent guest on German talk-shows. In Austria, he's governing in a coalition with the far-right Freedom Party, and has implemented tax cuts for families, stricter laws against illegal migration and has cut child benefits for workers from eastern Europe.
He's also making labor laws more flexible, and plans to lower the overall tax burden. All this makes him a role model for mainstream center-right politicians trying to reinvent themselves and to reinvigorate their parties.