Trump Breaks With Anti-Police Protesters as He Regroups Campaign
(Bloomberg) -- President Donald Trump aligned himself squarely with law enforcement in a speech to supporters in Arizona on Tuesday, abandoning sympathy for people protesting police brutality, or its victims, as he sought to stabilize his re-election campaign.
"We believe in law and order, we support the men and women of law enforcement, and we stand for the citizens in every city, in every community, in every part of our country who wish to live in safety, security, dignity and peace," he told an audience of young supporters organized by the group Turning Point Action at a Phoenix megachurch.
Trump has previously acknowledged police misconduct and has called himself an ally of peaceful protesters in remarks following the death of George Floyd, an African-American Minneapolis man, in police custody last month. But in Tuesday's speech he didn't mention Floyd's name and criticized liberals for not protesting homicide rates in major cities, saying that "their movement is based on hate."
Trump's Arizona trip became an effort to put the setback of his poorly attended Oklahoma rally on Saturday behind him, and return to familiar issues that helped him win the White House in 2016: border security and U.S. cultural divisions. Before his address, he visited a section of new border wall near Yuma, Arizona.
The state was once a reliably Republican stronghold, but polls show that both Trump and incumbent GOP Senator Martha McSally trail their Democratic rivals.
In his speech, Trump criticized efforts around the country to remove statues that honor Confederate figures or are regarded as glorifying colonialism or belittling people of color. He again called the coronavirus by a racial slur, "Kung Flu," drawing raucous cheers.
"This will be, in my opinion, the most corrupt election in the history of our country," Trump said. He again complained about mail-in voting, which is under consideration in many states because of concern about visiting polls in-person during the coronavirus outbreak.
Earlier, during a roundtable on border security in Yuma, Trump told McSally: "We need you in Washington, will you please win?" She trails her Democratic opponent, former astronaut Mark Kelly, by about 10 percentage points on average, according to RealClearPolitics.
Despite the president's push to reopen the economy and downplay the coronavirus outbreak, the number of infected people in Arizona is again rising. Weekly case counts are up 284% since Governor Doug Ducey, a Republican, lifted his stay-at-home order in mid-May, according to Joe Gerald, an associate professor of public health policy and management at the University of Arizona who works with the state and colleagues to analyze Covid-19 data.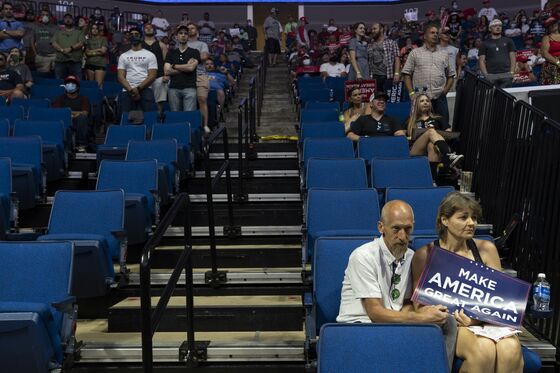 Dream City Church in Phoenix, where Trump spoke after the border visit, was packed with supporters. No social distancing or other health precautions were in evidence, and few in the audience wore face masks. Trump didn't either, though when he invited some college students to the stage to speak, they used a separate lectern more than a dozen feet away from him.
The Arizona trip followed an embarrassment for the president on Saturday, when thousands of empty seats greeted him at his first campaign rally in three months in Tulsa. He also endured reports last week from a damaging new book by a former national security advisor, John Bolton, that went on sale Tuesday.
Trump can ill afford further erosion of his political standing, particularly in a state so crucial to his re-election efforts. Trump won Arizona by about 3.5 percentage points in 2016 but now trails presumptive Democratic nominee Joe Biden by about four points, according to an average of polling by RealClearPolitics. A loss in the state may cripple the president's hopes of re-election.
In Yuma, Trump signed a plaque attached to the wall to commemorate the completion of more than 200 miles built during his administration, an effort to recapture momentum by revisiting his promises to stop illegal immigration.
Trump said they would have the wall "mostly completed by the end of the year."
Yet the visit also highlights Trump's retreat from promises earlier in his presidency that 500 miles of border wall would be completed by the end of 2020. The acting commissioner of U.S. Customs and Border Protection, Mark Morgan, said at the roundtable event he's "100% convinced" that 450 miles will be completed by the end of the year.
The vast majority of wall construction during the president's administration has replaced existing fencing, with less than two dozen of the 200 miles built in areas where there wasn't already a barrier. Army Corps of Engineers Commanding General Todd Semonite said construction was proceeding at a pace of about one mile per day.
The construction project was a trademark of Trump's first campaign, and he has begun to champion the milestone again in recent weeks. He's also claimed the wall has played a crucial role in stopping the spread of the coronavirus in the U.S.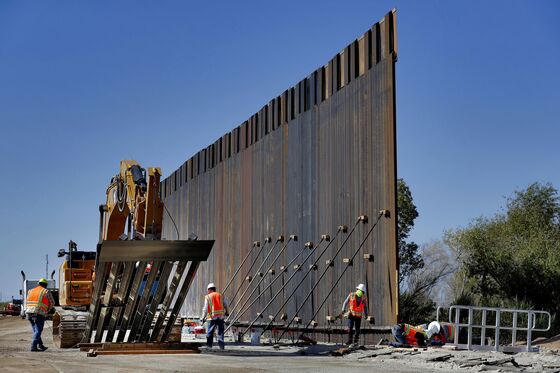 "Very, very few people are coming through on our border," Trump said last week in an interview with Fox News. "We have a tremendous border. But think of it -- and Tijuana, Mexico, it's one of the most infected places on Earth. And we have a wall between Tijuana and San Diego. It's like a beautiful, very powerful wall."
Vice President Mike Pence, who chairs the president's coronavirus task force, said last week that the virus is spreading from Americans returning home from Mexico, not from immigration.
Trump nonetheless claimed in Yuma that the wall had prevented transmission of the virus from Mexico into the U.S. Mexico has reported 185,000 cases of Covid-19 compared to more than 2.3 million in the U.S., according to data compiled by Bloomberg.
"We prevented a coronavirus catastrophe at the border," he said.
On Monday, more than 20% of new Covid-19 tests reported in Arizona came back positive, compared to less than 1% in New York. Arizona reported its seventh straight daily record of confirmed or suspected cases in hospitals at 1,992, up 144% since Memorial Day.
Ducey said last week the state's "trend is headed in the wrong direction," but so far has rejected calls to slow reopening and discounted criticism that he lifted his stay-at-home order too quickly.
Arizona Democrats Strengthening
While the president and his top advisers believe his strong anti-immigration message helped propel him to the White House in 2016, Trump's decision to frame the 2018 midterms as a referendum on those policies was seen as a strategic misstep. Republicans lost control of the House of Representatives, and McSally narrowly lost her first Senate bid to Democrat Kyrsten Sinema.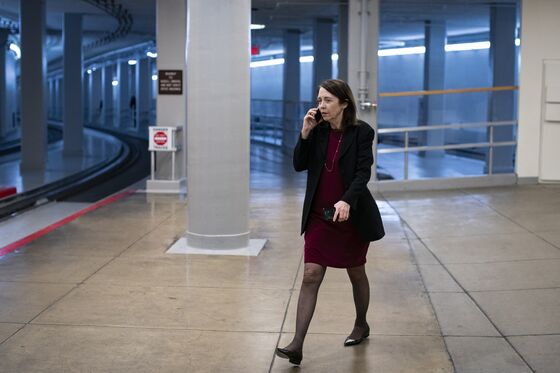 McSally was subsequently appointed to the state's other Senate seat when interim U.S. Senator Jon Kyl resigned, but has badly trailed Democratic challenger Mark Kelly, an astronaut married to former Representative Gabby Giffords, a survivor of a mass shooting near Tucson nine years ago. A Fox News survey released earlier this month showed Kelly with a 13-point advantage.
Democrats are particularly upbeat about Biden's chances in Arizona partly on the strength of Kelly's campaign, but also because they believe the state's changing demographics will put it in their column.
"This state is likely to turn blue, and it's more likely to turn blue than some of the traditional Midwest states that used to be considered battlegrounds," said Arizona Representative Ruben Gallego, who endorsed Biden in March.