Trump Lauds Florida Governor's Hurricane Response Ahead of Election
(Bloomberg) -- President Donald Trump visited the hurricane-ravaged Florida panhandle on Monday and heaped praise on Governor Rick Scott as the Republican seeks to unseat the state's Democratic senator.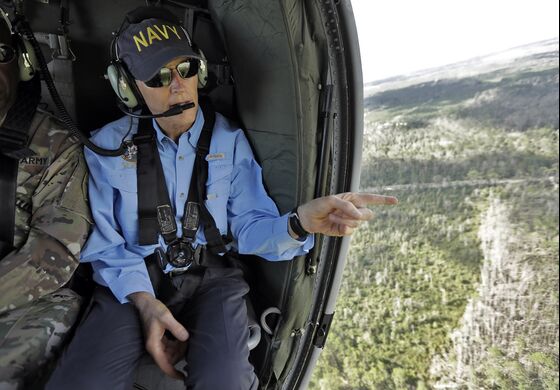 Trump applauded Scott as a governor who "steps up in the biggest emergency, biggest problems, and gets it done." Polls show Scott essentially tied with incumbent Senator Bill Nelson in the race for the Senate.
Trump arrived Monday at Eglin Air Force Base in Okaloosa County, Florida, before touring by helicopter some of the hardest-hit areas in the region. He planned to visit Georgia later in the day.
Hurricane Michael slammed into the Florida panhandle on Wednesday, decimating towns like Mexico Beach and Panama City Beach, with winds in excess of 150 miles per hour. The storm continued through Georgia, South Carolina, North Carolina and Virginia, with a death toll of at least 18 people.
Trump praised recovery workers and electric companies, saying thousands of electricians had restored power to hundreds of thousands of homes.
In Florida, more than 190,000 people were without power as of Sunday evening, according to the governor's office.
The storm hit Florida at a time when the state is preparing for high-stakes elections.
Andrew Gillum, the Democratic candidate for governor and mayor of Tallahassee, has suspended much of his campaign to help recovery efforts. He is running against Republican Congressman Ron DeSantis.
Trump has endorsed Scott and DeSantis.