Trump Demands Vote on Kavanaugh and Praises Senate Testimony
(Bloomberg) -- Donald Trump demanded a Senate vote on confirmation of Supreme Court nominee Brett Kavanaugh and praised his performance minutes after a hearing on sexual assault allegations against him.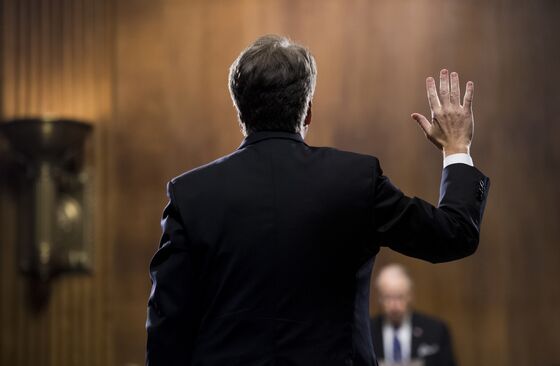 Kavanaugh's testimony "was powerful, honest, and riveting," Trump said in a tweet Thursday. "Democrats' search and destroy strategy is disgraceful and this process has been a total sham and effort to delay, obstruct, and resist. The Senate must vote!"
Trump thought Kavanaugh's angry and emotional opening statement to the committee was strong, three people familiar with the president's thinking said. Within the White House, the consensus is that the nominee showed passion and honesty.
Christine Blasey Ford, a California psychology professor, told the Senate on Thursday that Kavanaugh sexually assaulted her while they were both in high school. She said she is "100 percent" certain Kavanaugh was her attacker.
Kavanaugh tearfully and "unequivocally" denied sexually assaulting Ford. He accused Democrats on the Senate Judiciary Committee of dragging out his confirmation and turning the process into "'a national disgrace."
Kavanaugh's appointment may now hinge on how his testimony and that of his accuser is assessed by a handful of Republican senators who so far have avoided taking a position on his confirmation including Susan Collins of Maine, Lisa Murkowski of Alaska and Jeff Flake of Arizona. Each said they wanted to watch the hearing before making up their minds.
The three Republicans met privately with Democratic Senator Joe Manchin of West Virginia shortly after the hearing ended. Manchin sometimes votes with Republicans and is up for re-election in a state Trump won by more than 40 points in 2016.
"We're still talking," Manchin said as he left the meeting. "There's no decisions made on anything I can assure you of that."
Ford described to the committee and a national television audience an assault she said "has haunted me episodically as an adult." She told of fearing she would die as she was pinned to a bed, her mouth covered to keep her from screaming.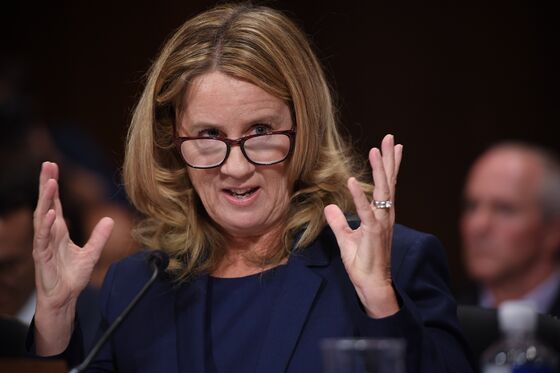 She said the 1982 incident -- including the "uproarious laughter" of Kavanaugh and his friend who she says witnessed the attack -- was "seared into my memory" even though she didn't remember all the details.
Kavanaugh repeatedly flashed his anger at Democrats on the panel, scowling, arguing with them and jabbing his finger toward the table in front of him.
"This whole two-week effort has been a calculated and orchestrated political hit, fueled with apparently pent-up anger about President Trump and the 2016 election, fear that has been unfairly stoked about my judicial record, revenge on behalf of the Clintons and millions of dollars in money from outside, left-wing opposition groups," Kavanaugh told the committee. "This is a circus."
The Judiciary Committee is scheduled to vote on Kavanaugh's nomination Friday, and the full Senate could act as early as next week. The outcome and how the American public perceives it could redefine the "Me Too" era and reverberate for both parties in the Nov. 6 election, which will decide control of Congress.
A Pew Research Center survey released Wednesday showed Supreme Court appointments now rank essentially equal to health care and the economy as a top issue.
While the court long has been a motivator for the GOP base, the Pew survey found 81 percent of voters who favor Democratic candidates said court appointments were important, compared with 72 percent of those who said they support Republicans.
Adding to that is a gender gap in voter preferences. Democratic candidates have a 23-point edge over Republican candidates among women voters, 58 percent to 35 percent, while men are roughly evenly divided.
Kavanaugh was emphatic as he tried to save his nomination in the face of public claims of sexual misconduct by three women.
"I was not at the party described by Dr. Ford," he told the commitee. Ford said she was pushed into a bedroom and attacked while attending a small gathering at a home in suburban Maryland.
Democratic Senator Dick Durbin of Illinois challenged Kavanaugh to ask the White House to order the FBI to question other witnesses about Ford's allegations against him, a suggestion rejected by Trump and Senate Republicans.
"You know that's a phony question because the FBI doesn't reach conclusions," Kavanaugh responded.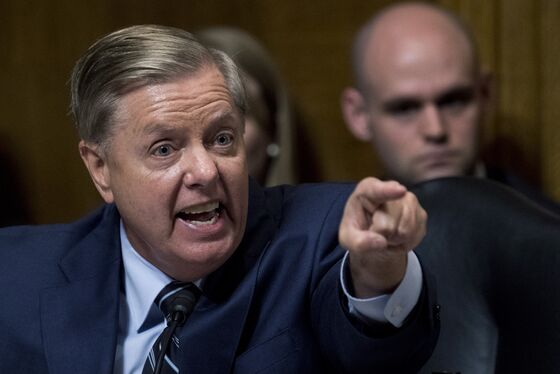 Soon afterward, GOP Senator Lindsey Graham of South Carolina erupted in anger. "What you want to do is destroy this guy's life, hold this seat open and hope you win in 2020," he said, pointing angrily at his Democratic colleagues. "This is the most unethical sham since I've been in politics."
Ford told the committee that she's an independent person and "no one's pawn." She said she was "terrified" to testify before the committee and that she "agonized daily" about whether to come forward with her claim.
Ford said the attack occurred after she went upstairs to use the bathroom. She said she was pushed into a bedroom and onto a bed and that Kavanaugh got on top of her. Judge was in the room and encouraged the attack, she said.
"I believed he was going to rape me," Ford said. Kavanaugh put his hand on her mouth to keep her from screaming, she said, and because it was hard for her to breathe, "I thought that Brett was accidentally going to kill me." She said Judge, who has denied any part in such an attack, jumped on them and she was able to escape.
Asked what she remembers from that night, Ford responded: "The stairwell, the living room, the bedroom, the bed on the right side of the room as you walk into the room -- there was a bed to the right -- the bathroom in close proximity, the laughter -- the uproarious laughter -- and the multiple attempts to escape and the final ability to do so."
Kavanaugh said Ford's allegation is "refuted by the very people she says were there," who have said they don't recall the gathering in statements to the Judiciary Committee.
A second woman, Deborah Ramirez of Colorado, claims Kavanaugh exposed himself to her at a drunken party when they were freshmen at Yale University. And in the most lurid allegation yet, Julie Swetnick of Washington said in a sworn statement released Wednesday that Kavanaugh took part in efforts during high school to get girls intoxicated so that a group of boys could have sex with them.
"The Swetnick thing is a joke, that is a farce," Kavanaugh said at the hearing.
Republicans are trying to get Kavanaugh, 53, confirmed as early as next week. Republicans hold a 51-49 advantage in the Senate and can't afford more than one defection to ensure confirmation without Democratic support.