Trump Plans Tuesday Meeting With Pelosi and Schumer, Source Says
(Bloomberg) -- President Donald Trump will meet next week with the two Democratic congressional leaders, Representative Nancy Pelosi and Senator Chuck Schumer -- days before part of the U.S. government may close down, according to a person familiar with the matter.
The meeting will take place on Tuesday, after the president's return from the Group of 20 summit in Argentina, said the person, who requested anonymity to discuss the plans.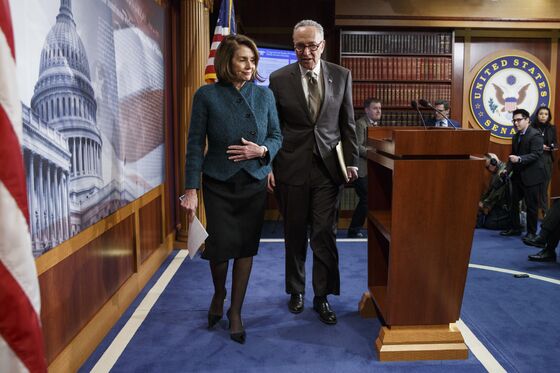 Pelosi, the minority leader of the House of Representatives who hopes to return as speaker when Democrats take control of the chamber in January, and Schumer, the Senate's minority leader, will be talking about the dispute that may force a partial shutdown on Dec. 7 as well as other issues, the person said.
Trump, who made renewed warnings about illegal immigration the centerpiece of his campaign in the midterm elections, has demanded more money for a wall on the Mexican border. House Republicans have passed a spending bill that includes $5 billion for the wall, while Senate Democrats have proposed $1.6 billion for the project.
"If we don't get border security, possible shutdown," Trump told reporters Thursday as he departed the White House for Argentina.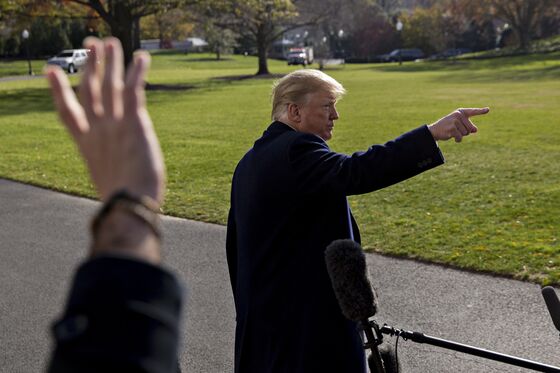 Pelosi's office released a statement on Friday night setting out her immigration priorities for the new Congress. "Of course, we will meet our responsibility to provide strong, smart border security that serves our country's needs, is consistent with our values, and doesn't squander billions of dollars on a border wall," she said in the statement.
Funding is set to end on Dec. 7 for some federal agencies including the Department of Homeland Security, the Internal Revenue Service and the National Park Service. Congress already passed full-year funding for many other federal agencies, meaning they would remain open.
Earlier this week, Richard Shelby, the Alabama Republican who heads the Senate Appropriations panel, said $5 billion was a red line for Trump. But Shelby has proposed splitting that $5 billion over two years, and the White House is considering that proposal.
The government has already had two partial shutdowns this year. Senate Democrats prompted a three-day shutdown in January by trying to force Trump to sign a bill sparing young immigrants, known as dreamers, deportation. Republican Senator Rand Paul of Kentucky caused one lasting a few hours to protest spending increases in a two-year deal over budget caps.