Trump Meeting With McCourt Over UN Ambassador Role
(Bloomberg) -- President Donald Trump is meeting at the White House Friday with Jamie McCourt, his ambassador to France and Monaco, as he seeks to find a replacement for United Nations envoy Nikki Haley before she departs at the end of the year, according to three people familiar with the situation.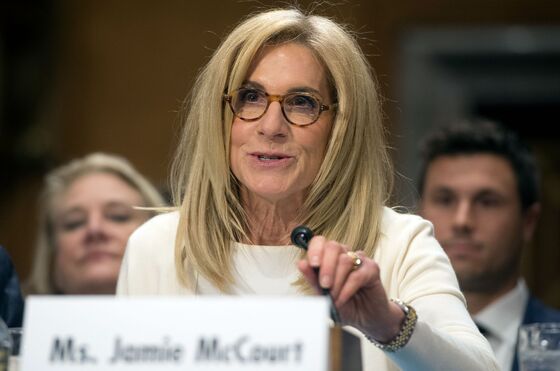 McCourt has been ambassador since late 2017. She was previously a co-owner of the Los Angeles Dodgers baseball team and was the highest-ranking female in Major League Baseball, according to her official biography.
Secretary of State Michael Pompeo was scheduled to have lunch with Trump on Friday.
The president is meeting with McCourt but no decision has been made yet on filling the post, according to the three people, who asked not to be identified discussing the continuing search for a UN ambassador.
Kelly Craft, the U.S. ambassador to Canada, is also under consideration for the post.
Haley surprised White House officials earlier this month when she said she would resign by the end of year, citing the need for a break after two terms as South Carolina's governor and two years at the United Nations.
Trump has repeatedly said his daughter, Ivanka, would be an "incredible" United Nations ambassador, though he's acknowledged that such an arrangement might not be feasible and Ivanka has said she doesn't want the position.
"So nice, everyone wants Ivanka Trump to be the new United Nations Ambassador," Trump said on Twitter Oct. 12. "She would be incredible, but I can already hear the chants of Nepotism! We have great people that want the job."
Trump at one point said former deputy National Security Adviser Dina Powell was a possible candidate for the UN job, though she's said she intends to remain at Goldman Sachs Group Inc., where she is on the management committee.
McCourt, 64, was involved in a legal battle in 2015 over her share of a $2.15 billion payout her ex-husband, Frank McCourt, received for selling the Dodgers.