Trump Feels No Urgency to Choose New Attorney General, Sources Say
(Bloomberg) -- President Donald Trump feels no urgency to nominate a new attorney general and is content with Matthew Whitaker in place as acting head of the Justice Department, said people familiar with his deliberations.
He isn't concerned by demands to move quickly to nominate a successor to fired Attorney General Jeff Sessions from key Republican senators including Judiciary Chairman Chuck Grassley and Lindsey Graham, who is set to take over the panel in January, the people said.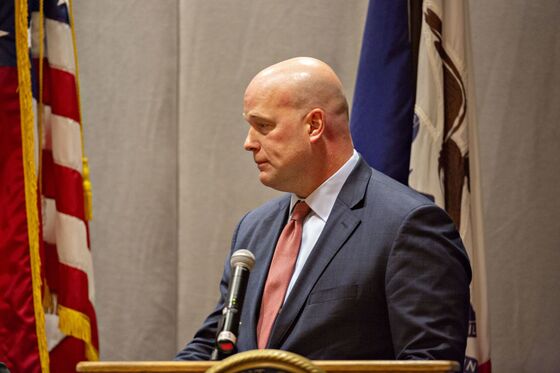 Trump has had conversations with many advisers about potential nominees, but no clear frontrunner has emerged, the people said. He's been satisfied with Whitaker's performance and that is one reason for his unhurried pace.
Whitaker, whose current role includes supervision of Special Counsel Robert Mueller's Russia investigation, can stay in the job for 210 days from Session's resignation or longer if a replacement is in the confirmation process.
Trump told the Washington Post on Tuesday that Whitaker is "doing an excellent job" and described him as "very strong, very smart, very good."
Trump spent more than a year attacking Sessions over his recusal from the Mueller probe and focused on finding an acting attorney general who he trusted to handle day-to-day tasks, including supervising the investigation, the people said. Yet he didn't have a successor in mind when he finally ousted Sessions the day after the midterm congressional elections, they said.
Democrats in Congress have expressed alarm that Whitaker may shut down or curtail Mueller's inquiry, which is entering a pivotal period as the special counsel weighs next steps on possible indictments and a final report. Before joining the Justice Department as chief of staff to Sessions, Whitaker criticized the investigation and offered ideas on how to throttle it.
Trump, who has repeatedly attacked the Mueller probe, launched a new barrage of tweets against the special prosecutor on Tuesday, accusing him of acting "viciously" and "ruining lives." Mueller accused Trump's former campaign chairman, Paul Manafort, of lying to authorities in breach of a plea deal.
Numerous names have been floated to replace Sessions, but there is no clear frontrunner, the people said. Among the possible candidates Trump and White House advisers have discussed are Representative John Ratcliffe of Texas, former New Jersey Governor Chris Christie, and Health and Human Services Secretary Alex Azar. There have also been a number of senators, former congressmen, and federal judges whose names are in the mix.
People close to the the process were hesitant to make any predictions about when the president would make a nomination.
Any nominee is likely to face intense questioning during confirmation hearings on how he or she would handle the Mueller investigation and demands for a commitment not to interfere in the probe or curtail it.
Whitaker's appointment as acting attorney general is under attack in the courts and Congress. A group of more than a dozen state attorneys general argued in court this week that his appointment is illegal and throws the legitimacy of the Justice Department into doubt. The group filed a joint brief Monday in support of a lawsuit by Maryland challenging Trump's power to appoint Whitaker without Senate approval.
Congressional Democrats have called for hearings over Whitaker's past financial dealings, including $1.2 million in earnings from a conservative political group with anonymous donors.
Grassley warned Trump "would be wise to get somebody appointed like yesterday" and suggested he would join Democrats in pressing for hearings if Trump doesn't make a nomination by early next year.
"How long does it take to make up your mind who you want to be your attorney general?" Grassley told reporters at the Capitol on Monday.
Graham said he spoke to Trump about finding a new attorney general on Monday and said Trump is "diligently looking at" who to pick and talking to senators about names.
"I think he's of the mindset that we need to do it sooner rather than later," Graham said. "I had a very good conversation with him."
Trump told reporters on Monday that his search for a new attorney general is "going well" and "We're looking at some people."
One reason for the slow progress is that the president currently doesn't have in place a White House counsel, who would normally lead the vetting and selection process, two of the people said. Trump's former White House Counsel Don McGahn left last month and his replacement Pat Cipollone, is still working on severing ties with his old law firm.
Congress will also be leaving for its winter recess soon and wouldn't be able to begin confirmation hearings until January at the earliest, reducing the sense of urgency, said one outside adviser.