Trump, in Reversal, Says Replacing Obamacare Can Wait Until After 2020 Election
(Bloomberg) -- President Donald Trump said Republicans would wait until after the 2020 election to vote on a replacement for Obamacare, abruptly halting a push he began just last week and guaranteeing that the issue will take center stage in his re-election campaign.
He made the shift in a series of Twitter posts late Monday night, saying that the "Vote will be taken right after the Election when Republicans hold the Senate & win back the House."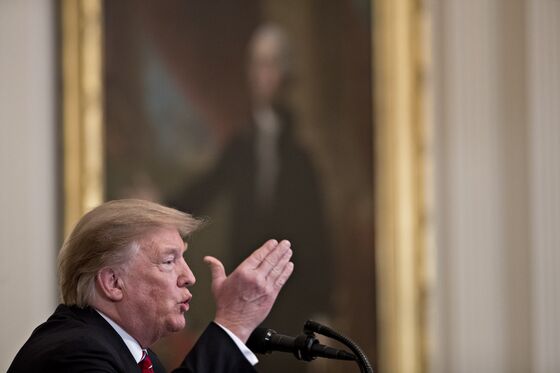 The posting ended a week-long scramble by GOP lawmakers to respond to Trump's demand for an Obamacare alternative after the administration unexpectedly changed its position in a lawsuit by arguing that Obamacare should be entirely struck down. Trump's Justice Department had previously said that it should be only partly overturned.
A final court ruling in that case is likely to come by the end of June 2020. If Trump wins in court, there could be swift and widespread chaos and uncertainty in American health care — at least until an alternative system is put in place — as the array of changes to industry regulations, subsidies for low-income individuals and delivery system reforms would be undone.
"Everybody agrees that Obamacare doesn't work," the president said in a Monday night tweet.
The administration's new legal position is a political gift to Democrats who are vowing to defend Obamacare and its more popular elements, including insurance coverage protections for people with pre-existing health conditions and a vast expansion of the Medicaid program for the poor.
On the steps of the Supreme Court Tuesday morning, Democrats reiterated that the issue will be fundamental in the 2020 elections, when control of the House, Senate and White House will all be at stake. Democrats in both chambers have signed on to a resolution urging the administration to drop its legal fight against Obamacare, and the House could vote on it as early as Tuesday.
"It's the same old song they've been singing," Senate Minority Leader Chuck Schumer said of Republicans and Trump's tweets. "They're for repeal, they have no replace. President Trump confirmed that he will hold Americans hostage through the 2020 election when it comes to health care."
The president rekindled the long-running political conflict over health care last week when he ordered his Justice Department to shift its position on a Texas lawsuit seeking to invalidate parts of the Affordable Care Act, agreeing with U.S. District Judge Reed O'Connor's ruling that the law itself is unconstitutional and should be scrapped entirely.
The president then urged Senate Republicans to come up with a "spectacular" health-care proposal to replace the ACA, which was enacted under the Obama administration.
"We are going to be the Republicans, the party of great health care," Trump told reporters last week. "The Democrats, they let you down. They came up with Obamacare and it is terrible."
Most congressional Republicans, however, are in no mood to return to that battlefield. Although they had fiercely opposed the law since 2010, it gradually became more popular with voters and was considered a chief factor in last November's Democratic victories that cost the GOP control of the House of Representatives.
In the House elections, health care ranked as the top issue for voters. Those voters preferred Democratic candidates by a striking margin of 75 percent to 23 percent, according to exit polls published by CNN. Democrats won 40 seats and captured the majority after eight years.
Asked about Trump's sudden reversal, Senate Finance Chairman Chuck Grassley said the president had a change of heart after giving the issue some more thought.
"I think the president has had an opportunity to think about it and think about the chances of getting something through the Congress between now and 2020," the Iowa Republican said Tuesday. "It finally came to a point where he thought that it's better to talk about the general approach as opposed to actually getting legislation done."
Republicans, on the other hand, have been eager to run against "Medicare for all," a favorite proposal of progressive Democrats that Trump referred to in his tweets. They been equally eager to avoid the Obamacare debate after the trouble it caused them last fall and after a 2017 effort to replace it collapsed.
Senator John Thune of South Dakota, the No. 2 Republican leader, said Monday that GOP lawmakers in that chamber aren't fashioning a new health care overhaul, especially with Democrats in control of the House.
"We'll wait and see what the president proposes and what he can agree with the speaker they might be able to get across the finish line," Thune said. "But at this point it's wait and see."
White House press secretary Sarah Sanders said the administration will still outline principles it would like to see in a future health-care overhaul and continue implementing regulatory tweaks, but she blamed Democrats for the president's decision to halt his push for new legislation.
"We're going to lay out principles like protecting pre-existing conditions that we want to see in a health-care plan," Sanders said in an interview Tuesday with Fox News. "If Democrats change their minds and decide to get serious about fixing problems instead of playing politics, we're here and we're ready to work with them."