Trump in 'Very Good Health,' Physician Says After Annual Exam
(Bloomberg) -- President Donald Trump is in "very good health" and should remain that way for the rest of his time in office, physician Sean Conley said after conducting a roughly four-hour annual exam of the president Friday.
"While the reports and recommendations are being finalized, I am happy to announce the president of the United States is in very good health and I anticipate he will remain so for the duration of his presidency, and beyond," Conley said in a memo released by the White House.
He didn't undergo any procedures requiring sedation or anesthesia, Conley said.
Trump spent about four hours at Walter Reed National Military Medical Center in Maryland on Friday -- tweeting twice during the visit -- and didn't answer questions from reporters when he returned to the White House. Doctors last year recommended he lose weight, exercise more and change his diet.
White House spokesman Hogan Gidley said before the exam that Trump, 72, hasn't "religiously" followed the diet and exercise guidance he received last year.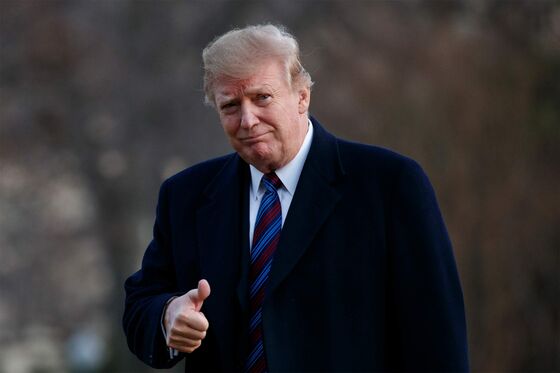 Then-presidential physician Ronny Jackson last year released results from Trump's medical exam showing he was borderline obese -- weighing 239 pounds at 6 feet, 3 inches tall -- but declared the president to be "fit for duty" and in "excellent health." Jackson said last year he increased Trump's dose of a medicine to control cholesterol, AstraZeneca PLC's Crestor. Jackson set a goal for Trump to lose 10 to 15 pounds within a year.
After concerns had flared about Trump's fitness for office -- author Michael Wolff asserted in his book "Fire and Fury" that almost all of Trump's top staff and advisers believed he was mentally unwell -- Jackson said he administered a cognitive screen to Trump and the results gave him no concerns about the president's neurological functioning.
Jackson said he administered the Montreal Cognitive Assessment, a rapid screening instrument to check for mild cognitive dysfunction that takes about 10 minutes to complete.
A White House spokesman didn't reply to an earlier request for plans on releasing the results of this year's exam.
Trump later nominated Jackson to become Veterans Affairs secretary, though the nomination faltered amid questions about Jackson's qualifications to run the government's second-largest bureaucracy and allegations of professional misconduct surfaced.
Conley replaced Jackson as the presidential physician. Both doctors are naval officers.
Presidents aren't required to have an annual medical exam or to release any of the results, but Trump's recent predecessors have undergone regular exams and typically released summaries of the findings.