Trump Spoke to Libyan Strongman Threatening Tripoli
(Bloomberg) -- President Donald Trump spoke on Monday with a Libyan strongman whose forces are advancing on the nation's capital, the White House said, in a move that may undermine support for the country's internationally recognized government.
The strongman, Khalifa Haftar, who enjoys the support of Russia, France and Arab countries and controls much of Libya's east and south, launched a campaign to take the capital earlier this month. Libya's prime minister, Fayez Al-Sarraj, who is backed by former colonial power Italy and other European countries, has said talks with Haftar cannot begin until his forces are withdrawn to pre-offensive lines.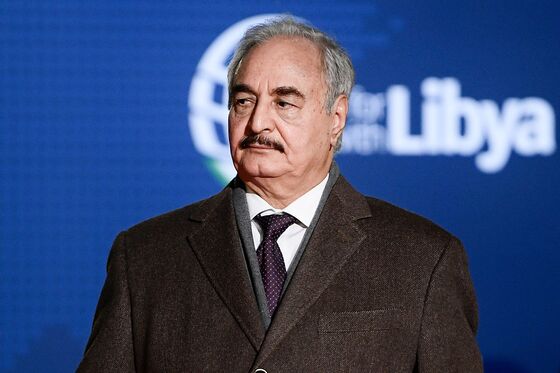 Trump discussed "ongoing counterterrorism efforts and the need to achieve peace and stability in Libya" with Haftar, White House Deputy Press Secretary Hogan Gidley said in a statement. Gidley called Haftar by the title "field marshal."
"The president recognized Field Marshal Haftar's significant role in fighting terrorism and securing Libya's oil resources, and the two discussed a shared vision for Libya's transition to a stable, democratic political system," Gidley said.
Haftar has claimed his offensive is intended to combat Islamist terrorism in Libya. The EU called on Haftar to stop his advance on Tripoli in an April 11 statement that didn't name him, after France and some other members objected.
A spokesman for Haftar's self-styled Libyan National Army, Ahmed al-Mismar, told Sky News Arabia that Trump's remarks would have a "positive impact in the war on terrorism" and showed that the U.S. is "convinced" Haftar's forces are fighting terrorists, militias and criminal gangs.
Acting Defense Secretary Patrick Shanahan told reporters on Friday that "the military solution is not what Libya needs.
"What we've said before and what I do support is Field Marshal Haftar's support in terms of his role in counterterrorism, but where we need Field Marshal Haftar's support is in building democratic stability there in the region," he added.
He didn't directly answer when asked whether Trump had told him in advance that he would speak with Haftar. "The department and the executive branch are well aligned on Libya," Shanahan responded.