Trump, Giuliani Sued by House Democrat Over Capitol Riot
(Bloomberg) -- A Democratic member of Congress sued former President Donald Trump and his personal lawyer Rudy Giuliani, claiming they conspired to incite the Jan. 6 Capitol riot in violation of a law enacted to combat the Ku Klux Klan.
Working with the far-right Proud Boys and Oath Keepers, Trump and Giuliani "acted in concert to incite and then carry out" the Capitol insurrection, according to a complaint by Representative Bennie G. Thompson, a Mississippi Democrat. Though he sued in an individual capacity, Thompson chairs the House Homeland Security committee and has already held hearings on the Capitol attack.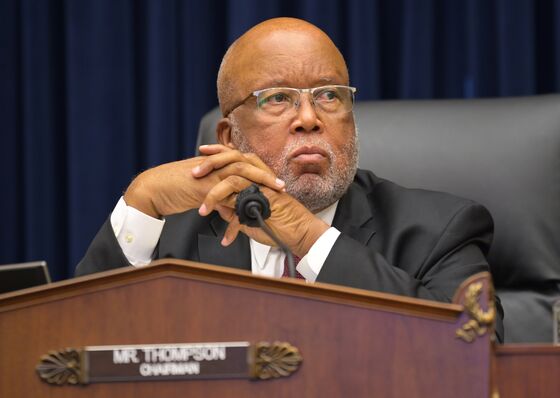 The lawsuit, filed in federal court in Washington on Tuesday, points to a potential new avenue to hold Trump accountable for the Capitol riot after his Senate acquittal on the House's "incitement of insurrection" impeachment charge.
Senate Minority Leader Mitch McConnell, who said he voted to acquit because he didn't believe a former president could be constitutionally impeached, excoriated Trump's conduct in a floor speech on Saturday and said he could still face civil litigation or even criminal prosecution for inciting the riot. "Former presidents are not immune from being held accountable by either one," the Kentucky Republican said.
The NAACP filed the suit on behalf of Thompson under the 1871 Ku Klux Klan Act, one of several Reconstruction-era laws meant to target political violence and intimidation, including against U.S. officials discharging their duties. The suit seeks unspecified damages.
Other Democrats, including Representatives Bonnie Watson Coleman of New Jersey and Hank Johnson of Georgia, plan to join the litigation in the coming weeks, according to a news release announcing the suit. House Speaker Nancy Pelosi has also called for an independent commission to examine the riot similar to that convened after the Sept. 11, 2001, terrorist attacks.
Jason Miller, a spokesman for Trump, disputed the claims in the lawsuit, saying Trump "did not incite or conspire to incite any violence at the Capitol." A spokeswoman for Giuliani did not immediately respond to a request for comment.
The lawsuit may face a hurdle in that presidents are immune to civil lawsuits over acts undertaken as part of their official duties. Thompson alleges that Trump "acted beyond the outer perimeter of his official duties and therefore is susceptible to suit in his personal capacity."
The Trump administration previously tried to defeat a defamation suit by New York advice columnist E. Jean Carroll by arguing that he was acting in his official capacity when he said in 2019 that she was lying about being raped by him in the 1990s. A federal judge in New York rejected that argument in October, finding Carroll's allegations had "no relationship to the official business of the United States."
Echoing the case that Democrats made at the impeachment trial, the lawsuit outlines a series of baseless statements by Trump and Giuliani that cast doubt on the results of the election.
"The attack on the Capitol that occurred on January 6, 2021 was no accident," the lawsuit said. "Defendant Trump, in concert with Defendant Giuliani, mobilized supporters by mounting a campaign of misinformation and anger-laden rhetoric to challenge the validity of the election results."
'Campaign to Disenfranchise'
The NAACP said Trump's efforts to overturn the results of the election amounted to a campaign to disenfranchise Black voters. "Donald Trump needs to be held accountable for deliberately inciting and colluding with white supremacists to stage a coup," NAACP President Derrick Johnson said in a statement.
Since the riot, law enforcement officials in Washington have charged more than 200 people with a range of crimes from trespassing and damaging government property to conspiring to block the certification of election results.
The top prosecutor in Washington, Michael Sherwin, early on left open the possibility of investigating Trump or other people who spoke at the rally that directly preceded the Capitol breach. But prosecutors have since played down the prospect of a criminal case against Trump.