Trump Foe Avenatti Leaps Into Explosive Fight Over Kavanaugh
(Bloomberg) -- Michael Avenatti thrives on controversy, and the California lawyer jumped into the center of the biggest firestorm in Washington on Wednesday with the release of a client's lurid allegations of sexual misconduct by Supreme Court nominee Brett Kavanaugh.
The sworn affidavit from a Washington-area woman, Julie Swetnick, set off a fresh round demands from Democrats, skepticism from Republicans, denials from Kavanaugh and an exchange of insults between Avenatti and President Donald Trump on Twitter.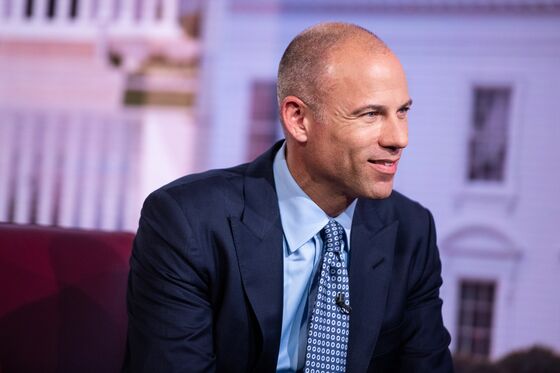 The 47-year-old attorney, a Democrat with political ambitions, has styled himself as a counter to Trump with an eager combativeness that he wields on social media and cable news programs.
He represented adult film actress Stephanie Clifford in her successful fight to get out of an October 2016 agreement with Trump to keep quiet about an alleged sexual encounter a decade earlier. Lately, he's been weighing in on a variety of political issues, such as immigration, presenting himself as an eager opponent of the president's agenda.
Where Avenatti's fans find catharsis in his aggressive stance toward Trump, critics describe him as an attention-seeking showman. He's now taken on what may be his riskiest fight, one that thrusts him into an already partisan Supreme Court nomination battle that has been magnified by sexual assault allegations at the peak of the "#MeToo" movement. The conflict has unfolded just weeks before the midterm elections that will decide control of Congress.
Evidence and Public Opinion
With Clifford, Avenatti had a financial paper trail of the payments made before the 2016 election that led to victory in court. With Swetnick, it's not clear if there's concrete evidence to back up her allegations. It's also uncertain how those accusations will play out in the court of public opinion — or with Republican senators who'll provide decisive votes to confirm or reject Kavanaugh.
If Swetnick's allegations help derail Kavanaugh's nomination, Avenatti would have his fingerprints on a victory for liberal Democrats who've waged an all-out campaign to stop Kavanaugh's confirmation on the basis that it would tilt the court rightward for a generation. Yet if the accusations fail to withstand scrutiny, it could help Republicans push Trump's nominee through to confirmation and significantly damage Avenatti's ambitions.
Kavanaugh has strongly denied Swetnick's accusation that he took part in attempts during high school to get girls intoxicated so that a group of boys could have sex with them. While Senate Judiciary Chairman Chuck Grassley, an Iowa Republican, said the panel's investigators are tracking down potential witnesses and gathering information, other Republicans lashed out at Avenatti.
"I am not going to be played, and I'm not going to have my intelligence insulted by the Michael Avenattis of the world," said Senator Lindsey Graham, a South Carolina Republican and occasional Trump golfing partner. "If Republicans bail out on this good man because of the smears and character assassination perpetrated by Michael Avenatti, we deserve our fate."
Grassley derided Avenatti even as he suggested he's given little thought to the lawyer. "I haven't even gone to Google to learn more about him," he said. "It seems to me he wants to protect people that are involved in pornography and that he's running for president."
Reached for comment, Avenatti responded curtly, saying Grassley didn't know what he was talking about: "How can this guy be this ignorant?"
Demanding an Investigation
Democrats responded to the Swetnick allegations Wednesday by writing a letter asking Trump to immediately withdraw the Kavanaugh nomination. Democratic leaders have demanded an FBI investigation into all the various allegations. Kavanaugh's first accuser, Christine Blasey Ford, is set to testify Thursday to provide a first-hand account of the sexual assault she said occurred in the early 1980s.
Kavanaugh has denied all allegations of misconduct and Republican leaders may move to vote on his nomination as early as next week.
But the Senate vote on Kavanaugh's nomination will shape the preferences of many Americans in the upcoming midterms, according to a new Pew Research Center poll. Overall, 76 percent of registered voters -- including 81 percent who plan to support Democratic congressional candidates and 72 percent who favor Republican ones -- say appointments to the court will be very important to their vote in the Nov. 6 election.
For now, the clash with Trump is a gift to Avenatti's 2020 presidential ambitions. He would be a liberal counterpart, in some ways, to the New York billionaire he hopes to unseat — brash and confrontational, abundantly confident in his abilities, quick to escalate feuds on Twitter, and deft at using television appearances to bolster his public profile.
"Avenatti is a third-rate lawyer who is good at making false accusations, like he did on me and like he is now doing on Judge Brett Kavanaugh," Trump wrote on Twitter. "He is just looking for attention and doesn't want people to look at his past record and relationships - a total low-life!"
Avenatti responded within moments, reminding the president that his former lawyer Michael Cohen plead guilty to facilitating hush money payments to Clifford. "False accusations?' Like those crimes your fixer Cohen pled to? You are an habitual liar and complete narcissist who also is a disgrace as a president and an embarrassment to our nation," he wrote in a reply to Trump.
Democrats have had little to say about Avenatti, preferring instead to focus on the claims by his clients, Clifford and — now — Swetnick.
The party's progressive activists view him as an opportunist rather than a reliable vessel to advance their goals. Pinned to Avenatti's Twitter profile is a list of positions on issues that largely hew to progressive movement preferences, including Medicare for all, gun control, legalizing young undocumented "Dreamers" and overhauling criminal justice. He's taken on cases of families separated at the U.S. border under Trump administration policy.
He claims a long and abiding interest in politics, asserting on his website that he has "worked on over 150 campaigns in 42 states, including multiple gubernatorial and congressional campaigns." Avenatti's Twitter biography reads: "Attorney, Advocate, Fighter For Good."
At a late-afternoon press conference on Wednesday, Trump blasted Avenatti as a "con artist" with a "bad reputation" as he cast doubt on Kavanaugh's accusers.
Avenatti responded on Twitter after the news conference, calling Trump "a coward and weak," adding in a second tweet, "And I am thoroughly enjoying living rent free in his head."