Trump Fails to Deter Lawsuit That Could Force His Testimony
(Bloomberg) -- President Donald Trump failed again to derail a defamation lawsuit by "Apprentice" contestant Summer Zervos, leaving him only one more chance at New York's highest court to have the claim dismissed or put on hold until he leaves office.
A majority of a New York appellate panel on Thursday ruled the Supremacy Clause of the U.S. Constitution doesn't bar state-court suits against a sitting president over actions that took place before an election. Presidents can already be sued in federal court over such claims, following the U.S. Supreme Court's landmark ruling in Clinton v. Jones.
"The president is still a person," the appeals panel in Manhattan wrote. "He is not above the law."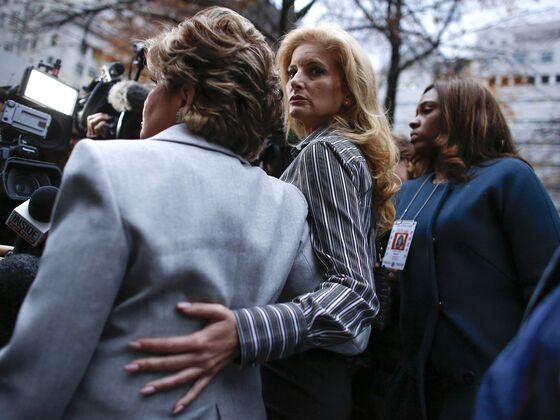 The appeals court ruling wasn't the only bad news for Trump to come out of New York this week. Civil and criminal investigations of Trump and his businesses are gaining traction in the president's home state. Subpoenas were issued Monday to Trump's banks and his former campaign manager, Paul Manafort, was charged with fraud in New York on Wednesday, minutes after he was sentenced in Washington.
The latest ruling may clear the way for Zervos's attorneys to question the president under oath about her claims that Trump defamed her in 2016 when he said she lied about encounters in which she said he forcibly kissed her and groped her, setting up a potentially embarrassing legal confrontation for a sitting president.
"We look forward to proving to a jury that Ms. Zervos told the truth about defendant's unwanted sexual groping and holding him accountable for his malicious lies," Zervos's lawyer, Mariann Wang, said in a statement.
Trump's attorney, Marc Kasowitz, said in a statement that he plans to appeal the decision to New York's highest court in Albany.
"We believe that the well-reasoned dissenting opinion by two of the five justices, citing the U.S. Supreme Court decision in the Clinton v. Jones case, is correct in concluding that the Supremacy Clause of the U.S. Constitution bars state courts from hearing cases against the president while he or she is in office," Kasowitz said.
The New York court's majority also relied on Clinton v. Jones. That case, in which then-President Bill Clinton was accused of sexual harassment, was filed in federal court. The Zervos case addresses whether the same standard applies to state court.
"We reject defendant President Trump's argument that the Supremacy Clause of the United States Constitution prevents a New York state court -- and every other state court in the country -- from exercising its authority under its state constitution," the majority said.
They rejected the dissenters' argument that permitting such lawsuits in state court gives the state undue control over a sitting president because the judges could hold the person in contempt for failing to cooperate.
"In the event that, in the future, the trial court should hold defendant in contempt, the issue of whether the court has jurisdiction over the president to do so can be determined as a discrete issue," the majority said.
Zervos, who met with Trump in hopes of securing a job after her Apprentice appearance in 2005, is one of more than a dozen women who have come forward accusing him of sexual misconduct. Last month, a former Trump campaign staffer sued the president for allegedly forcibly kissing her at a Florida rally in 2016.
In her January 2017 lawsuit, Zervos alleged Trump "ambushed" her on more than one occasion starting in 2007, kissing her on the mouth, touching her breast and pressing his genitals against her.
New York Supreme Court Justice Jennifer Schecter allowed the case to go forward in March 2018. The appeals court in May refused to put the case on hold while Trump appealed. Now that same court refused to throw out the lawsuit. Trump's last hope may be at New York's top court in Albany, should he appeal Thursday's ruling.
Following the release of a recording during the 2016 in which Trump bragged about kissing and groping women without their consent, he lashed out against what he called "phony" accusations, blaming his Democratic opponent for promoting a campaign of sexual misconduct allegations against him.
"Hillary Clinton can spend all of her time and money pushing complete lies against our campaign, but I refuse to fall victim to this vicious cycle of personal attacks," Trump said in a written statement at the time.
Trump has called Zervos's lawsuit politically motivated, saying she can't hold him liable for engaging in political speech that's protected by the First Amendment. He has said she continued to attempt to contact him and seek employment even after he made the alleged unwanted sexual advances -- and turned against him after he failed to accept an invitation to her restaurant.
The case is Zervos v. Trump, 150522/2017, New York Supreme Court, New York County.
(An earlier version of this story corrected a quotation from the ruling.)