Trump Faces Bipartisan Senate Vote to Limit His Iran War Powers
(Bloomberg) -- President Donald Trump, fresh from his impeachment acquittal, is set to face a bipartisan Senate vote to limit his ability to strike Iran without authorization from Congress -- another effort backed by some Republicans to constrain his foreign policy.
Democratic Senator Tim Kaine of Virginia introduced the resolution and actively sought Republican support after Trump authorized an air strike to kill a top Iranian general without alerting Congress. The measure is expected to get enough GOP votes to pass on Thursday, but it will fall short of the margin needed to override Trump's promised veto.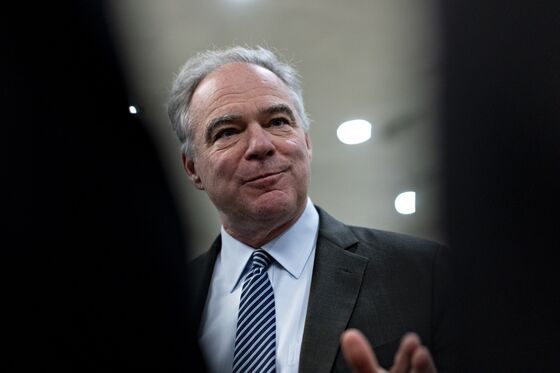 The resolution is "fundamentally about Congress owning up to and taking responsibility for the most significant decisions that we should ever have to make," Kaine said Wednesday. "An offensive war requires a Congressional debate and vote. This should not be a controversial proposition."
The vote continues a pattern of bipartisan attempts to check Trump's foreign policy, especially in the Middle East, although those efforts have been mostly symbolic. Thursday's vote will be the first legislative chance for Republican senators to show some independence from the president since all but one of them voted to acquit him of the House's impeachment charges last week.
Eight GOP senators joined with Democrats on a procedural vote Wednesday to allow the measure to come to the floor, even though it is opposed by Senate Majority Leader Mitch McConnell.
Two of those Republicans -- Utah's Mike Lee and Kentucky's Rand Paul -- signed on as cosponsors of the measure last month after a briefing by Trump administration officials about the drone strike that killed Iranian General Qassem Soleimani near the Baghdad airport in early January. The two senators said the explanation from officials, including Secretary of State Michael Pompeo, was woefully inadequate and condescending.
They were joined by fellow Republicans Susan Collins of Maine and Todd Young of Indiana, who signed on to the measure after Kaine removed direct references to Trump and the Soleimani strike. Kaine said Wednesday the resolution is "not directed toward President Trump," but rather to the executive branch in general.
Trump promised to veto the measure, which he cast as a partisan ploy by Democrats.
The House passed a similar measure last month but would have to pass the Senate version before sending it to Trump.
The president would veto the resolution, according to a Wednesday statement from his administration that called it "untimely and misguided." Kaine's resolution was drafted several weeks ago and is no longer relevant since the U.S. is not currently engaged in any hostilities against Iran, the statement said.
Even though retaliation from Iran for the Soleimani strike has not been as intense as some feared, an Iranian missile strike on an American air base in the region resulted in 109 service members being diagnosed with mild traumatic brain injuries. The Pentagon this week updated its list from the 64 casualties listed in a late January report.
"We are still at a very challenging moment in the U.S.-Iran relationship," Kaine said. He said while the president can act to head off an imminent threat, the resolution is an "assertion by Congress, to a president, that if you think it warrants going further, that can only happen with authorization."
The administration's veto message included its justification for the strike, which cited the 2002 Authorization for the Use of Military Force that Congress approved for the war in Iraq. The U.S. has "long relied" on that authorization for nation-building efforts in Iraq and to respond to terrorist threats coming from the country, according to the statement.
The Republicans poised to vote with Democrats on Kaine's resolution on Thursday described their vote as reasserting Congress's authority to declare war. Young, who also heads the GOP's Senate campaign committee, praised Trump for killing Soleimani, but said Congress should be "more serious about fulfilling its constitutional responsibilities."
"Unfortunately, for nearly two decades, Congress has been AWOL on certain matters of national security and attempted to pass the buck to our commander in chief when things go wrong," Young said in a statement. "It's time for us to do our job."
Collins said the Iranian regime should not interpret the passage of the resolution as a "lack of resolve" on the part of the U.S.
"Congress cannot be sidelined in these important constitutional decisions," Collins said.
The three senators seeking the Democratic nomination for president -- Bernie Sanders, Elizabeth Warren and Amy Klobuchar -- are expected to leave the campaign trail Thursday to be in Washington for the final vote on the resolution.