Trump Eyes Radical Move to Escape Impasse Over Wall and Shutdown
(Bloomberg) -- Donald Trump edged closer toward a radical move to fund his border wall after the prospect of a deal with the Democrats to re-open government dimmed and the president's political leverage appeared to dissipate.
Trump on Sunday renewed his threat to bypass negotiations with Democratic lawmakers and instead declare a national emergency on the southern border with Mexico. While the possible move was revealed just days ago, White House lawyers and key budget staff have been looking into it for weeks, a person familiar with the matter said on condition of anonymity.
Some advisers close to Trump are recommending that he declare a national emergency, despite wide recognition that it would be immediately challenged in court -- Democratic lawmakers said so last week after Trump floated the idea publicly.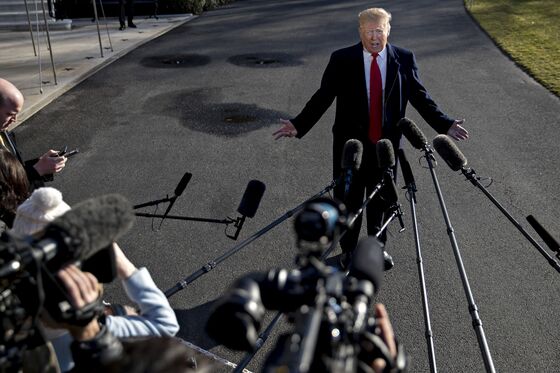 "I may declare a national emergency dependent on what's going to happen over the next few days," Trump told reporters on Sunday, adding that constructing the wall was "a very important battle to win."
After returning from Camp David later Sunday afternoon, Trump reiterated his stance and signaled that in negotiations, he was only inclined to cede minor points to the Democrats, such as the materials used for the barrier.
"They don't like concrete, so we'll give them steel," he said.
The president views his campaign promise that he'd build a border wall as key to his chances for re-election in 2020. He regards the government shutdown as mainly affecting Washington, not areas where his strongest supporters live, another person familiar with the matter said.
Trump projected empathy for federal employees who will soon begin missing paychecks, telling reporters at the White House on Sunday, "I can relate." The president, a billionaire, periodically donates his salary back to the government. At times he's described the workers currently not getting paid as being mostly Democrats.
"I'm sure that the people that are on the receiving end will make adjustments. They always do," he said. "People understand exactly what's going on. But many of those people that won't be receiving a paycheck, many of those people agree 100 percent with what I'm doing."
The employment of a national emergency to re-appropriate funds for wall construction would be an unprecedented executive action sure to draw ire not only from Democrats on Capitol Hill who see the project as wasteful spending, but also their Republican counterparts who spent years decrying perceived overreaches by President Barack Obama. They will be wary of a precedent that could permanently erode Congress's power of the purse.
But Trump's consideration of such an extraordinary step indicates that some in the White House see the gambit as the president's lone way to salvage his wall pledge as the consequences of the shutdown begin to amplify and talks with Democrats fall flat. The president reiterated that he had no interest in resurrecting a deal that would trade wall funding for legal protections for undocumented children -- one of the few issues that could move Democrats toward compromise.
Meanwhile, a series of political stunts -- including the president's first appearance behind the White House briefing room podium, flanked by supportive border patrol agents, as well as a live televised Cabinet meeting lasting more than 100 minutes -- have done little to generate legislative momentum for wall funding.
And Democrats have shown little interest in the "concession" offered by the administration for construction of a border barrier that uses steel rather than concrete. While the president believed that the design change could give Democrats some sort of political cover, both he and White House chief of staff Mick Mulvaney on Sunday made clear that their offer was simply a wall but by a different name.
"We'll call it something different," Trump told reporters when asked what he'd include in a compromise deal.
Democrats also appeared unswayed by the administration's repeated efforts to convince them of a crisis at the border. Trump himself conceded there was "not much headway made" after Homeland Security Secretary Kirstjen Nielsen briefed congressional staffers Saturday on the threat of crime and drugs posed by those entering the country illegally. And the president preemptively predicted little would come from a second round of talks scheduled for Sunday afternoon.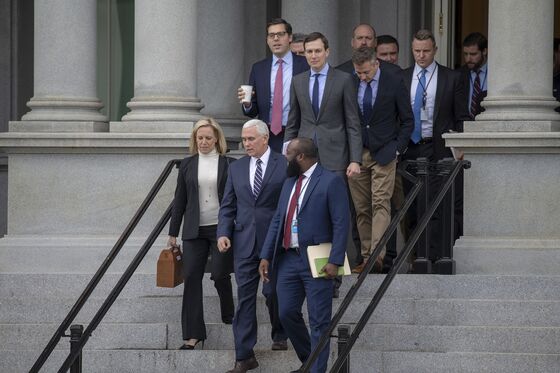 Vice President Mike Pence, who is nominally leading the negotiations, has been frustrated by Democrats saying they would only discuss further border security measures if the administration endorsed their efforts to open unrelated government departments, one person said.
But Democrats see little reason to give in, believing that what little leverage Trump retained after Republicans lost control of the House of Representatives all but vanished when the president publicly declared in December that he would take responsibility for the shutdown.
Trump's embrace of heated immigration rhetoric in the closing weeks of the mid-term elections did little to help his party's chances and has shown little resonance beyond a Republican base that has remained deeply devoted to the president. And House Democratic leaders have said they'll spend the next week offering a series of bills that would re-open popular government services, starting with the Internal Revenue Service so Americans receive tax refunds in the coming weeks. They believe the moves will only amplify pressure on the administration.
Trump, meanwhile, made clear he was disinclined to give Democrats any ground on assisting the so-called "Dreamers" brought to the country illegally as children. The president said his preference was to wait for the Supreme Court to weigh in on the legality of the program, believing the justices would decide to overturn the Obama-era initiative. That, Trump argued, would provide him leverage for additional immigration restrictions he hopes to pursue later in his term.
If the president maintains inflexibility on both what he's willing to offer and what he's demanding, the likelihood of a dramatic attempted resolution only increases. And the White House will also soon be confronted with more severe consequences of the shutdown.
Many furloughed federal workers will miss their first paycheck at the end of the week, and additional government agencies are shuttering as they run out of reserve funding. Low-income Americans may see their food assistance cut, tax refunds may not be delivered, and there are reports that some federal employees - including security screeners at airports - are calling in sick as they enter their third week of work without pay.
"They have to do what they have to do," Trump said of the federal workers.