Trump-Erdogan Feud Over Pastor Sets Stage for More Sanctions
(Bloomberg) -- President Donald Trump's first meeting with Turkish President Recep Tayyip Erdogan at the White House last year seemed to herald the sort of breakthrough U.S.-Turkey relations needed to get back on track after years of erosion.
Now, Trump's fury over what he sees as a broken deal to free a detained evangelical pastor has markets on edge that the U.S. president could inflict crushing sanctions on a vulnerable and already battered economy while allies wonder about the future of NATO.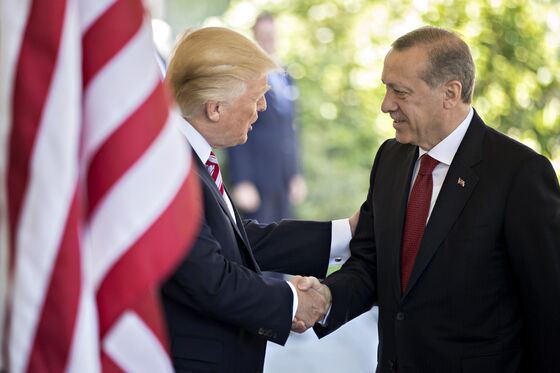 The U.S. president fired a shot across Turkey's bow on Wednesday, sanctioning two top officials involved in the detention of American Andrew Brunson, whose plight has become a signature issue for Vice President Mike Pence and Trump lawyer Jay Sekulow. Turkey's currency fell to a record low while the main stock market index -- down 18 percent this year -- tumbled 2.7 percent.
But Trump threatened more than penalties against a couple key aides -- he vowed "large sanctions." Brunson's continued detainment will only inflame the U.S. president, who believes he was humiliated by Erdogan backing out of a deal last month to free the pastor. And he has Pence -- Trump's liaison to his evangelical Christian base -- focused on the issue.
"The Turks were well on notice that the clock had run and it was time for Pastor Brunson to be returned," Secretary of State Michael Pompeo told reporters as he traveled from Kuala Lumpur to Singapore on Friday. "I hope they'll see this for what it is -- a demonstration that we're very serious. We consider this one of the many issues that we have with the Turks."
Erdogan's government miscalculated in putting Brunson under house arrest instead of freeing him outright, according to an administration official who said the president felt personally betrayed. Another U.S. official described the mood in Washington over Turkey as poisonous, saying the administration has shown itself not to be worried about destroying relationships.
A call earlier this year between Trump and Erdogan broke down over the issue of detainees. Besides Brunson, Trump railed about Turkey's holding of Serkan Golge, a NASA scientist who, like Brunson, has been imprisoned since 2016, according to a person familiar with the call.
Pompeo met Friday with Turkey's foreign minister, Mevlut Cavusoglu, on the sidelines of an Association of Southeast Asia Nations summit in Singapore. The two had a "constructive conversation" and agreed to keep trying to resolve the issues between them, State Department spokeswoman Heather Nauert said.
Beyond the penalties announced Wednesday, more packages of possible sanctions have been prepared under the Global Magnitsky Act of 2016, which allows the U.S. government to target individuals, companies or other entities involved in corruption or human-rights abuses anywhere in the world. Sanctions under the act allow for the seizure of assets in the U.S., travel bans and prohibitions on doing business with U.S. entities.
Through the Treasury Department and Justice Department, the president could also seek to influence the size of a fine the U.S. orders Turkiye Halk Bankasi AS, one of Turkey's largest lenders, to pay after a senior banker was convicted for aiding an Iranian plot to evade sanctions and launder $1 billion in oil revenue through the U.S. financial system.
That case became a lightening rod in Turkey, with officials saying evidence was manufactured and Erdogan demanding it be dismissed.
It didn't start out this way.
Erdogan's authoritarian tendencies led him to be shunned by the end of the Obama administration, even after the U.S. backed him during a failed coup attempt in 2016. The ascension of Trump to the White House, despite clear policy differences, promised a fresh start for the two NATO allies and the focus was quickly put on what could go well.
At the White House meeting in May 2017, the new U.S. president said that it was an honor to host Erdogan, who reciprocated by praising Trump's "legendary victory" in the 2016 election and calling him "my dear friend."
Those plaudits came despite a U.S. move a week earlier that infuriated Erdogan. Under Pentagon Secretary Jim Mattis's leadership, the U.S. approved an effort to arm Kurdish forces in Syria in the fight against Islamic State. But officials in Turkey view those Kurds as linked to militants in their country that the U.S. and other nations classify as terrorists.
As the situation on the ground in Syria evolved -- sometimes putting Turkish troops in direct conflict with U.S.-backed Kurdish allies -- the leaders tried to keep their personal relationship afloat. Last September Trump said the two countries were "as close as we have ever been."
Brunson had been in a Turkish prison for more than a year at that point, but Trump wasn't making his plight a priority in public. That began to change in April, when Trump first tweeted about the detained pastor after helping secure the release of three Americans who had been held in North Korea.
"Pastor Andrew Brunson, a fine gentleman and Christian leader in the United States, is on trial and being persecuted in Turkey for no reason," Trump wrote. "They call him a Spy, but I am more a Spy than he is. Hopefully he will be allowed to come home to his beautiful family where he belongs!"
Pence immediately posted to Twitter as well, saying "It's time the Turkish govt release him. #FreeAndrewBrunson."
At the same time, Erdogan continued to bristle at the U.S. refusal to extradite Fethullah Gulen, an Islamic cleric and former ally living in Pennsylvania who the Turkish leader blames for fomenting the failed 2016 coup.
And Erdogan continued to bolster ties with Russian President Vladimir Putin. That includes buying a Russian missile defense system that isn't compatible with those used by other members of NATO. That's prompted some U.S. lawmakers to propose halting deliveries of F-35 jets to Turkey, a move Mattis has opposed. Turkey's Incirlik air base is a key U.S. staging ground for the terror fight in Syria, but the feud between Ankara and Washington has raised questions about whether Turkey should stay in the NATO alliance.
Meanwhile, improving ties between Russia and Turkey "makes someone jealous," Erdogan told Putin in South Africa last month, according to Turkish daily Hurriyet.
When they met 15 months ago in Washington, Erdogan said he was looking forward to hosting Trump and his entire family in Turkey. Despite their early personal affection, events on the ground have ensured that that trip is still a long ways off.
Analysts say the relationship with Washington isn't totally broken, but it is badly damaged and the war of words between the two sides makes it hard for either leader to back down. As long as Brunson is detained -- his next court hearing is Oct. 12 -- the U.S. president will fume.