The French Are Warming Up to Donald Trump
(Bloomberg) -- On the eve of Donald Trump's visit to France, a poll says the French still disapprove of the U.S. president, but much less than a year ago.
Trump's disapproval rating is 65 percent among the French public, well down from the 81 percent who said they disliked him a year ago, according to an Odoxa poll for Le Figaro newspaper. The pollsters said the improved opinion of Trump is linked to a perception he's been good for the U.S. economy and job creation.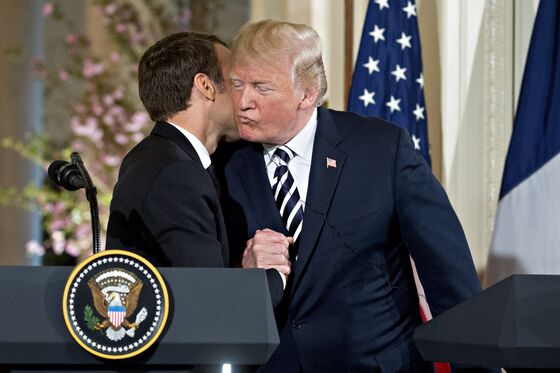 Still, only 10 percent said they had a positive image of him, with 25 percent saying they didn't have an opinion. Last year, 9 percent said they had a positive image and 9 percent had no opinion.
Trump is among world leaders in Paris this weekend commemorating the 100th anniversary of the end of WWI. He meets one-on-one Saturday with French President Emmanuel Macron, and Sunday attends a ceremony marking the end of the war, and a lunch hosted by Macron.
Trump is most popular among French working class voters, where only 54 percent dislike him, and least popular among white-collar workers, where 79 percent have a bad image of him. Still, overall, 83 percent said he's "dangerous" and 80 percent said they don't want a French version of him.
Macron has seen his own popularity slide, with an average approval rating of 27 percent in November.
Odoxa's Trump poll was carried out online Nov. 7 and 8, with 1,001 respondents. No margin of error was given.