Trump Dials Up Trump as Democrats Take House
The world got its first glimpse yesterday of how Donald Trump may position himself for re-election in 2020 now that one-party rule in Washington is over.

Anyone who thought the U.S. president might feel restrained by the Democrats' takeover of the House was sorely mistaken. Instead, he doubled down on the antagonistic posture that fires up his base of supporters.
Trump ousted Attorney General Jeff Sessions, replacing him with a vocal critic of Special Counsel Robert Mueller's Russia probe, promised a "war-like posture" in response to possible Democratic investigations, and lashed out at a CNN reporter whose press pass the White House later revoked.
His appointment of Matthew Whitaker, who was chief of staff to Sessions, as acting Attorney General stoked fears among Democrats and some Republicans that Trump might try to shut down Mueller's investigation into alleged Russian meddling in the 2016 presidential elections.
Whitaker, who has echoed Trump's condemnation of the inquiry as a political "witch hunt," has given no indication that he intends to follow Sessions' example and recuse himself from overseeing the probe.
That sets up a potential showdown between the president and the newly-empowered opposition party that could have dramatic implications for the 2020 contest.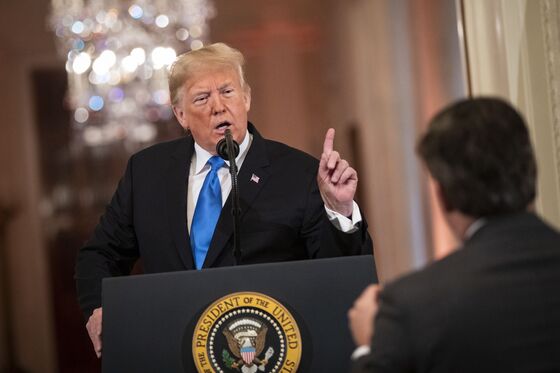 Winter cheer | Prospects for a December government shutdown are receding, even though – on its face – the Democrats' House win should make confrontations over spending more likely. Trump yesterday backed away from his earlier threats of a "good shutdown" to extract concessions from Democrats who are resisting funding his proposed border wall with Mexico.
Here's the latest on fallout from Tuesday's midterms:
Budget options | As the European Union's Tuesday deadline for Italy to submit a revised budget approaches, Brussels raised pressure on the government in Rome by saying its growth and deficit forecasts are unrealistic. That means Deputy Premiers Matteo Salvini and Luigi Di Maio will have to decide whether to give up on some of their expensive electoral promises or stand their ground and brave market reaction with bond yields already close to a four-year high.
Pointed warning | A top Chinese official told U.S. National Security Adviser John Bolton that Taiwan was Beijing's "most important and sensitive" issue, as the two sides began high-level meetings aimed at bolstering relations strained by the trade conflict. Still, Yang Jiechi, who heads the Communist Party's foreign affairs committee, said China was committed to a "no confrontation" policy with the U.S. Trump's moves to support Taiwan have drawn protests from Beijing, which considers the island a province.

Marching on | Polish politicians clashed over a rally for the centenary of the country's independence a year after far-right activists drew condemnation for a march through Warsaw. After the city's mayor, who's in opposition to the government, banned a march set for Nov. 11, President Andrzej Duda announced he'll lead a new one at the same time and place, potentially letting nationalists show up in force again in a country that's been criticized for democratic backsliding.

Prison release | Pakistan has freed Asia Bibi, the Christian woman cleared of blasphemy charges whose acquittal by the Supreme Court last week sparked mass protests. Bibi, who spent eight years in jail and faced a death sentence, is now in a secret location. She was alleged to have insulted the Prophet Muhammad by drinking water from the same well as her Muslim neighbors. The Tehreek-e-Labaik Pakistan party, which called for the deaths of the three judges who acquitted Bibi, has appealed her release.
U.K. Prime Minister Theresa May has begun briefing her Cabinet on the text of the almost-complete Brexit deal, though the most contentious part – the guarantee to keep goods flowing freely across the Irish border – is still missing. British and EU officials are continuing talks.
The battle to succeed Jean-Claude Juncker as president of the European Commission, the EU's executive arm, reaches a crucial stage today when Europe's Christian Democrats, the largest parliamentary faction, choose either Manfred Weber of Germany or Alexander Stubb of Finland as their nominee.
Trump will attend Supreme Court Justice Brett Kavanaugh's formal investiture ceremony today. Kavanaugh – who was at the center of a bitter confirmation fight amid sexual misconduct allegations – won't make the traditional post-ceremony walk down the court steps because of security concerns.
And finally…The author of a novel satirizing President Xi Jinping's slogan touting the Chinese Dream said he has been barred from speaking at the main site of the Hong Kong International Literary Festival. Organizers are seeking another venue after London-based Ma Jian, whose books are banned in mainland China, said he was told the Tai Kwun arts complex had canceled his two events scheduled for Saturday. Tai Kwun's director said the center should not "promote the political interests of any individual."