Trump Tells Central American Countries to Turn Back Migrants
(Bloomberg) -- President Donald Trump warned three Central American countries that they would lose American aid if they allowed their citizens to attempt to enter the U.S. illegally.
"We have today informed the countries of Honduras, Guatemala and El Salvador that if they allow their citizens, or others, to journey through their borders and up to the United States, with the intention of entering our country illegally, all payments made to them will STOP (END)!" Trump said in a Twitter post on Tuesday night.
"Anybody entering the United States illegally will be arrested and detained, prior to being sent back to their country!" the president said in a separate tweet. The White House didn't immediately respond to a request for comment on the tweets and whether they reflected policy or enforcement changes.
Vice President Mike Pence said earlier on Tuesday that he had reiterated the threat in a phone call with Honduran President Juan Orlando Hernandez.
"Told him U.S. will not tolerate this blatant disregard for our border & sovereignty," Pence tweeted.
As many as 2,000 Hondurans fleeing their home country entered Guatemala on Monday, the Associated Press reported, in what is the first step in a journey they hope leads across the U.S. southern border. American officials have repeatedly warned against attempting the long and dangerous journey.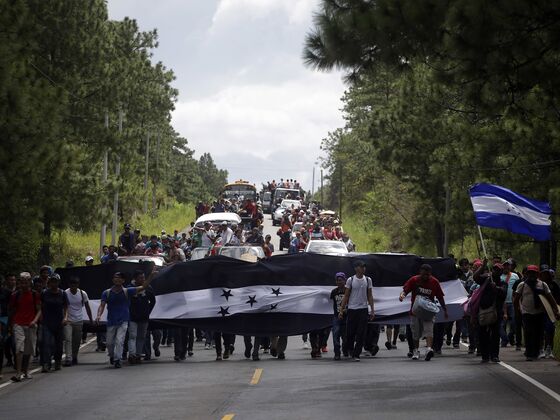 In April, Trump threatened to withdraw aid from Honduras and other countries over another group of migrants, said he would pull out of the North American Free Trade Agreement, and mobilized the National Guard in what he described as an effort to fortify the U.S.-Mexico border. That group of migrants largely disbanded before reaching the U.S., and Trump credited Mexican officials for helping to prevent a mass border crossing.
Washington provided more than $127 million in foreign aid to Honduras in the 2016 fiscal year, according to the U.S. Agency for International Development. That country and neighboring El Salvador have the highest homicide rates in the world, according to data from the United Nations Office on Drugs and Crime.